Video link: http://www.youtube.com/watch?v=NbJ76hgh6VA

This is a review of a set of soft tip darts from what I think is a fairly new company from Korea called Bulls Fighter. This is one of their recent models the 18g Dolfin.

You can find more info on their site here: Bulls Fighter

A great name though!!! I like it!

The darts are made in Korea to a very high standard and are 90% tungsten. They retail for around 118,000 Korean Won which is roughly £67 I think.

All the models come in this very neat compact and classy packaging which has a slide out tray with a foam insert to hold the darts and flights. They come with Bulls Fighter standard flights which have a pre-cut ring slot and what looks to be tweenie nylon stems with spring clip rings. The barrels have soft tips pre-fitted too.

A neat touch on the side of the packaging is it tells you the dimensions of the barrels which I found to be extremely accurate!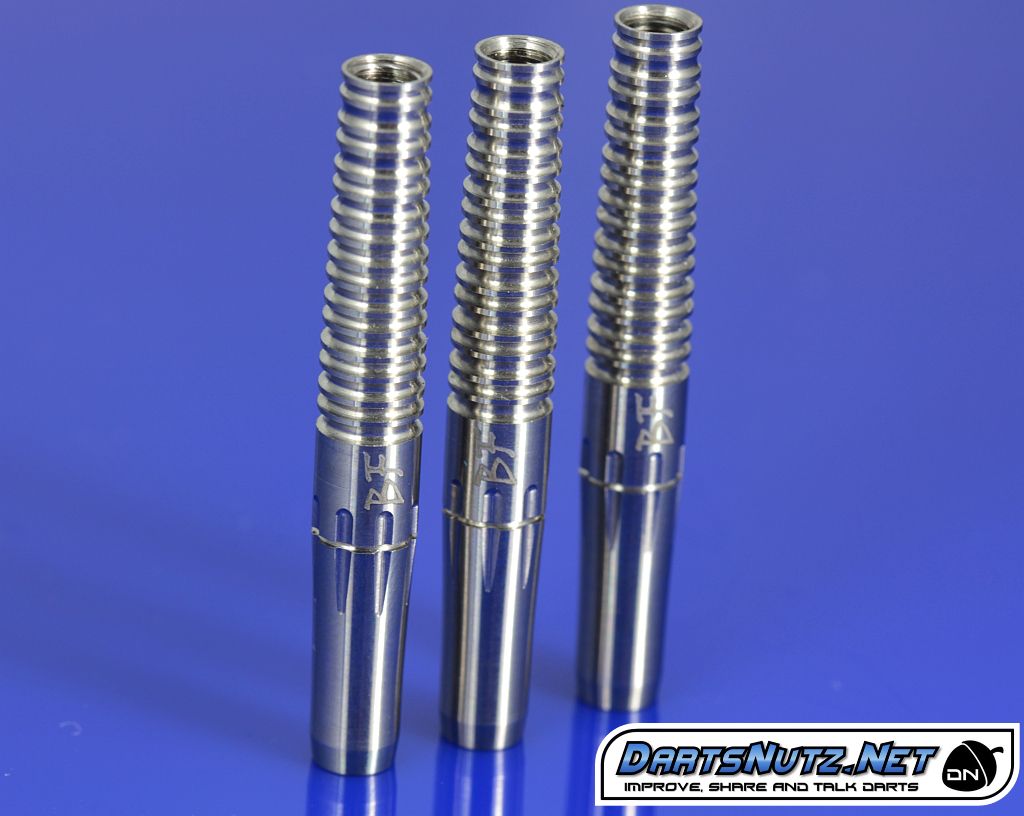 CLOSE UPS:



As you can see from the pics the barrels have the main grip to the rear half which carries right to the end of the barrel. Its a high level grip. The front section is very slightly scalloped and towards the centre where the barrel is thickest it has these notches which is around where I gripped it. What you may not be able to see is that due to the very fine lines from the machining the surface of the barrels create a kind of rainbow effect like oil on water which I believe is due to the diffraction of light on the very fine lines, I don't think its intentional but it is kind of cool


You cant really see the lines with your naked eye though, the camera pick it up in the close shots.

DIMENSIONS:

Length:

Was exactly as it said on the box!



Width:

Again the widest section was exactly as stated on the packaging, which is impressive!



Detailed Dimensions:

As you can see the darts are drilled out a good bit from the rear:



WEIGHT:

The barrels without the tips are 18g as stated and 2 were the same weight with the third just 2 hundredths of a gram difference which again is very impressive and shows the quality and control that has gone into making these: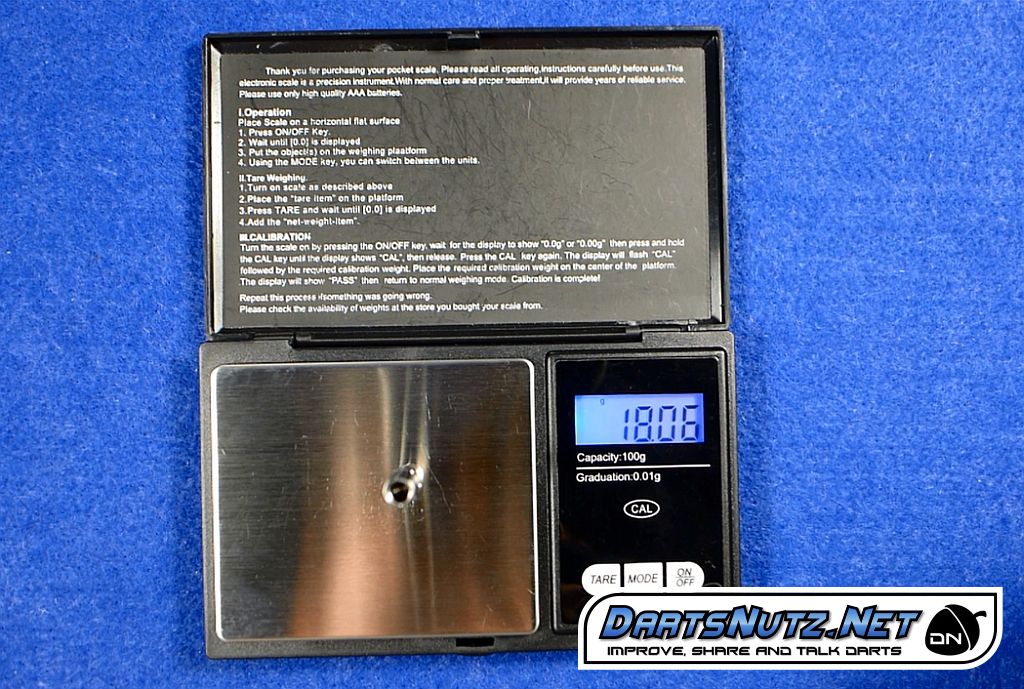 Weight of the full set up as supplied:



BALANCE:

The balance of the barrels with the tips on is slightly towards the front:



With the supplied stems and flights it moves about central:




Balance with my own medium, short, and extra short stems and standard flights:



MY GRIP:

I tried gripping these further up the barrel as I think they were slightly better balanced there, so I gripped around where the notches are:



I also tried a couple of throws gripping at the rear: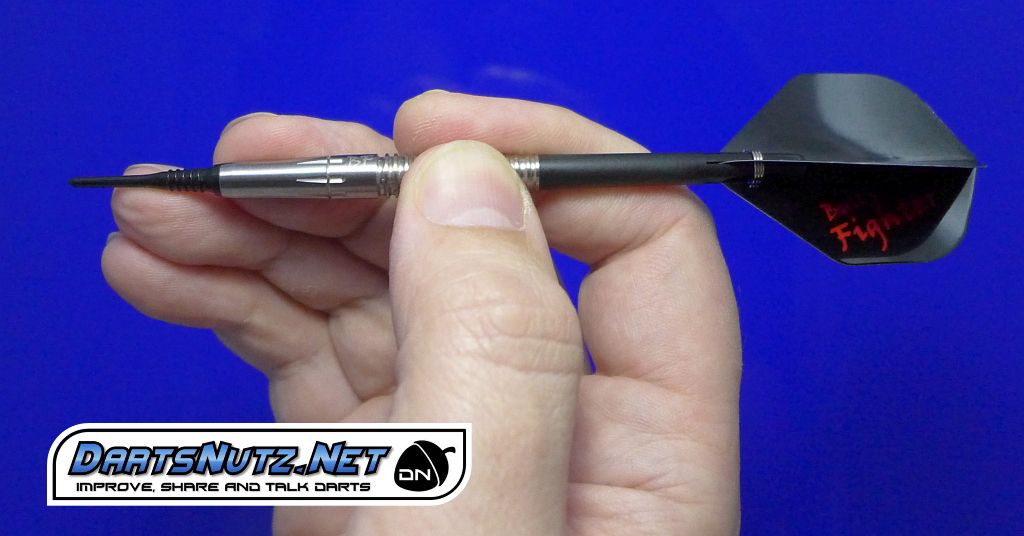 As these are soft tips it does not really matter how they land in a soft tip board but this is how they land in a steel tip board:



CONCLUSION:

The main thing that impresses me about these darts is the quality of the machining and the exactness to the dimensions as stated, they really are very nicely made and the tungsten has a very high shine to it which makes them look special


Of course I don't have a soft tip board to give them a try for their intended game but a dart will fly through the air the same regardless of its intended target and I found these flew very well for someone like me who is not so used to light darts, I kind of expected to struggle more but from the off they did feel effortless to throw and flight was stable and overall very nice. I did not feel so comfy gripping them very near the front though and I deliberately held them further up the barrel which I think was a good decision.

I do think these would likely suit rear grippers best though, I tried throwing from the rear and it feels like the weight of the dart will suit a grip that likes to grip just past the smooth section after the notches. At that point I think your pushing right through the centre of gravity.

The darts are not so cheap admittedly but I think its in line with a lot of the Asian brands but they really are very nicely machined and the cuts in the shaping of the grip pattern is very clean and neat.

I would really like to see them make a few steel tip models if the quality of the soft tips is this good and would be great to get a steel tip model


Overall these are a great dart if your a rear gripping soft tipper and well worth a look, I think you will be very pleasantly surprised by the quality


Summary Ratings:

Looks: 8.5 (nice looking darts)
Grip: 8 (on a 1 to 10 Scale, 10 been severe grip)
Weight match: 9 (close)
Quality: 9 (top quality)
Value: 7 (Pricey but nice quality)
Suitability for me: 7.5 (flew very well really, but think will suit rear gripper best)

Best Feature: Quality feel
If you are a guest browsing this forum, why not join up, we're a friendly bunch here and love to welcome new members
Click
HERE
to join
Subscribe to my Darts Review Channel on Youtube:
CLICK HERE
My darts collection:
Flickr Album