Video link = https://www.youtube.com/watch?v=4N-4tAv0iWU
I have been looking forward to trying these new Barney darts as I think they look great and seemed to have a shape that I like but I thought the grip may have been too aggressive, I am pleased to say its not but more on that later, lets get some details down first


These are according to the packaging a limited edition development set, so I guess that means they may or may not change and possibly may only ever be this first run, who knows? But they are barrels only and are 80% tungsten and retail for £45 so if your thinking of getting a set it may be wise to do so now before they run out. You do get a leatherette (PVC) style bar wallet and a point protector in the box.

These are the 25g version but there is also a 21 g and 23g model, more info on the Unicorn site here: Barney Phase 5 Purist

For the purpose of the review and for playing with in the video I set the darts up with some medium nylon stems and JUGGERNAUT!!! standard flights, cheers Jugger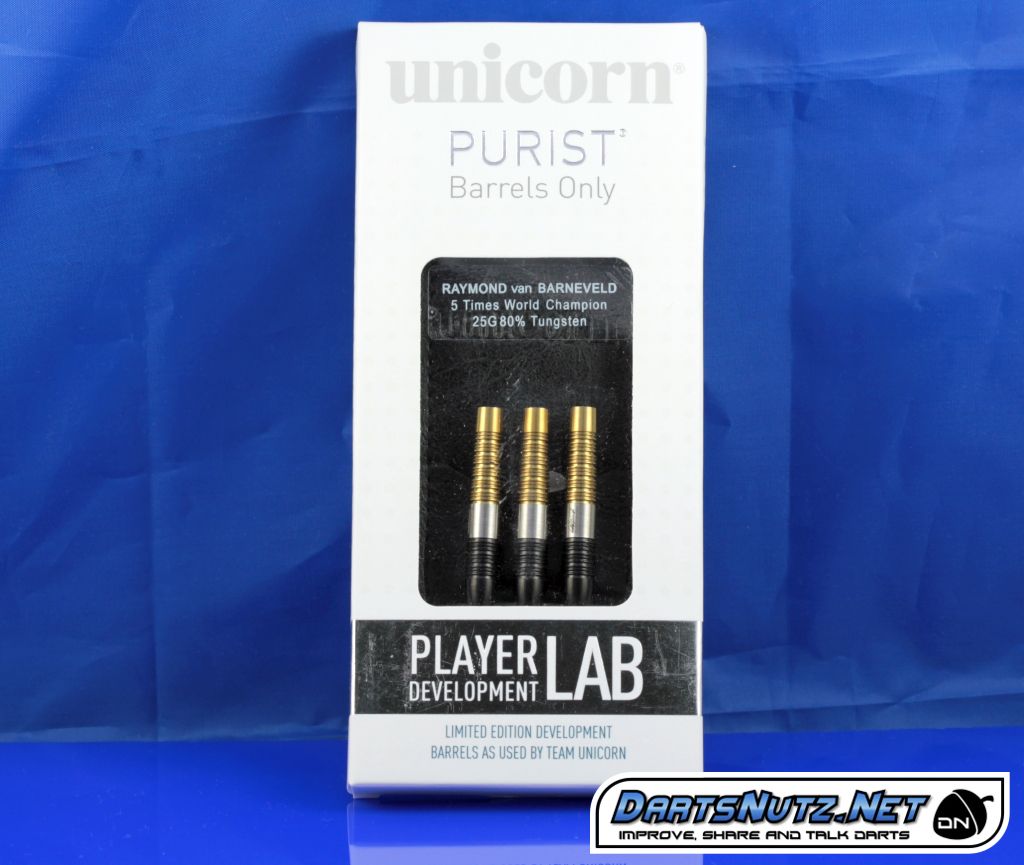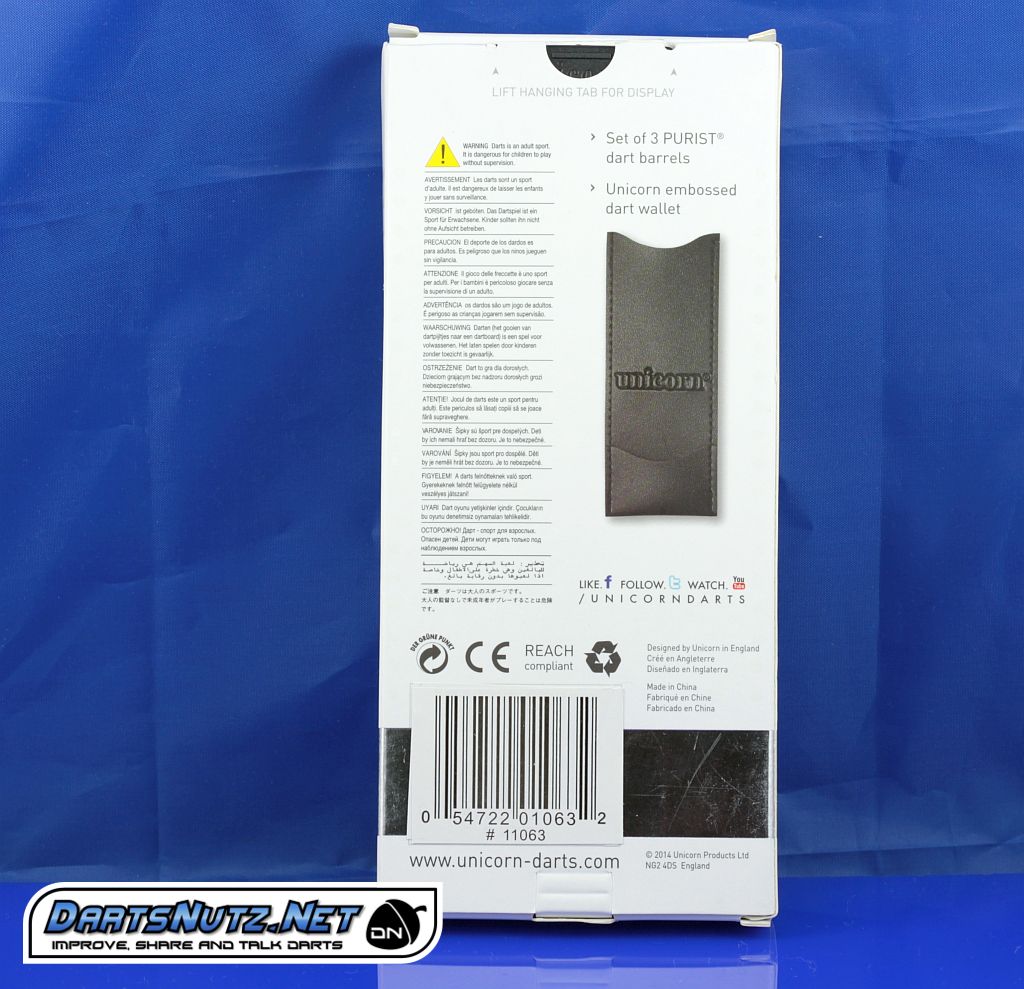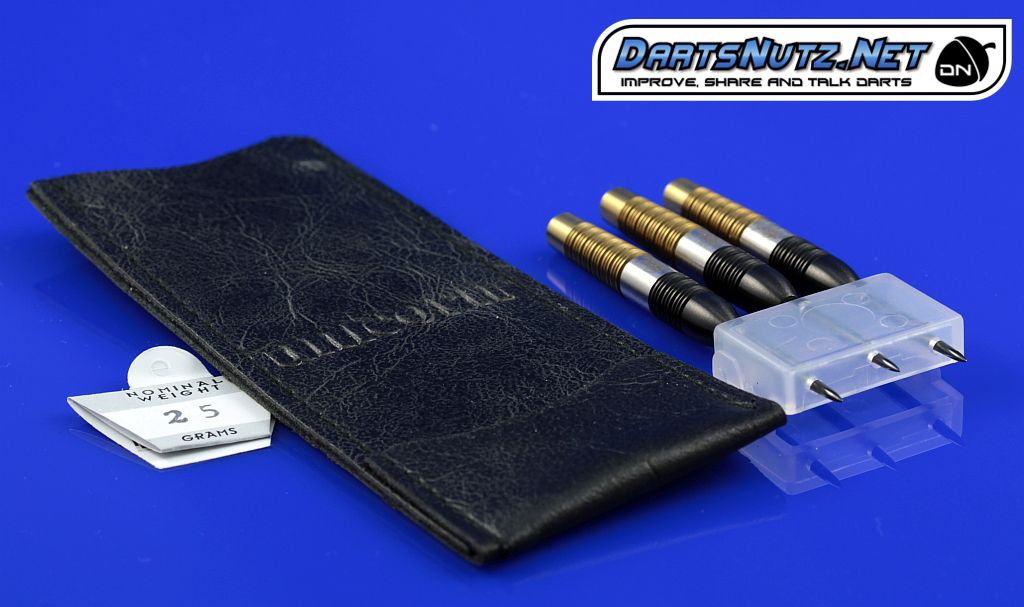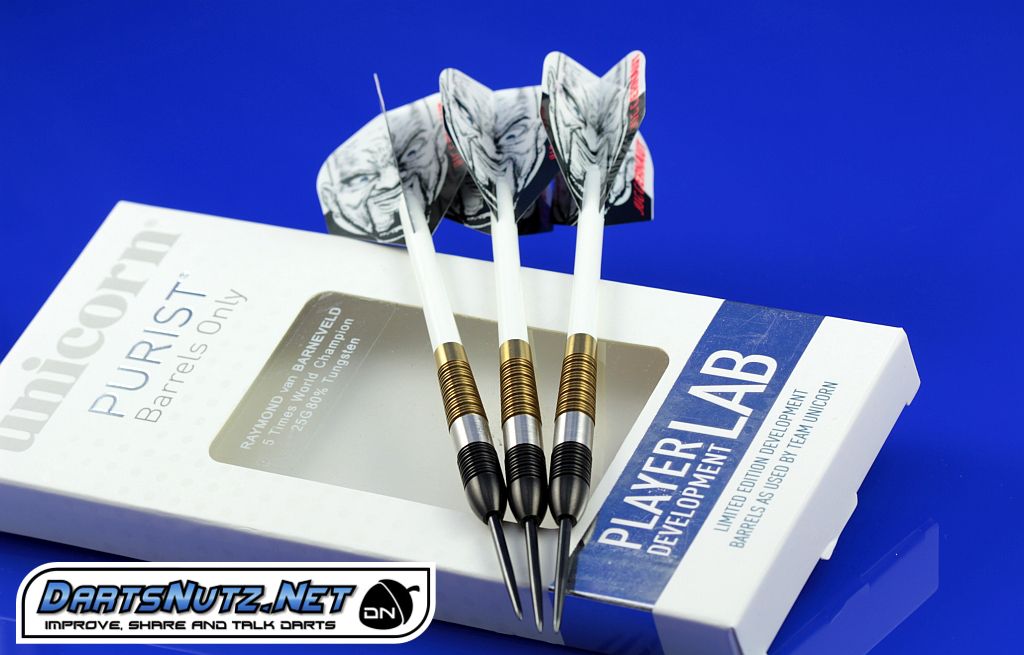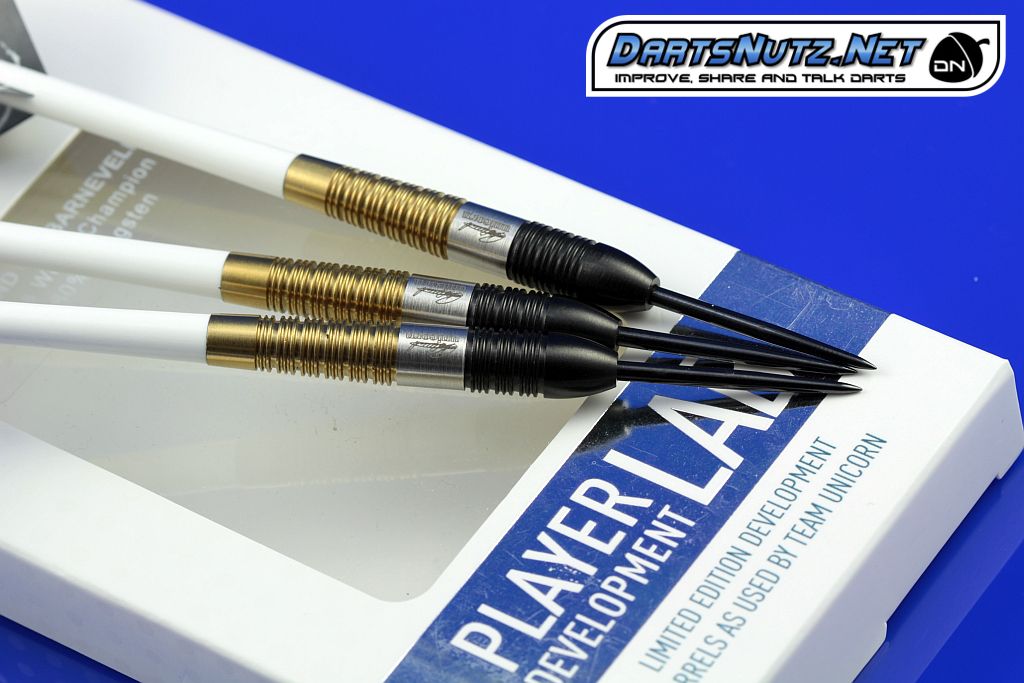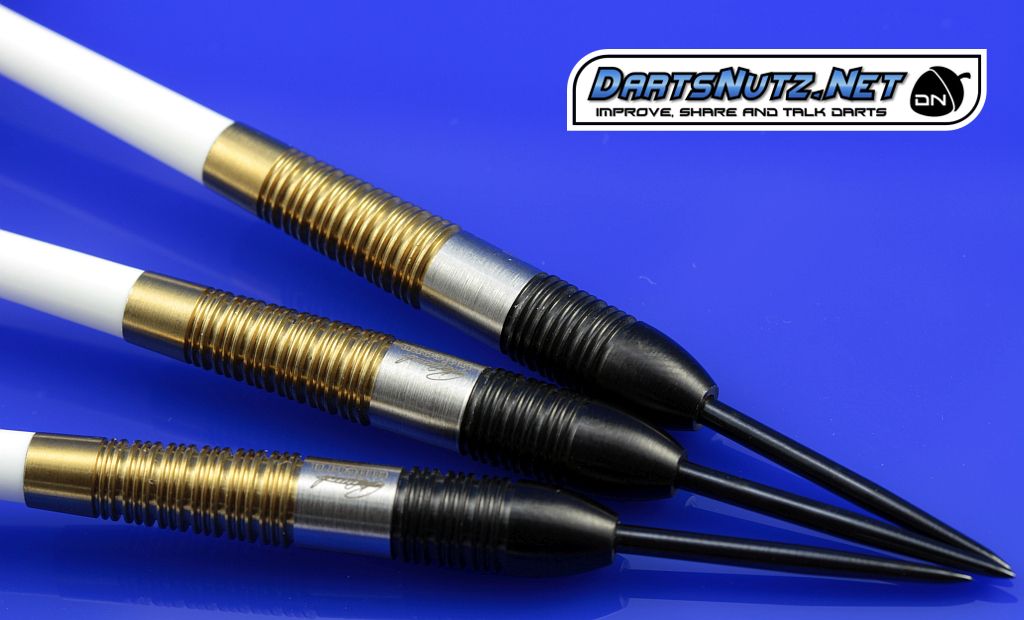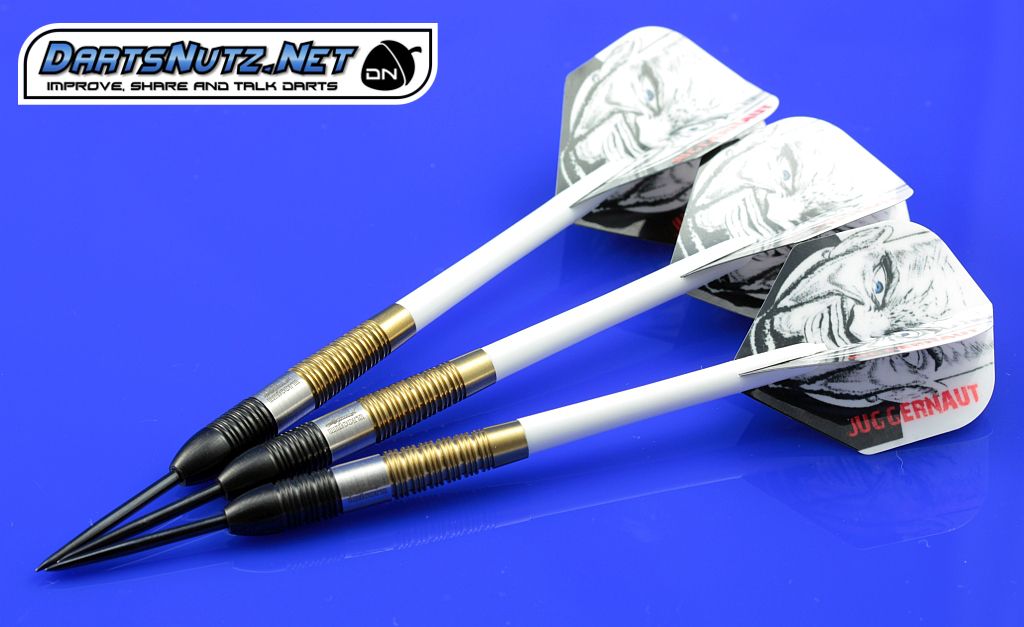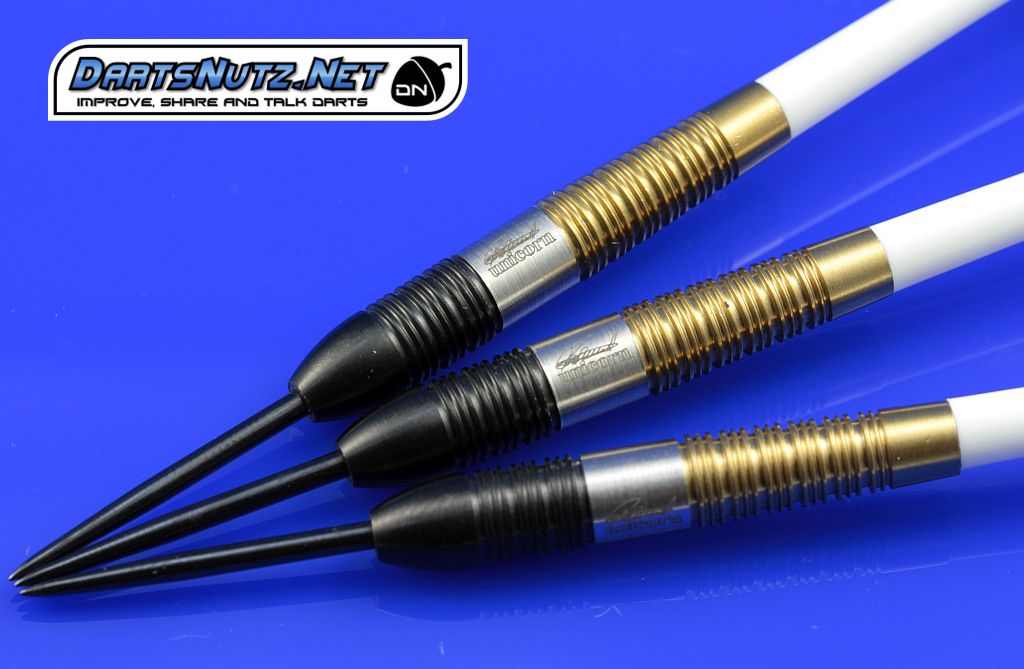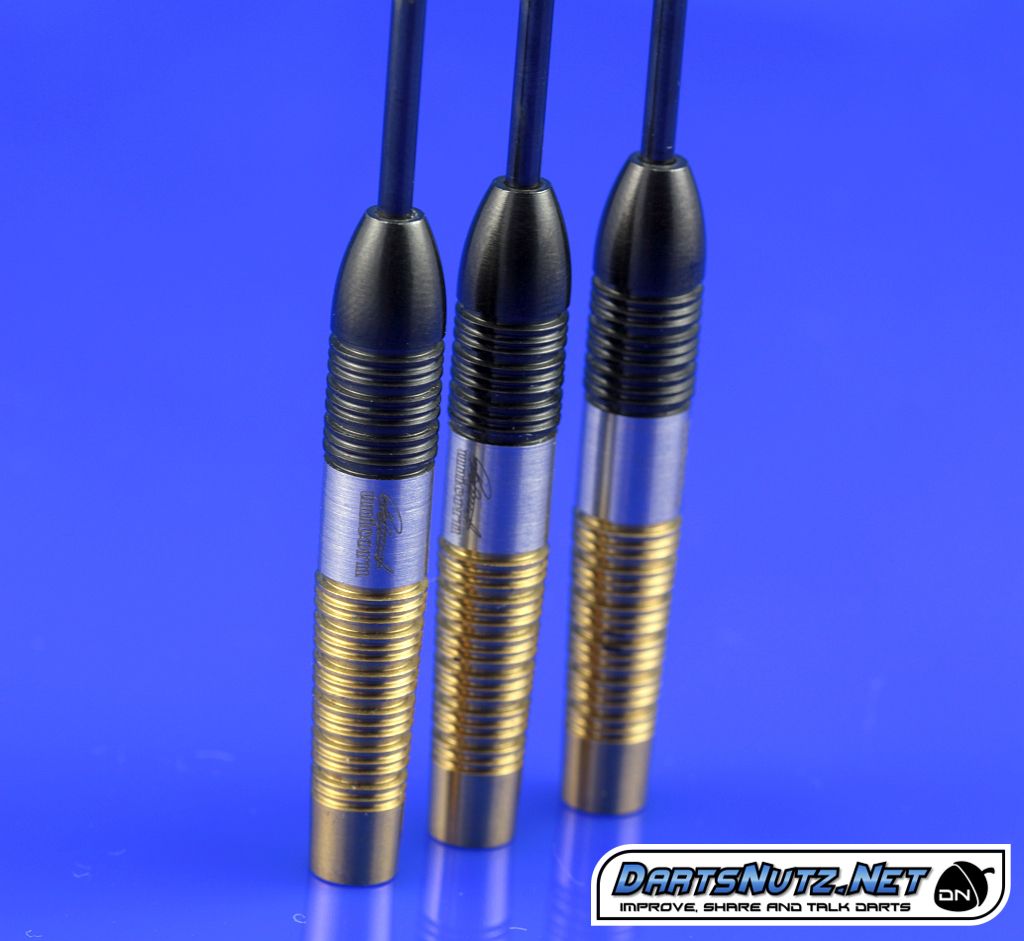 As you can plainly see the darts are a 2 tone black and gold with a natural tungsten bit in the middle. I first thought the black was a ti coating but I don't think it is, I think its some kind of black paint? and I am not sure if the gold is gold ti or gold plate, I am thinking it be the latter but nevertheless it looks very good. The Purist grip on these is not as grippy as I first thought, I think its because the rings are in sets of 3 and not overly deep cut or widely spaced so its more of a high medium level of grip.

Dimensions:

Length:

Nice, around the length I like

Width:

Not quite as fat as you may think but still chunky - ish at the front, fine for me though:



Detailed dimensions:




Weight:

The barrels are closely matched, just 3 hundredths of a gram difference:



Balance:

With nothing attached the balance point is towards the front and just around the natural tungsten section:



With the set up as I threw it the balanced moved a little rearwards and was more central to the whole length of the barrel:




Balance with my medium, short and extra short stems and standard 100 micron flights:



My grip with these:



Darts were landing tail up in the board, which is my usual: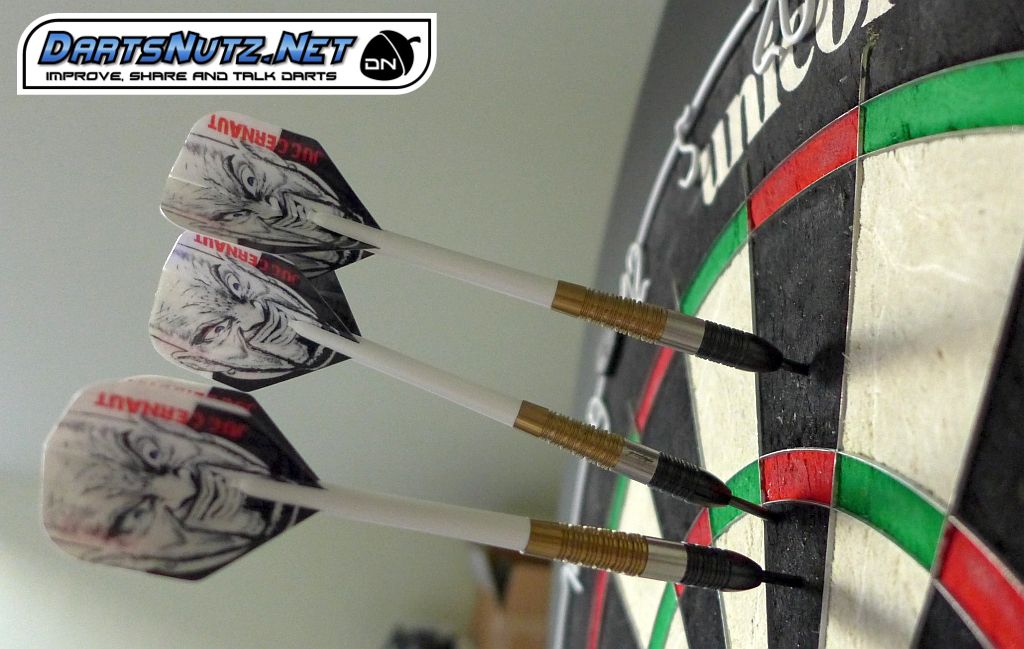 Conclusion:

As I said above I was keen to try these but thought the grip may have been a bit off putting as it looked a little too grippy. It is not as the rings are close together and although you can feel them its not as sharp or as catchy as it looks. That was a nice surprise in a way as it kind of felt closer to one of my favourite styles of grip - micro.

The darts are 80% tungsten which you may think big deal, but it feels like that content level was chosen to get a good weighted balance to the dart, as you can see the front black section is shorter than the gold part, but the gold section tapers off nicely and the sweet spot seems to lie around the band of natural tungsten. This make a great datum point for your grip and although it is a little further up the barrel than I would normally grip the dart it did feel very nicely balanced there and even though its smooth you can still feel the edges of the rings from the black and gold sections so it not totally devoid of grip there, unless you have incredibly strange thin fingers and thumbs lol!


I found the grip to be comfortable to hold and was mostly throwing with my grip half on the black and half on the natural tungsten.

I took a short while to get the hang of the weight of the darts but was really expecting to struggle more than I did and I kind of also expected them to be dipping more, but they are not as quite front weighted as they appear and when set up with my medium stems the flight was very stable and sure and they held their course well and behaved nicely!

Since doing the video review I have played with them more and got more comfortable with them and despite me thinking a 23g version may be better I have really started to like these a lot! I don't know if its the fact they are a little heavier but they just feel like a really confidence inspiring dart to throw, they have a nice solid feel about them and once you have spent a little time with them you feel very sure about throwing them which is a nice feeling


I think it helps me that they are around the length that I often seem to throw best with, 48mm, but I recently got some Target Silica Challenger after seeing the ones Greg (Rebel) got, I thought they looked like the perfect dart for my grip and throw, they are around the same length but 2 gram lighter and I just cant get on with them at all (review soon). These Barney darts feel so much better balanced for me and glad I tried them really.

I gave them a quick throw with some short stems on but they were not as good for me, not a total disaster but I feel the mediums suit my throw best with these barrels, and the scary Jugger flights too, may be its all down to his flights?


I think after a while though they will inevitably chip and obviously will not look so good but you have to accept that as a given with all darts so I don't really bother too much worrying about that, its going to happen with all coatings.

These are a dart that looks front weighted but feels more like a straight barrel centre weighted dart when throwing and I really like them!


Summary Ratings:

Looks: 8 (nice contrasting colours)
Grip: 7 (on a 1 to 10 Scale, 10 been severe grip)
Weight match: 8.5 (close)
Quality: 8.5 (nice quality)
Value: 6.5 (as they are barrels only it would be nice to see them cheaper)
Suitability for me: 8.5 (tempted to give them a higher score but want a bit more time with them first
)

Best Feature: Sweet balance and assured flight
Subscribe to Darts Review Channel here:
Darts Review Channel on Youtube
Click to visit Darts Review Channel website
My darts collection:
Flickr Album