Got these from Dartswarehouse in New Zealand, was sent on 20th July and I received them on 23rd of July, pretty amazing delivery speeds from the other side of the world!
The sites link is here:
Click
They cost £28.21
They come in a slim pack and inside the darts are fitted with white short stems and pink Shot! flights. There is a point protector and a Steel darts holder and a little cloth bag to carry them in.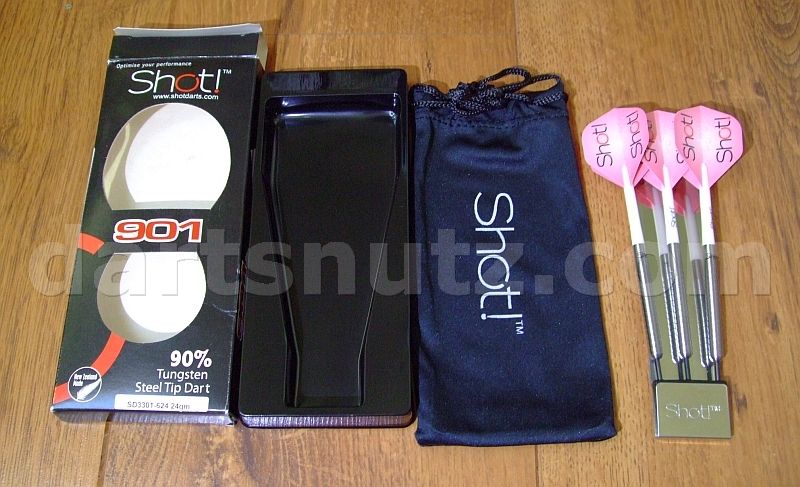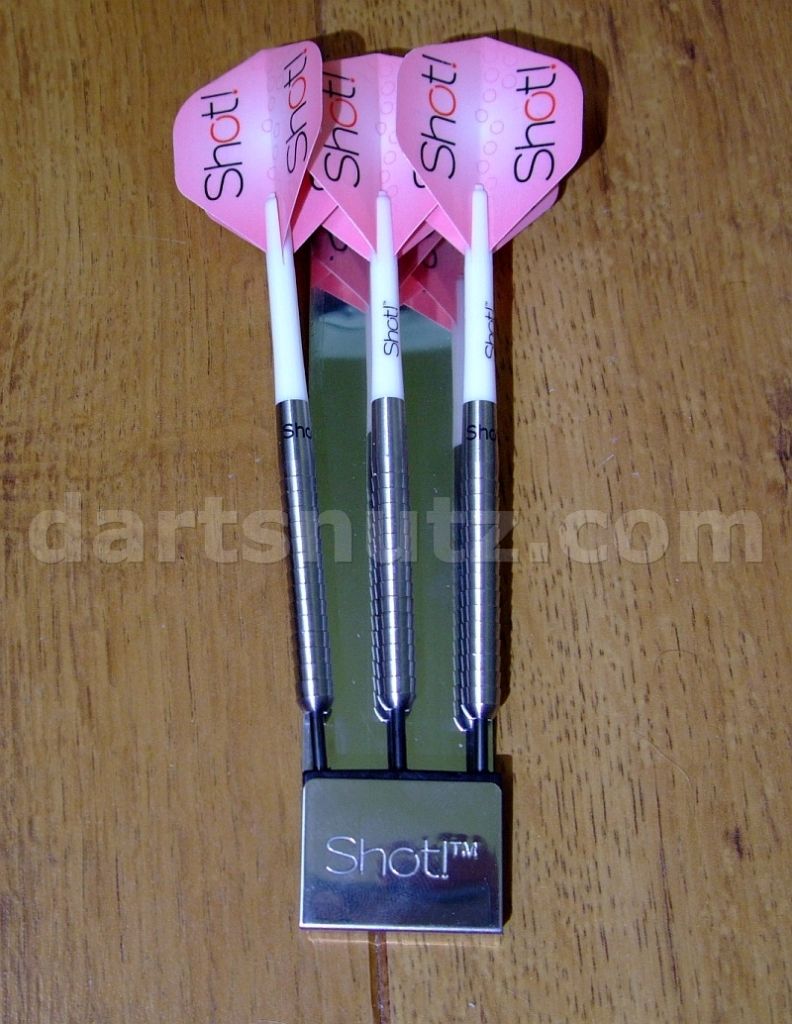 Personally I think the cloth bag and steel darts holder are a bit pointless, and would be just as happy to see a standard bar wallet or plastic case, but thats nit picking anyway as most people buy a specific case, so its no big issue.
As you can see from the pics the darts are straight barrelled but with a razor style grip.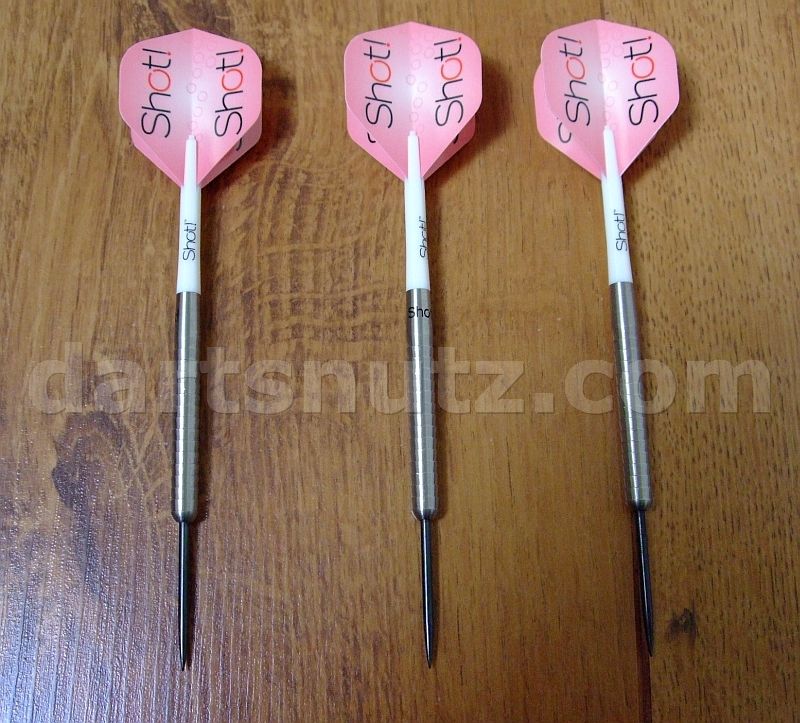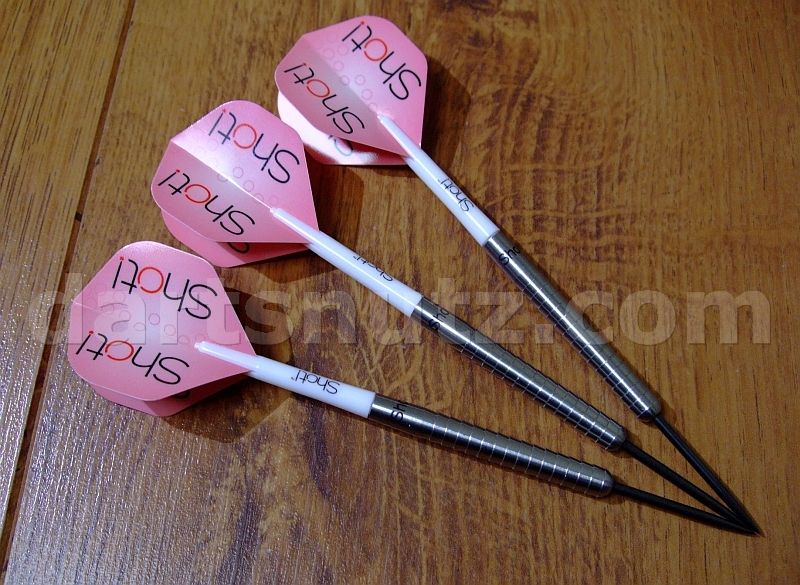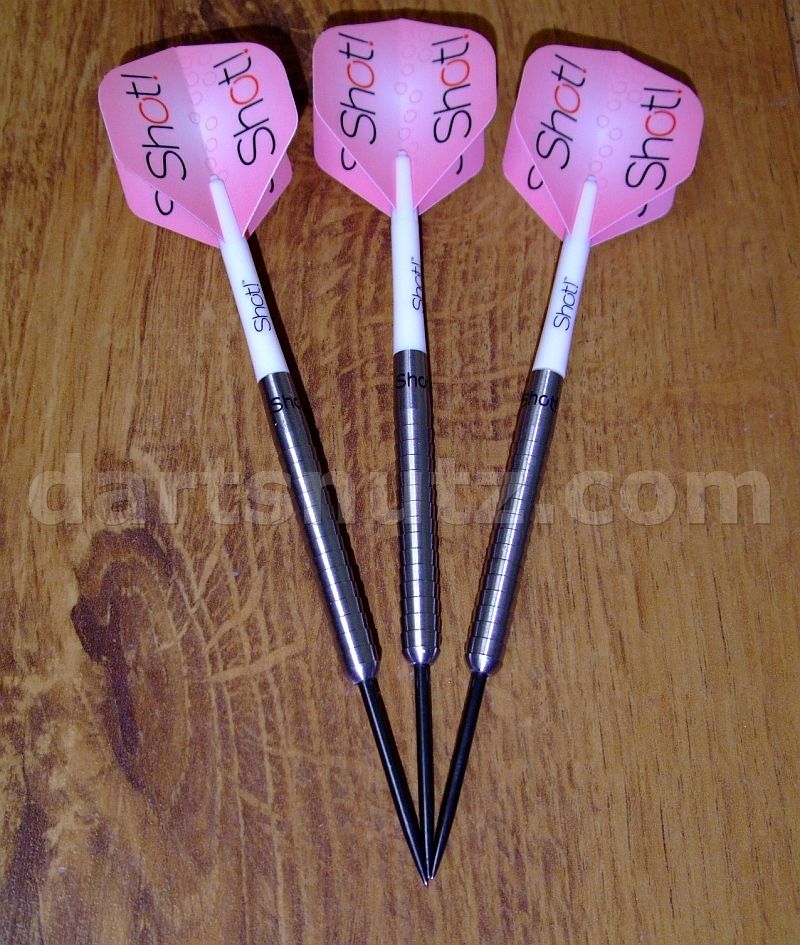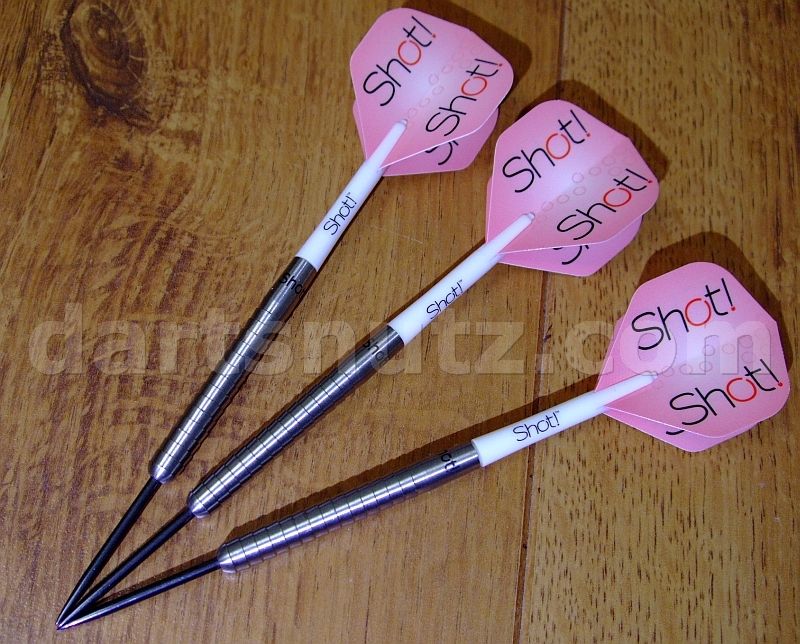 As you may be aware I am not a big fan of aggressive shark/Razor grips, however the effect on these barrels is more subtle probably because the edges are wider spaced and not as sharply angled. One curious thing I found was that if I run my thumb from the front of the barrel towards the shaft, it almost feels like a smooth dart. As soon as I move the opposite direction the grip bites immediately.
The barrels are maybe a little long for me at nearly 52mm long, but I think the short stems help compensate.
Here is the pics as I measured them: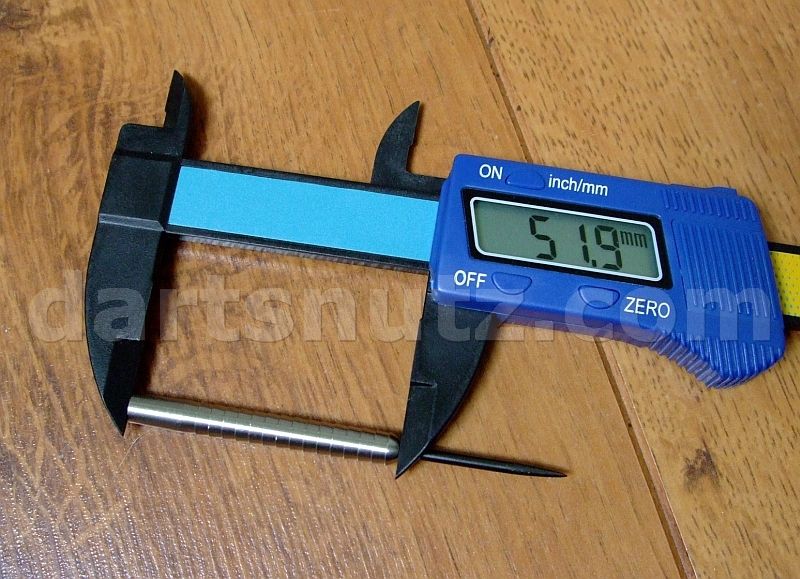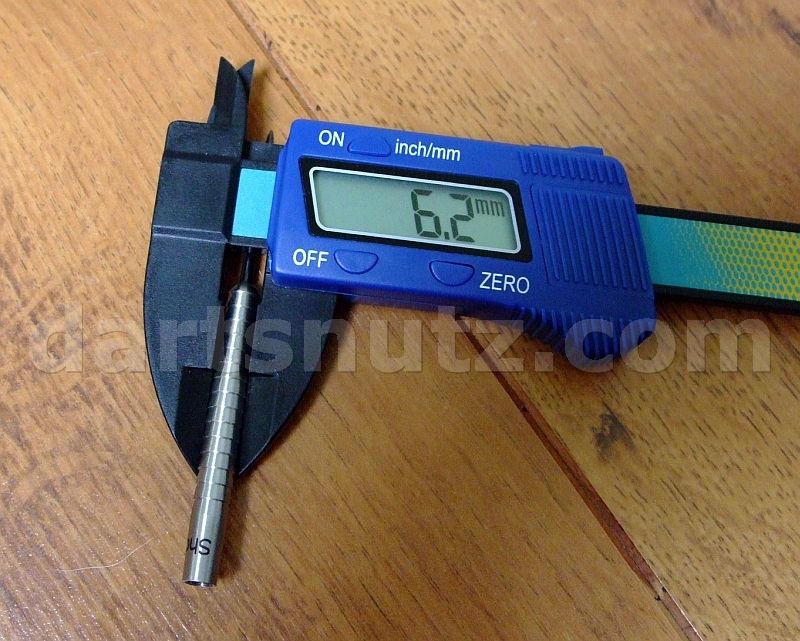 The one thing I was amazed by was the fact that with my scales each barrel weighed exactly 24g! :affraid: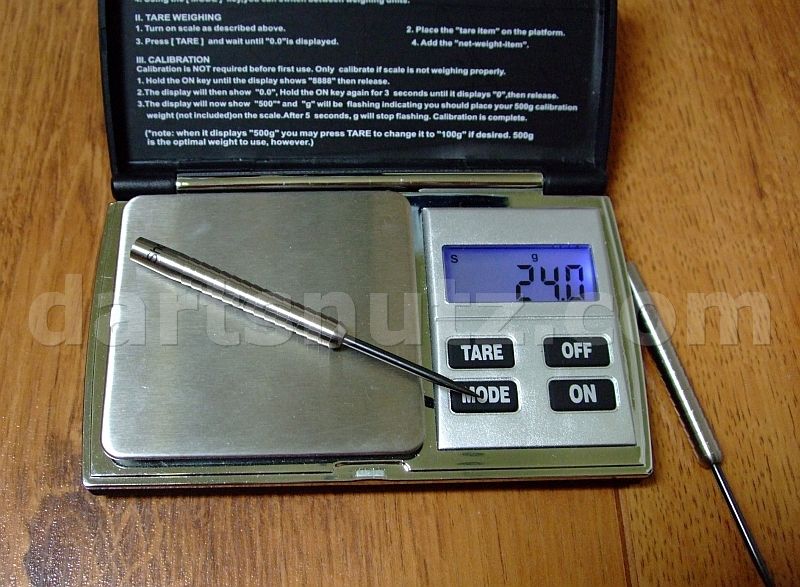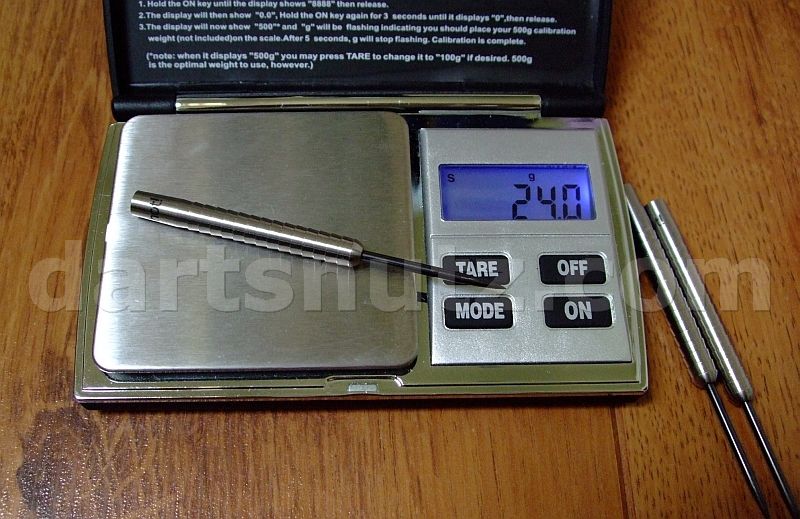 Dont think I have ever had a set where all three darts weighed exactly the same, and at the stated weight too.
Here is the balance points with Medium, short and extra short stems:
I had a play with them for about 30 mins using them as they came, one thing I noticed was the grip seemed to help with the forward pushing of the darts, was quite a curious thing at first and I think it helped add a bit of extra velocity to my throwing of the darts, my first 3 darts were ok but I almost hit a 180 with my next 3 so had to include a pic of those too!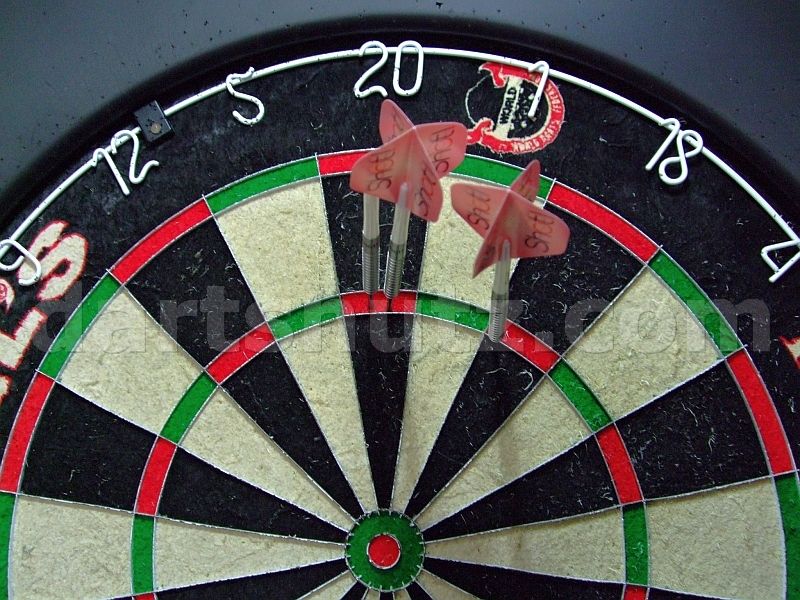 This is my grip with these darts: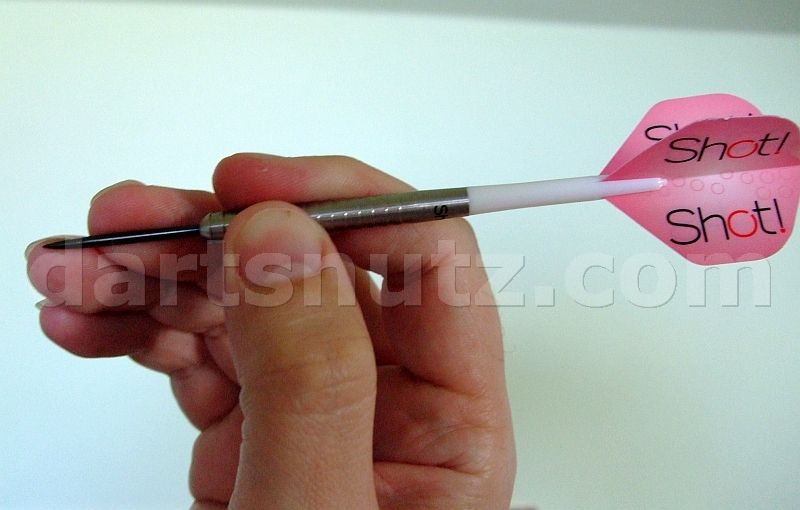 I still felt a little conscious of the grippines of the grip and felt it may have put me off a little, but think that these are not as aggressive as some razor grips so will be worth me persevering with them for a while and see if I get used to it.
Overall a very nice dart and of a high quality and standard.
Subscribe to Darts Review Channel here:
Darts Review Channel on Youtube
Click to visit Darts Review Channel website
My darts collection:
Flickr Album