Video link:
https://www.youtube.com/watch?v=XdCY9LpJygU
I got this board recently courtesy of Dartswarehouse.com you click here for the link to their page: Bandit Plus The board retails for around £55 or $109 NZ dollar (although the price on the site is higher in sterling but lower in NZ dollar?).

The features of this board are:

Razor bladed white wiring system for high visibility with no wire or staples to prevent bounce outs for maximum scoring

Bladed outer and micro inner bulls eyes for higher scoring and to eliminate bounce outs

Depth of quality eco inks for a deep durable high visibility low glare colour-fast surface

Unique wall bracket included for ease of installing and rotation without removing dartboard.

Made in New Zealand from premium quality conditioned African sisal for its resilience and visibility.

The new composite edging, made from a percentage of recycled plastic and is recyclable and provides for a clean modern look and allows for easier number ring rotation.

Box and contents:

Supplied with fixing bracket and screws and instruction leaflet.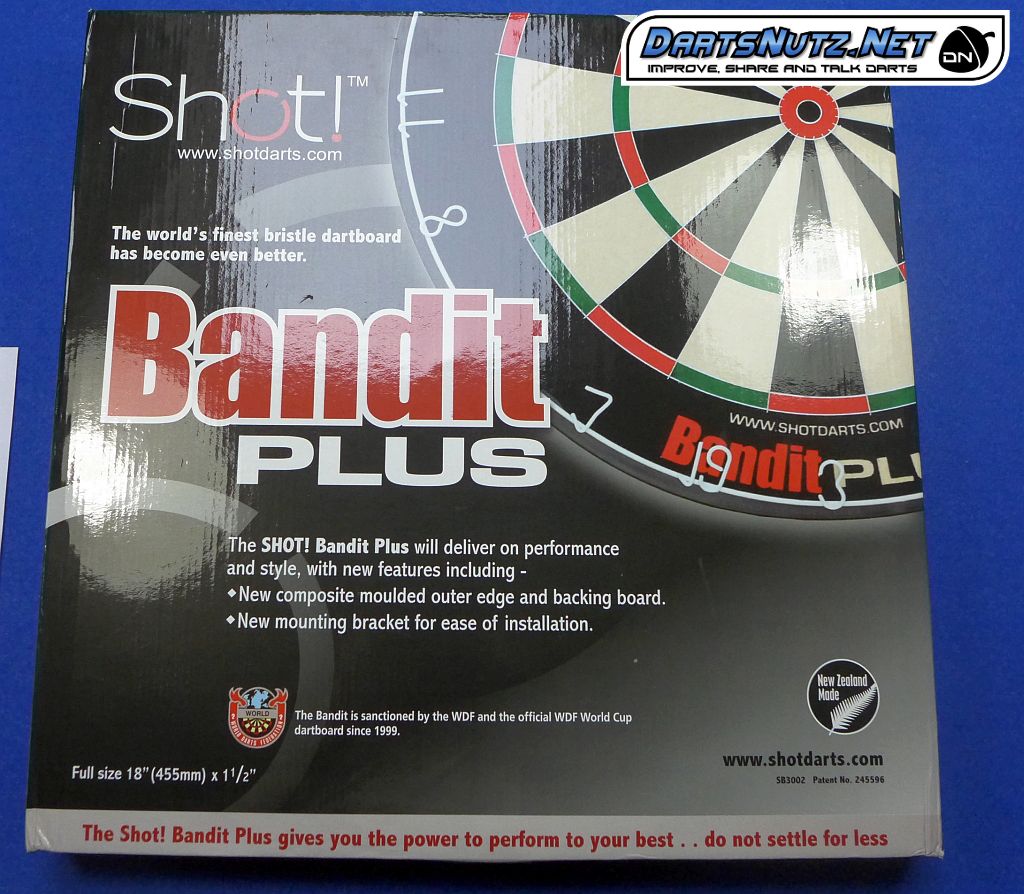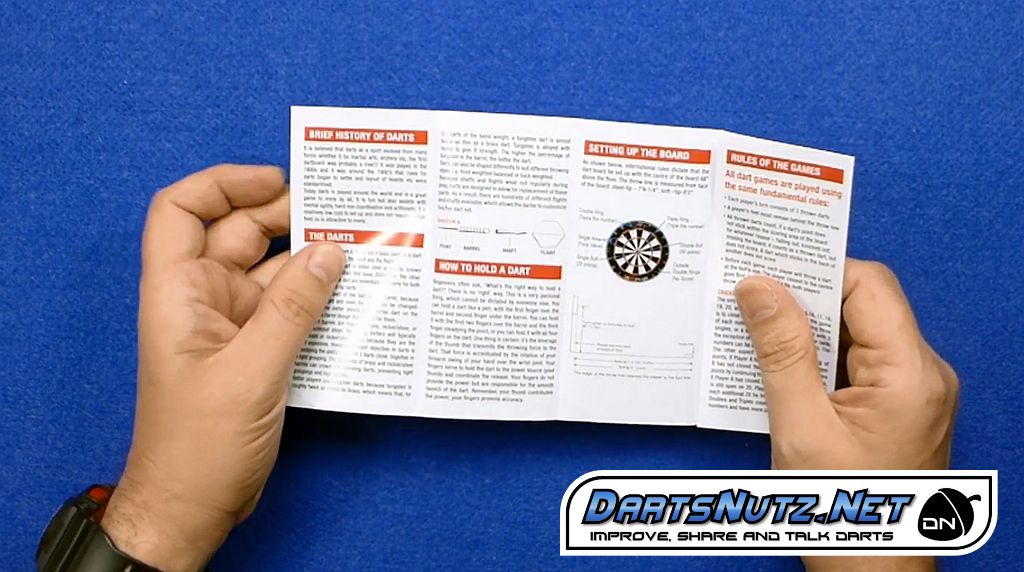 Straight out the box: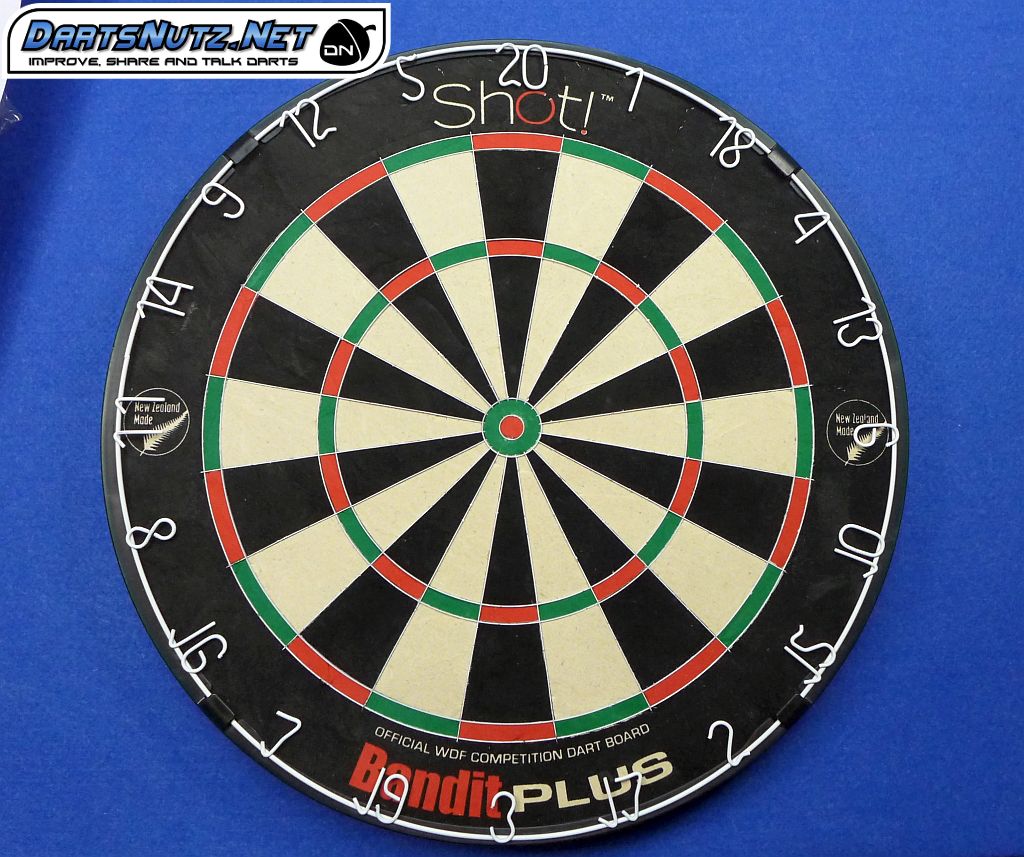 Back of the board and its main feature with built in hanging bracket: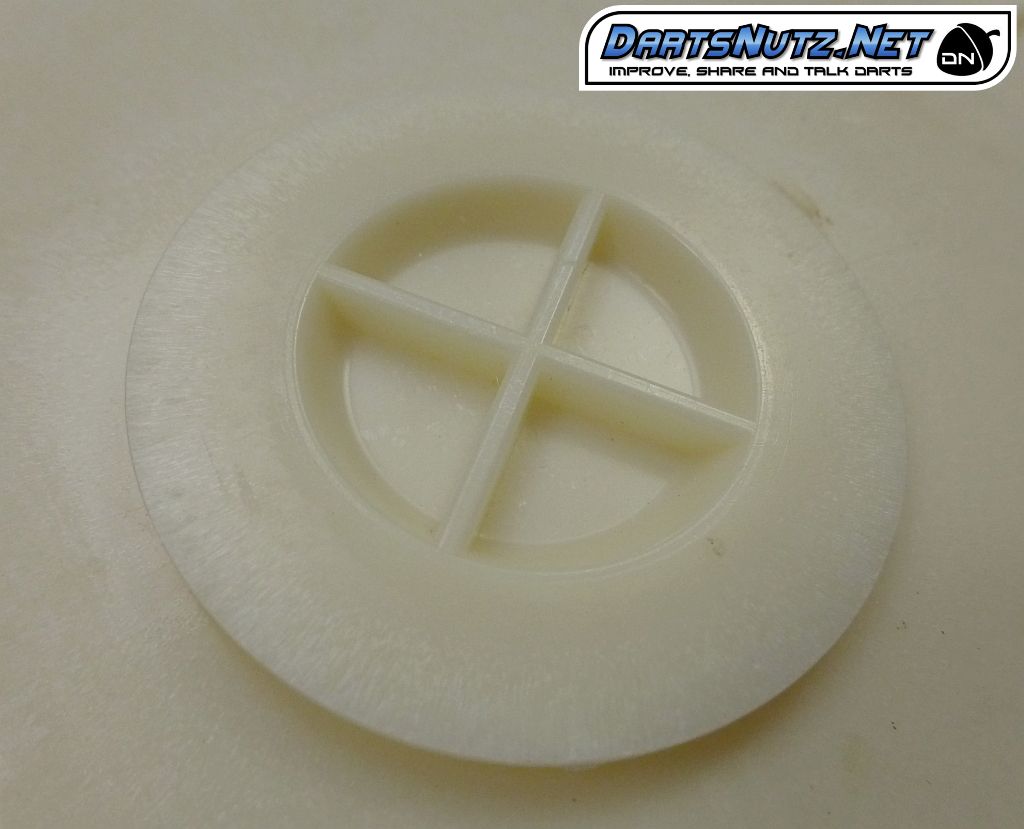 Board logos: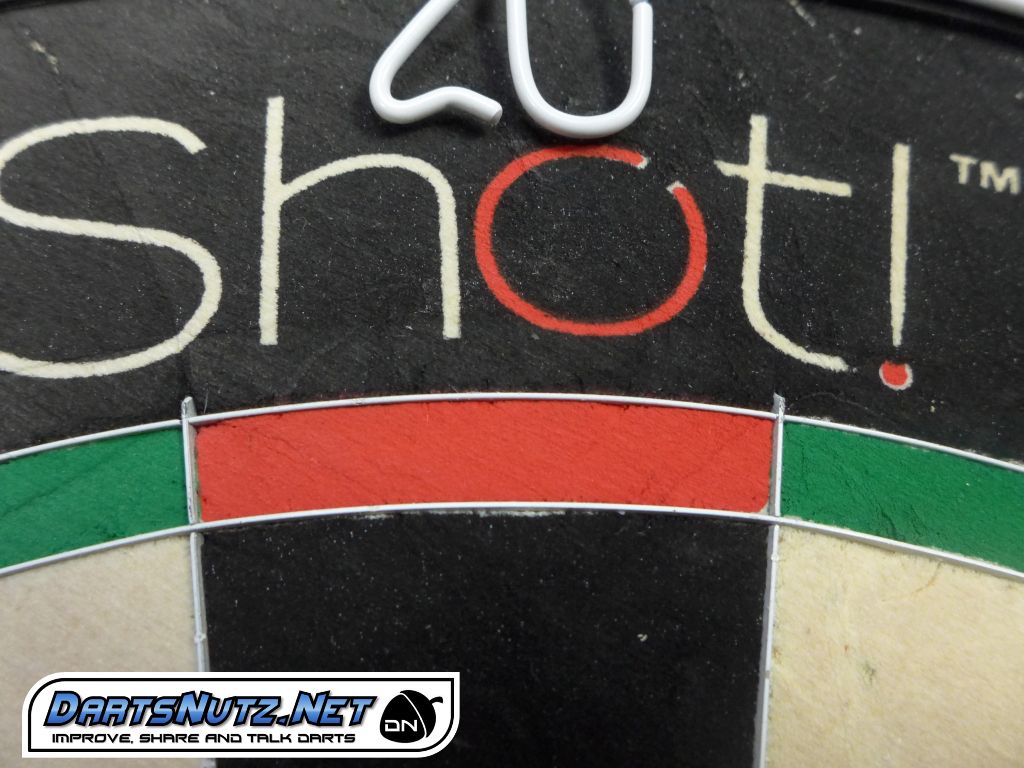 Very neat number ring clip brackets built into outer sheath:



Some random board pics: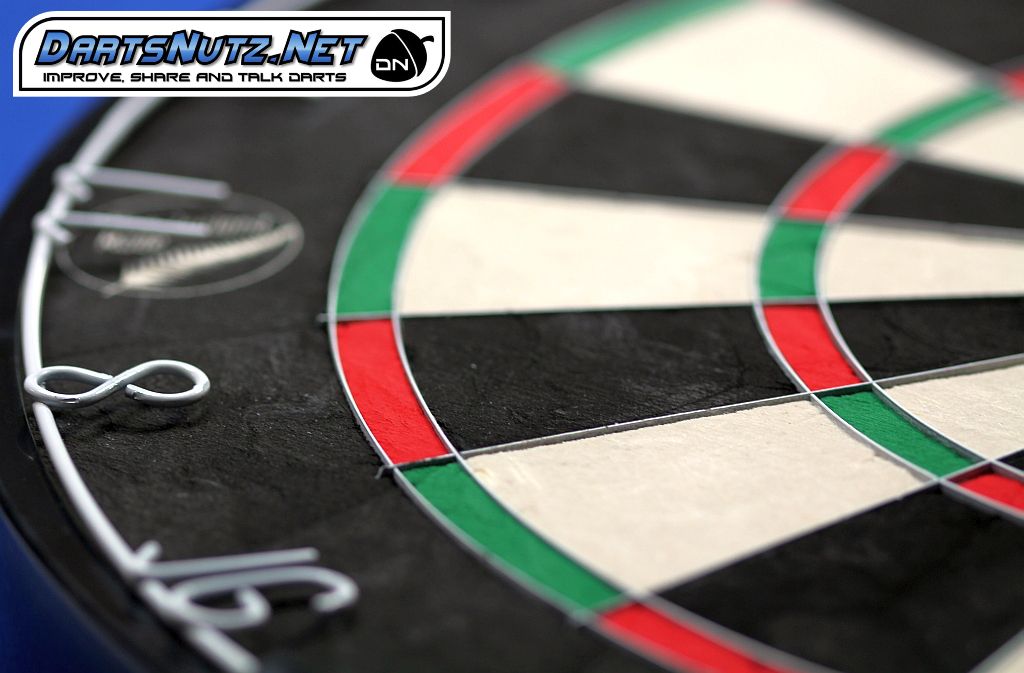 Board seems a little thinner than others: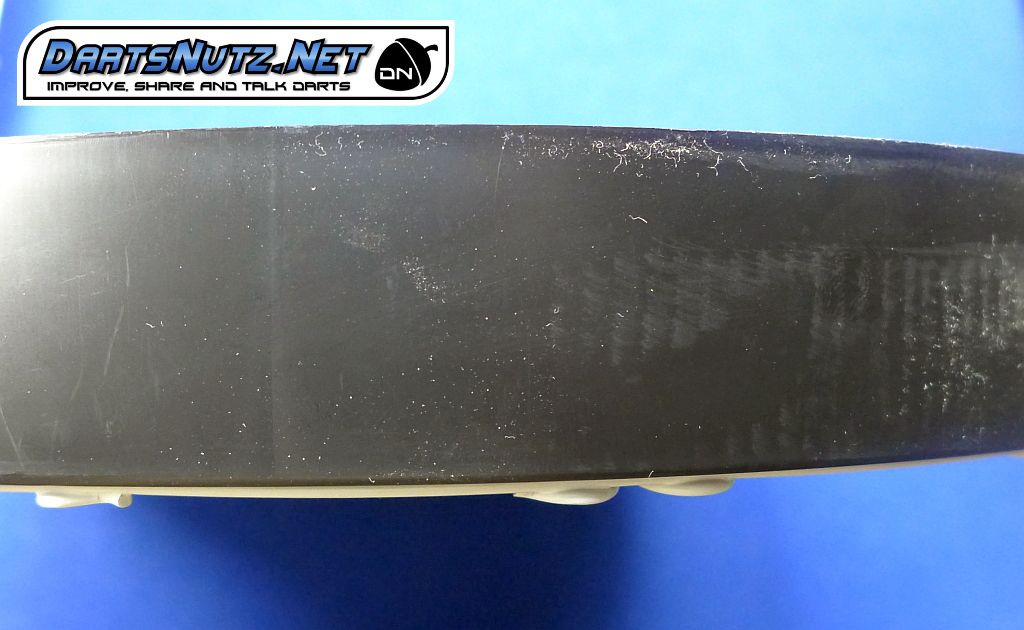 Bull area pics:



Double segment: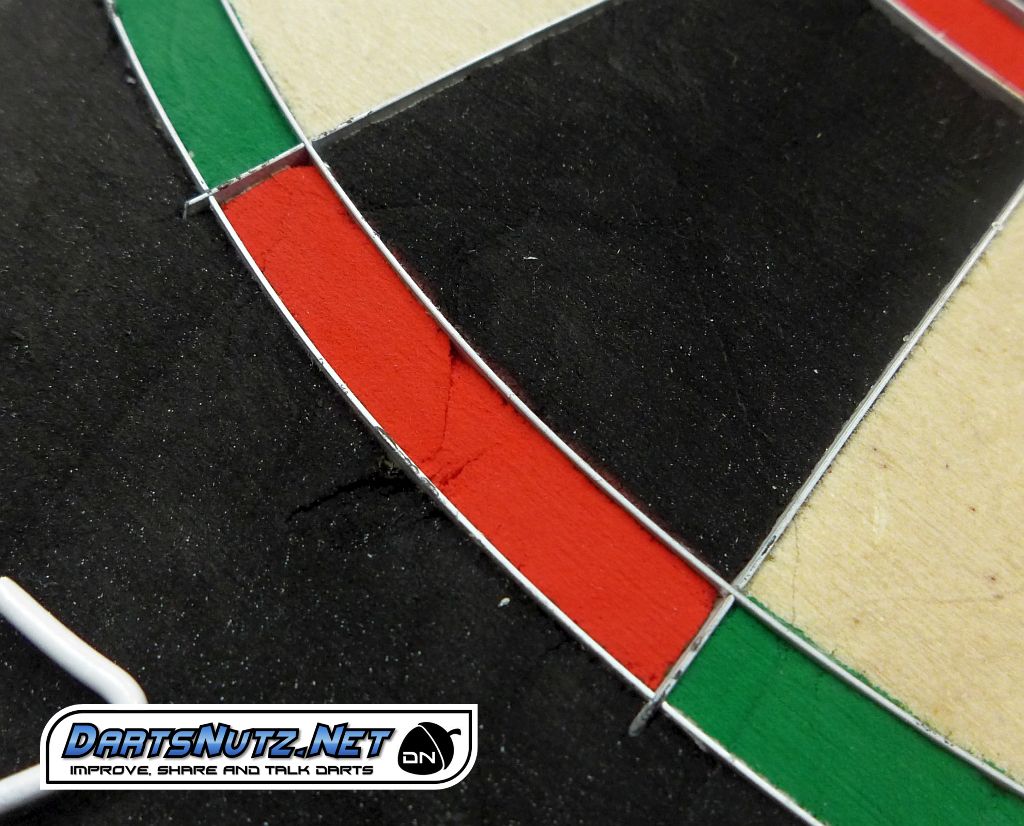 Treble segment:



Spider joint pics:

Spider has a kind of overlapped notched join like on my old Bulls Advantage 2, the Bulls Adv 2 was raised higher though, this is neater:



Measurements:

Bull area:



Doubles:



Trebles:



Segment widths:



Bracket fixed up:



Board hung up:



Couple of areas had some excess glue that had seeped through along the spider wires, I presume its when the spider has been pushed in, was easily removed though:




Conclusion:

This board had one feature that I was intrigued to find out if it worked and that is the plastic composite backing which is supposed to deaden the sound of the board. I am pleased to say that it does seem to do that or at least is part of the reason as I think the very compact sisal also adds benefit to that affect. The board has a lovely subdued almost muted thud when the darts hit it which is very nice and I like


As you can see from the pics the board has quite a vibrant look and I think the black in particular is very deep although I did spot a couple of areas that were a little bit patchy but over all the ink covering was mostly very even and deep.

The sisal is quite firm but I don't think its as hard as it was on my Bulls Advantage 2 which took a long time for me to bed in but it did last a long time too. From the outset this board is not as hard when throwing the darts but I did have a couple of drop outs but I am not sure if that was just because it is still quite new, I should imagine it will break in well in a couple of weeks use. I threw some 16g soft tips and they stuck in fairly well so it is firm but not overly hard.

One nice thing with the compact sisal is it seemed to heal up quickly and the holes were barely noticeable, just like small pin pricks.

Now onto the spider! I was never keen on the spider of the Bulls Adv 2 but the spider on the Shot Bandit Plus is so much better and neater. The wiring is very thin and it is closely fitted to the surface as opposed to been raised up. I think its much better when its as flush as possible like this is. One thing that is the same on this as the Bulls Adv 2 is the place where the spider joins together. For me that was a mini disaster area on the Adv 2 as it broke away after been hit with the darts, I should hope that this spider on the Bandit plus will fare better as it is embedded deeper into the sisal so should have less potential for the darts to cause damage to it.

The composite backing on this board is quite a neat idea and it also means the board is lighter but I did worry the disadvantage could have been because the board is thinner people who throw heavy darts or darts with long points may possibly penetrate to the backboard easier. I am not sure if that will happen, I am not a hard thrower and I don't like darts with long points so I am pretty sure it wont happen to me personally, also I deliberately hit the dart while holding it into the board as hard as I could and the compactness of the sisal meant I only got so far, but as the sisal get looser it could still be a potential issue, I will report back when I have used the board longer if it happens.

Having the board holder built into the backboard means there is less fixing of screws and gives the board a quick and easy hanging solution. I have always been a fan of these brackets too so its a good feature to have.

The Bull area seems very neat and is nice and central and flush to the board.

Having the built in brackets for the number ring is also a very neat finish and just gives the board a nice neat look overall.

One thing I noticed when I got the board was in a few areas some excess glue had been squeezed out along the spider wires and the bull ring. It was no big deal and was easily cleaned off, I presume its from when the spider was pushed into the board but I guess its also reassuring to know that it has plenty of glue holding it in place


Overall I think this board has some really neat features and feels very nice quality, it is probably the quietest board I have played on so far too. My only main concern is the price, its not a cheap board but I do feel that it has the potential to be long lasting and therefore the price may be worth it. If it lasts as long as my Bulls Advantage 2 did then it will be. I will report back with updates as and when but for now I am very pleased with it
Subscribe to Darts Review Channel here:
Darts Review Channel on Youtube
Click to visit Darts Review Channel website
My darts collection:
Flickr Album