Dartsnutz dart repoint and posting list
let us know when everyone gets them, so I can update list
If you are a guest browsing this forum, why not join up, we're a friendly bunch here and love to welcome new members
Click
HERE
to join
Subscribe to my Darts Review Channel on Youtube:
CLICK HERE
My darts collection:
Flickr Album
Maybe this thread should be renamed darts nutz repoint and post list. I almost missed it because i'm not getting my points repointed so why bother with this thread :p But wohooo they are on the way !!!
Match Darts:

23g MasterDarts Gold MVG's

or Gary Anderson phase 3
Highest out 155 (T-19 T-20 D-19)
2015 180's Goal Progress: 108/180
renamed
If you are a guest browsing this forum, why not join up, we're a friendly bunch here and love to welcome new members
Click
HERE
to join
Subscribe to my Darts Review Channel on Youtube:
CLICK HERE
My darts collection:
Flickr Album
06-05-2014, 11:04 PM (This post was last modified: 06-06-2014, 05:25 PM by The D'Artist.)
(06-05-2014, 05:49 PM)

Getagrip Wrote: let us know when everyone gets them, so I can update list
We should run a competition "guess when The D'Artist gets HIS darts" closest to the day gets a prize that I will personally send out in the mail.
Update: Let me give you a flavour of what I experience here in the backwaters of Vancouver, BC. Shipment from Shanghai, ordered from 100 Supply 24 May, leaves Hong Kong 3 June, arrives in bloody Mississauga (Toronto) 4 June, goes through Customs, sent for further customs, 5 June in transit, ETA 11 June according to Canada Post.
DC order placed 26 April leaves DC 6 May as it sat on a desk somewhere, gets to me 2 weeks later.
Custom made darts shirt made in Toronto 16 April, special job so it takes time, after several weeks I call and say "Oy! where's my shirt" ah the guy dealing with it is away, but we found it sitting on a shelf in shipping! "Now where is it I cry a few days later?" Oh shipped via UPs 4 May, maybe. Maybe I'll get it today. My record is 6 weeks from DC but I don't single out them, others have been close. So, that gives you some background on which to place your bets.
You don't mess with The Voice of Reason. You have the right to be wrong.
I'll start the ball rolling, August 01st maybe this year LOL
Current Board 
Gladiator 2 with Corona Surround and Unicorn number ring
Darts
20 gram Darts Clearance, Harrows super grip fusion stems, Rapide flights with Target titanium stem rings   
Playing 40 years on and off and still barely average                                                                            
(06-05-2014, 04:12 PM)

uncle poop Wrote: Nylon, I am not being pushy but get my darts repointed and posted first. Those other guys will not appreciate the time and craftsmanship you put in to do the job.
Deal Poop
. All those that get sent to me, I will take photos of your darts with new points & your number :d
Look what that lovely Mr Postie just dropped off - not tried them yet, but many thanks Darren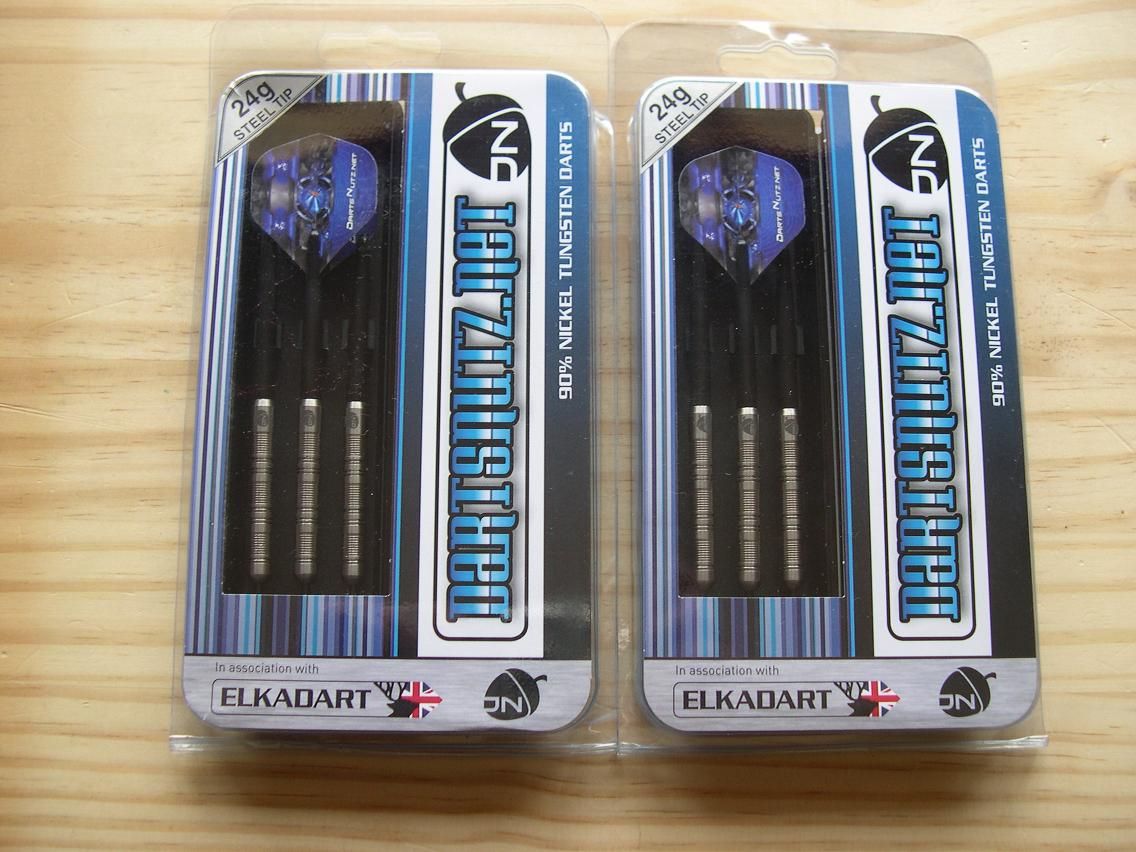 Awesome!
Will update the list
If you are a guest browsing this forum, why not join up, we're a friendly bunch here and love to welcome new members
Click
HERE
to join
Subscribe to my Darts Review Channel on Youtube:
CLICK HERE
My darts collection:
Flickr Album
Users browsing this thread: 1 Guest(s)