Video link:
https://www.youtube.com/watch?v=Ci8q1E0vyXg
Well here we go then with a review of the darts that was borne from the Elysian concept darts, and yes I know I said I would review those but I just never got round to finishing it, may be soon


Anyway I saw these Daytona Fire when I went to the Target launch last month and was very impressed with them there, I think I actually like them over the Elysian 1 really.

I did get a chance to throw them at the launch but it was later on when I was a bit drunk and the board was to my left my right and my middle, it was not easy throw at 3 boards at once lol


But I thought then that the darts were nice and now I have finally tried them in a more sober fashion I can safely say I was right, but lets start at the beginning


Firstly these are the DF-01 model and they are 22g and 95% tungsten, there is also the same model in 21g and 2 more models in steel tip in 2 weights each the DF-02 and DF-03 and a soft tip DF-10.

The darts take a while to machine and as such early stocks will be limited so if you are keen to buy then if you have not already pre-ordered I suggest you don't waste time.

Price of the darts is £95 which admittedly is not cheap but because of the machining time a black Ti nitride coating and ti/carbon stems and fancy packaging I figure it was always going to be a bit on the expensive side.  Its a lot cheaper than the Elysian 1 or 2 though although they are limited to 200 sets.  

CONTENTS AND PACKAGING:

The darts are beautifully packaged in a box very similar to the Elysian darts but smaller and without the drawer.  Inside their is a small booklet detailing the Daytona Fire range and the darts are fully assembled in a dense foam insert with a velvet like covering.  The darts are fitted with grip Storm points and also the new Target ti/carbon stems and Daytona fire flights.  Underneath is another foam try with an enamel pin badge, 3 sets of flight protectors, an extra 2 sets of flights and 2 spare sets of carbon tops.  All the carbon tops are the same size, to get different lengths you use a different sized titanium base.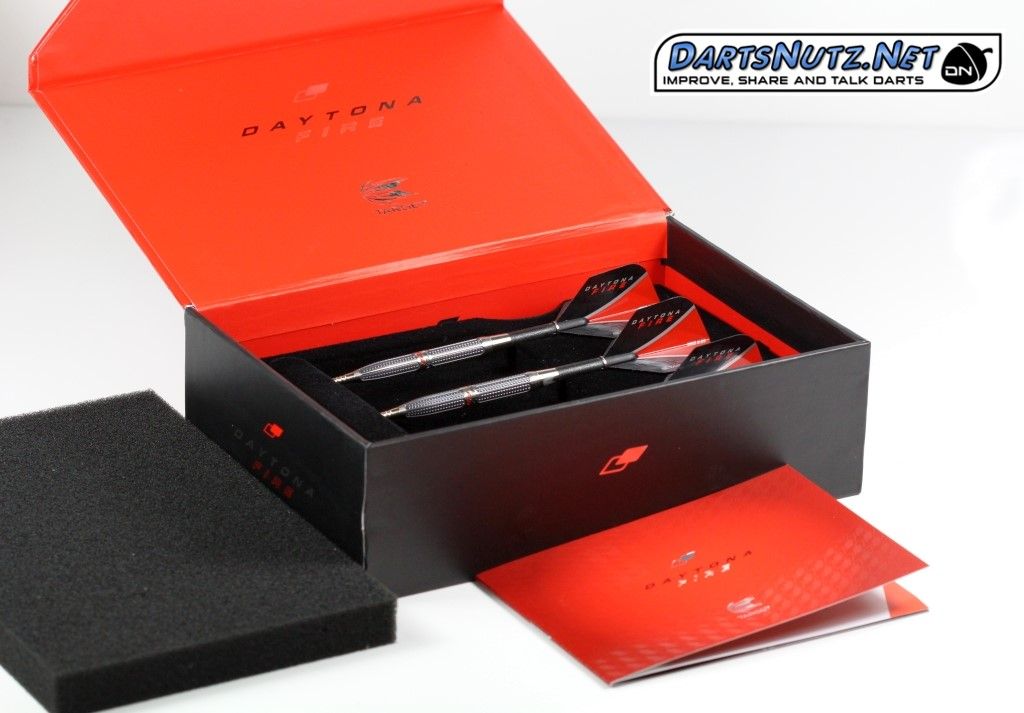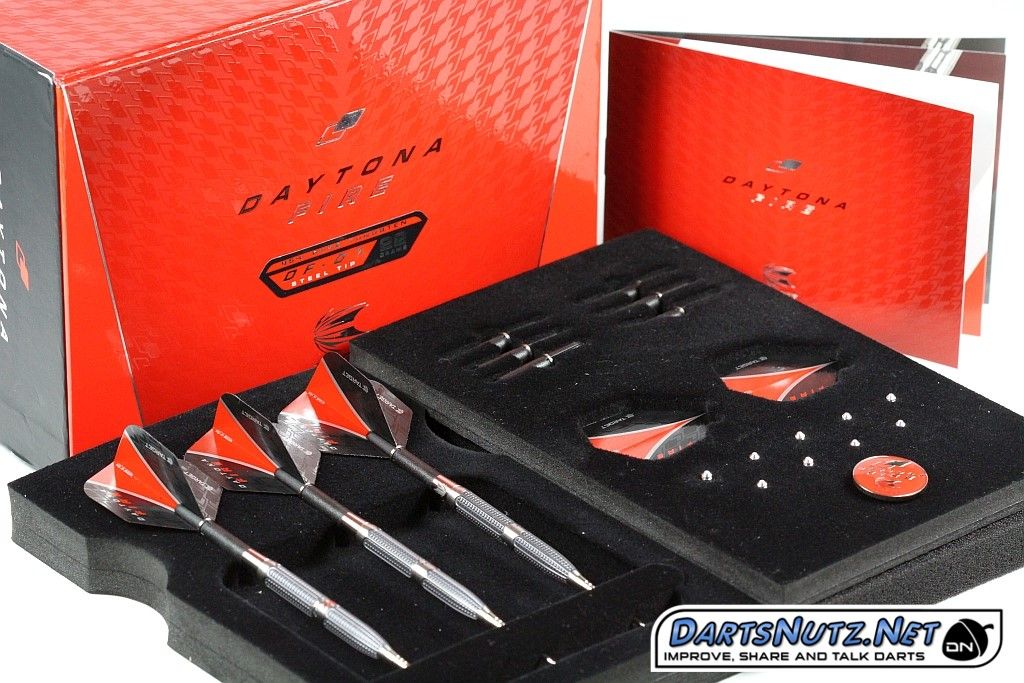 PICS OF THE DARTS IN DETAIL: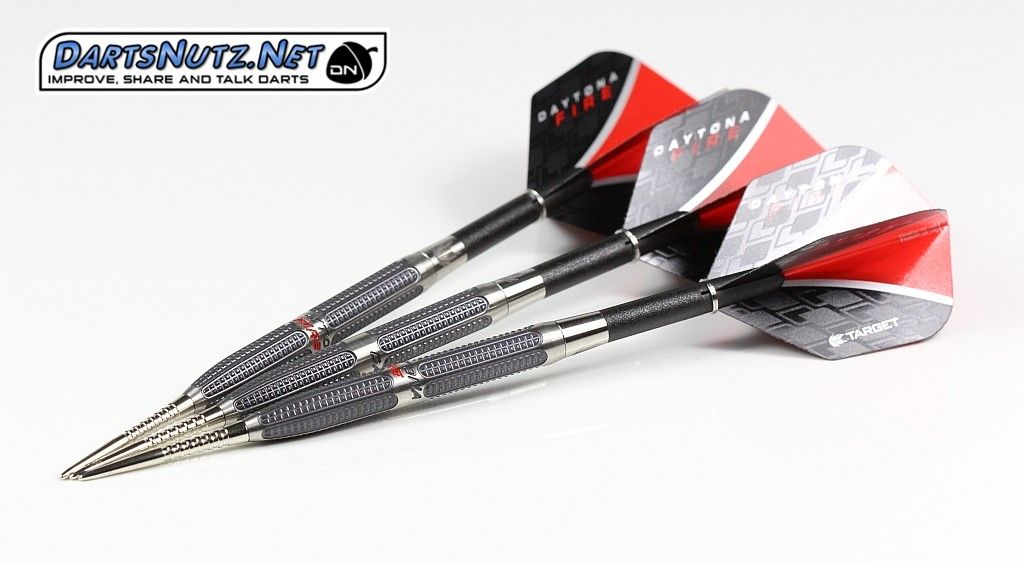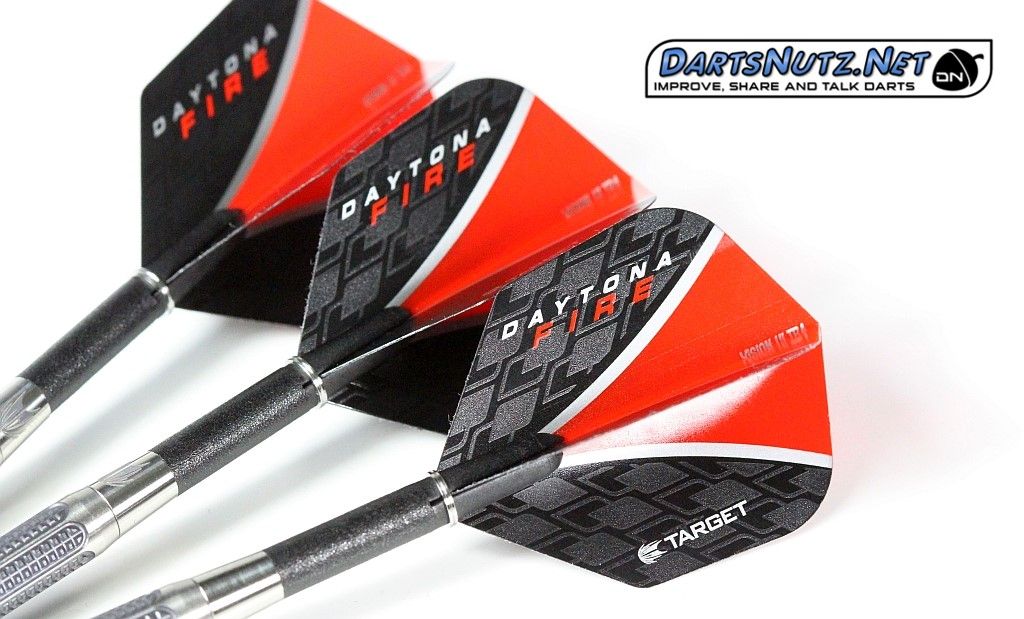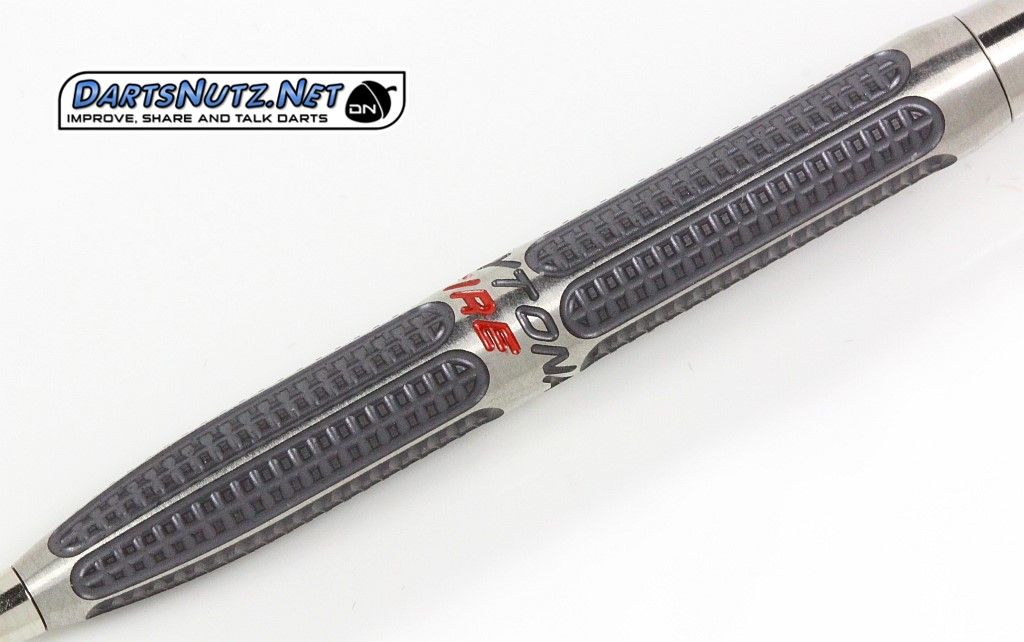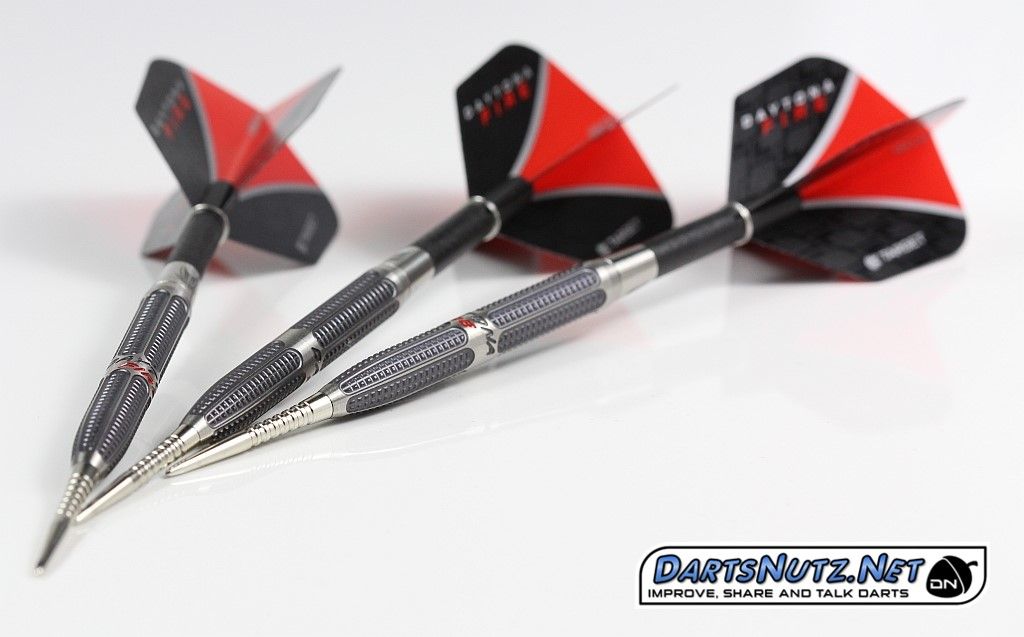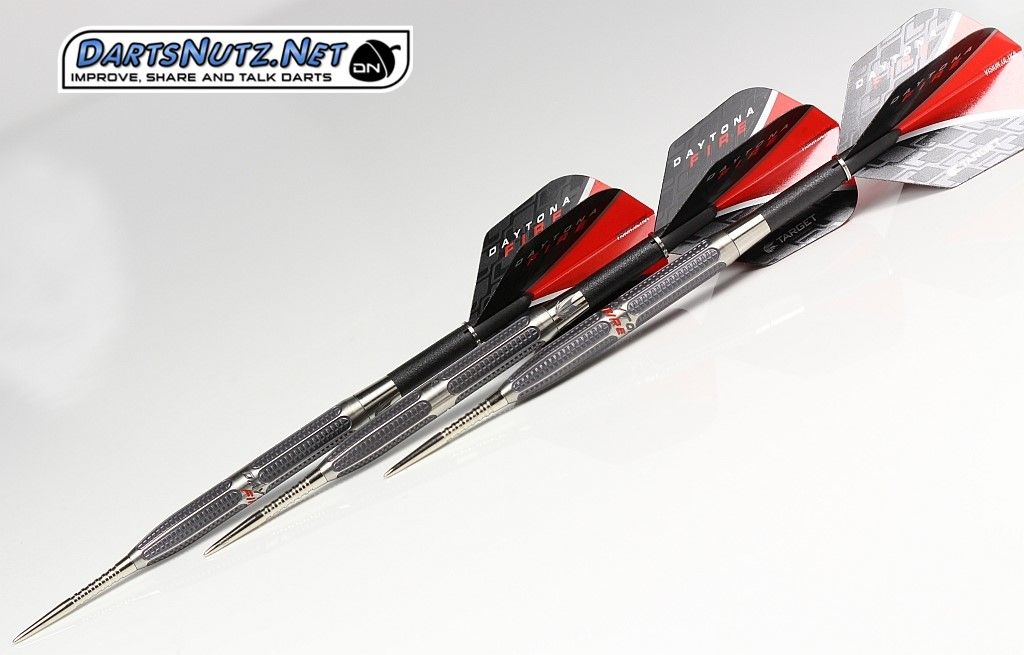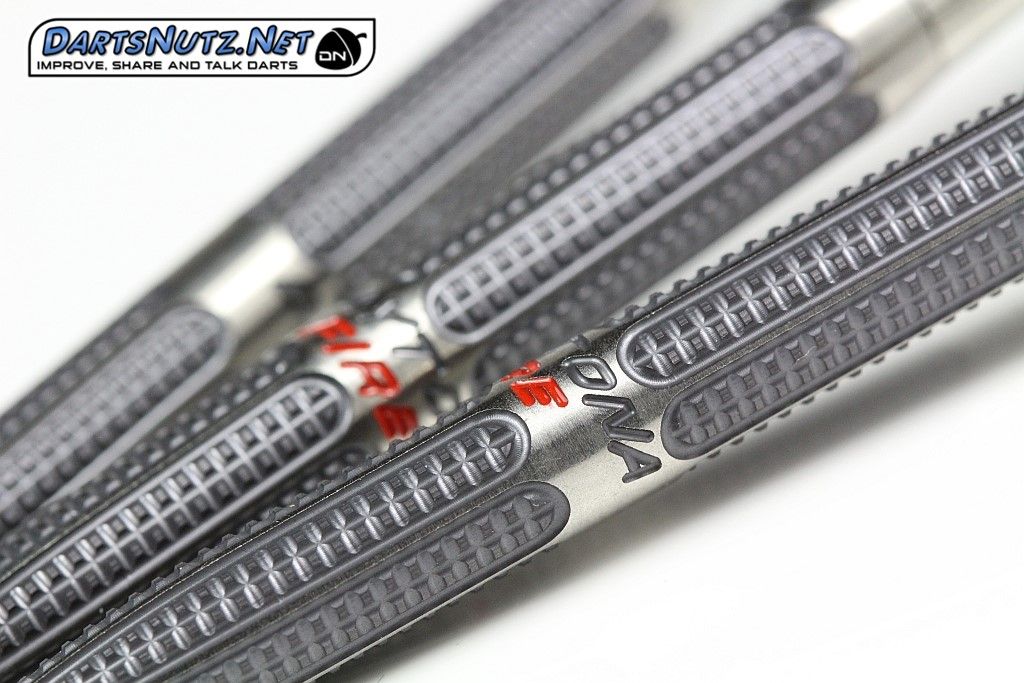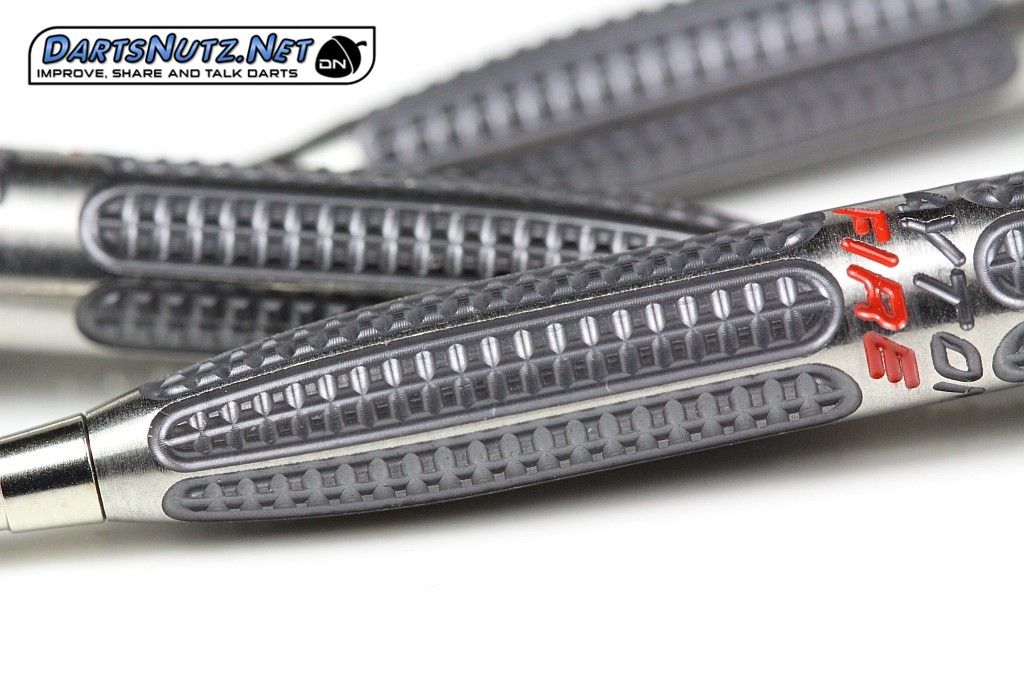 CLOSE UP PICS: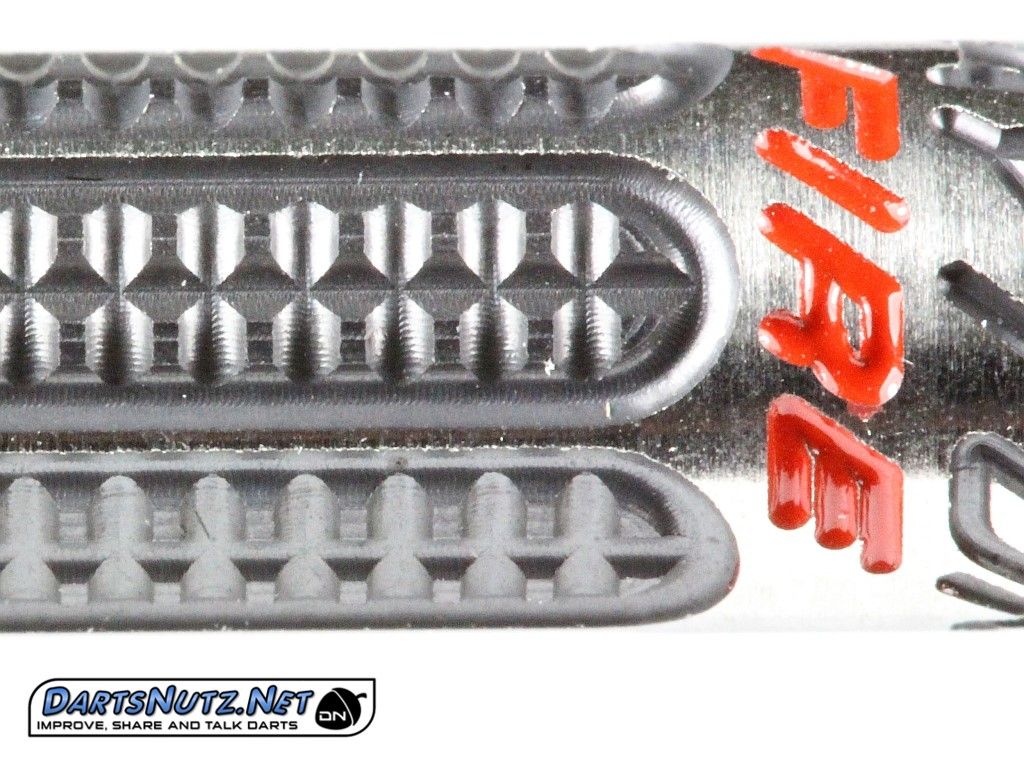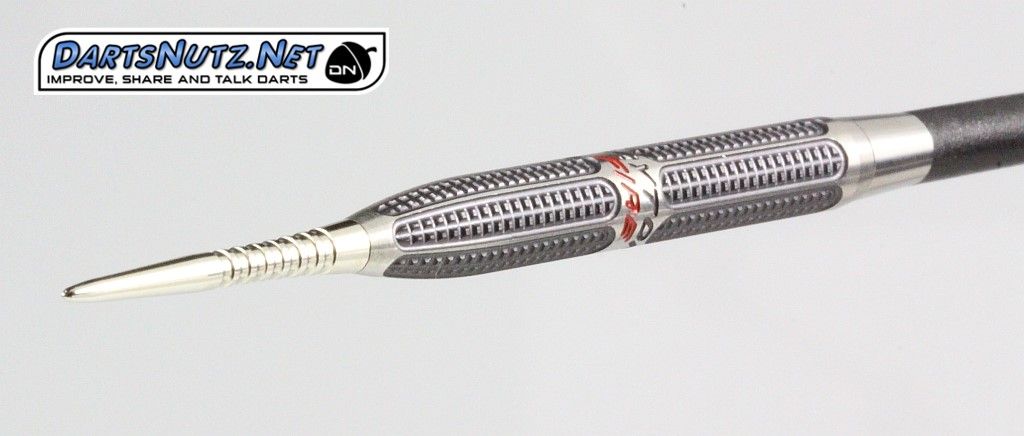 The grip is a little hard to describe its kind of like a small pimply feeling but I thought when I threw the darts it felt a little grippier so its difficult to judge and could be very much down to how the grip interacts with the individuals skin so I would say on the whole its around a high medium level.

DIMENSIONS:

Length:



Width:



Dimensions in detail:



WEIGHT:

Two barrels were exactly the same and the third was just one hundredth of a gram difference and with as much machining as what is on these I would say that's really very good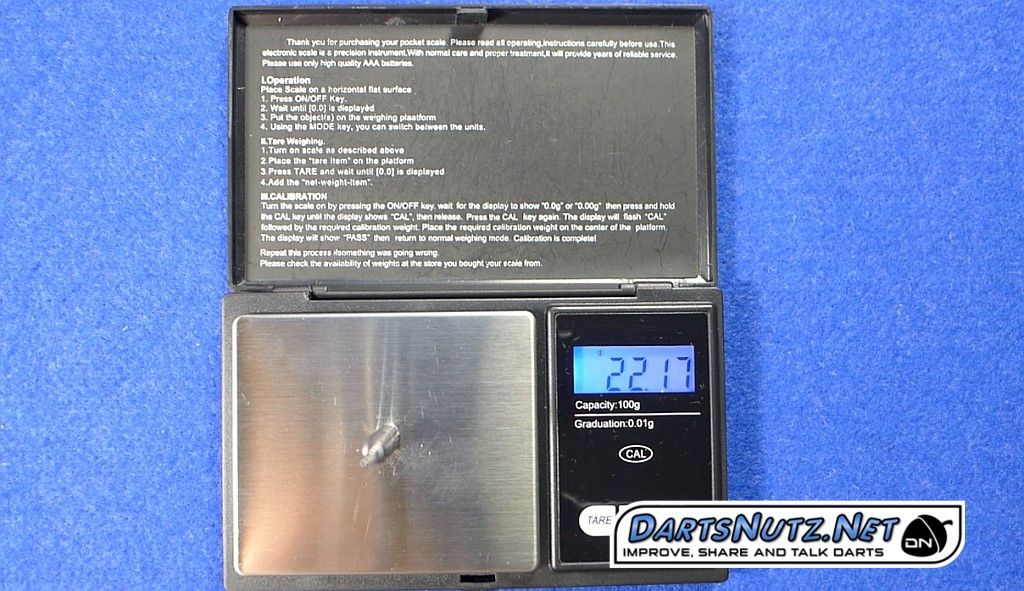 Weight of the full set up as supplied:



BALANCE:

With nothing attached the balance is front of centre:



With the supplied set up it moves to centre, may be very slightly past it:



Balance with my own medium, short and extra short nylon stems and standard flights: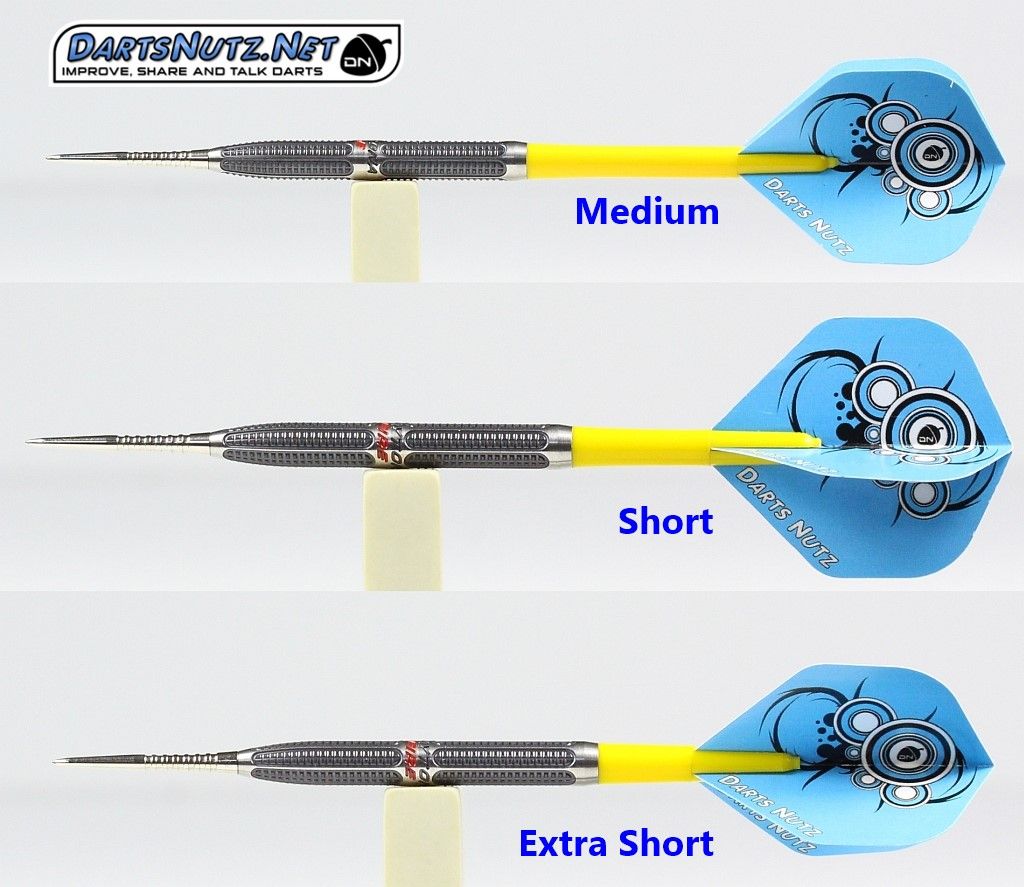 MY GRIP WITH THESE DARTS:

I was gripping just about where the taper starts heading toward the nose, felt fine there:



Darts landed just a touch flatter than my normal angle:



My 180 with these from the video above



CONCLUSION:

I think these are a really nice looking dart, very sleek and stylish looking and almost a shame to get them bashed up.

The grip is an unusual one and could be one of those grips some wont like but I also think its one that may feel a little different to each individual.  When I first felt the Elysian darts I was not sure if I liked the grip but I think on these Daytona Fire DF-01 the grip feels better and I suspect its more to do with the fact this is thinner than the Elysian.  I think it makes the grip feel better and also with the Elysian it felt more of a pronounced hexagonal shape whereas these although the style is still a little hexagonal its closer to a round shape.

I remember because of the shape of the Elysian that when I threw them sometimes it turned a little in my grip and was a bit off putting, that does not happen with these Daytona Fire and it feels a whole lot better to throw to me.

As I was throwing the darts the grip felt like it was more grippy than when I was just feeling it in my fingers but what I did notice is it seemed to be leaving my fingers a little zippier than I was used to, they may be due to the tiny little edges of the trapezoidal prisms acting on the finger print ridges and giving me a little more oomph, I don't know but possibly?

I guess if it is doing that then whether it will still be the same after a few sessions when the grip loses its edginess remains to be seen.

Hopefully the black Titaniun Nitride coating may give it some hardiness and I think also the coating itself adds a little to the grip.

Balance with my front grip was ok and through the air I got a little spin but it was mostly quite zippy so I never noticed any untoward movement, was quite stable overall.

Was ok throwing from the centre too and better balanced but I think from the centre you lose some of the nice grip although I got a little from either side of it, guess it depends how big your fingers are really.

As to be expected from the rear was not so great for me but not as bad as I was expecting and as its a straight barrel dart I don't see why it cant be fine for front, middle or rear grips.  I was certainly happy enough with them with my front grip.

One thin I am not so keen on is the points, they look good but I am not such a big fan of grip points and although my finger was resting on the grip part of the point it was a slippy feeling metal and occasionally would slip off???

Of course points can be changed and so the only other point of concern is the price, but I figure people like me will always buy darts like this whether they come in a fancy box with extras or as just darts alone as we cant help but want to try the new toys or whatever looks cool, I don't think they are going to be much cheaper without the extras and box, would be possibly £10 less at most may be.

The cost of machining is going to be high for darts like this so things been the way they are its never going to be a sub £50 or even £40 dart these days.  But like I always say its not how well a dart is made or how much it costs that matters its whether it suits you and like with every set you don't know until you try it but I although I like these a lot and like how they feel I would not say its the out and out best dart for me, I think I have thrown others I like better but these are high up that list and I have enjoyed throwing them so far


So a really nice dart and one that I am sure a lot will like but its possibly another one where the grip is different enough to be another Marmite case although personally I don't think this grip is quite as strange as some other types and overall I think it will be a more popular one but it remains to be seen how it wears, I suspect it will wear quickly though.

Summary Ratings:


Looks: 10 (lovely looking darts)
Grip: 7.5 (close to an 8 but erring on a 7.5.   1 to 10 Scale, 10 been severe grip)
Weight match: 9.5 (nearly perfect)
Quality: 10 (really very good)
Value: 6.5 (obviously not cheap but really nicely made)
Suitability for me: 8.5 (really good to throw for me)

Best Feature: Grip
Subscribe to Darts Review Channel here:
Darts Review Channel on Youtube
Click to visit Darts Review Channel website
My darts collection:
Flickr Album