Video link: https://www.youtube.com/watch?v=ZAul55GL218
This is a review of the re-styled and re-packaged version that I reviewed in 23g a while ago, you can see that review here: http://www.dartsnutz.net/forum/showthread.php?tid=15560

As with those, these come in 21g (review set), 23 and 25g.  I got them from Dartswarehouse.com and they are 90% tungsten and cost £49.70 (depending on exchange rate) which includes free worldwide delivery.  They have been re-named Mighty Generation and there is another model called Green Demolisher which is 70% tungsten.

You can check the Mighty Generation darts out here: MVG Mighty Generation darts


CONTENTS AND PACKAGING:

The darts come in a slimline box with a slide out plastic tray housing the darts, a set of MVG signature flights, a set of crystalline slim medium shafts and a set of crystalline normal intermediate shafts:


PICS OF THE DARTS IN DETAIL: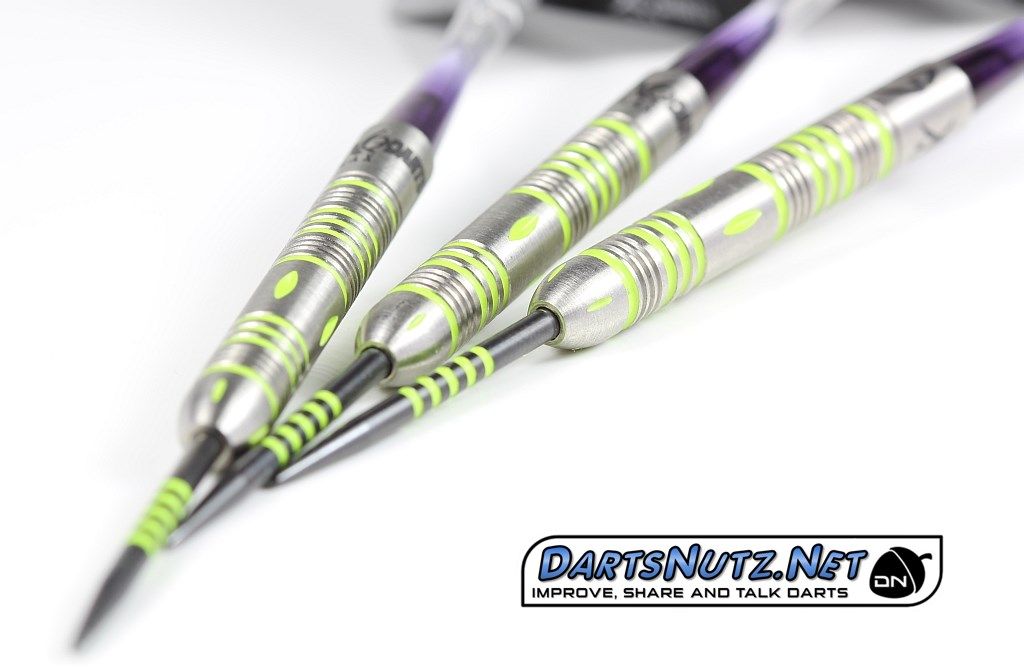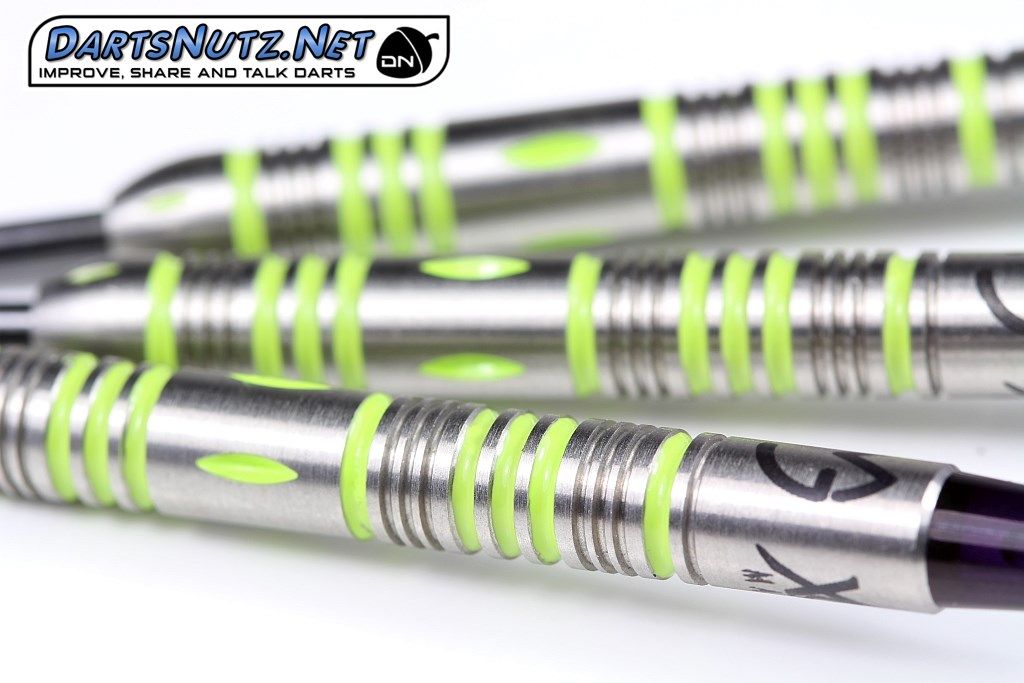 CLOSE UP PICS:


I like the addition of the grip points to this model with the green highlights in the grooves and overall I think it has a nice look but I am fond of green so I guess I'm a little biased there, I am sure some would prefer them without the paint in but I think it just makes for a different look and style which is quite funky.  The grip is close to been a high medium and I dare say it would be a little more grippy without the paint in.



DIMENSIONS:



Length:



Width:



Detailed Dimensions:



WEIGHT:

Two barrels were and exact match and the third was just five hundredths of a gram lighter so pretty good.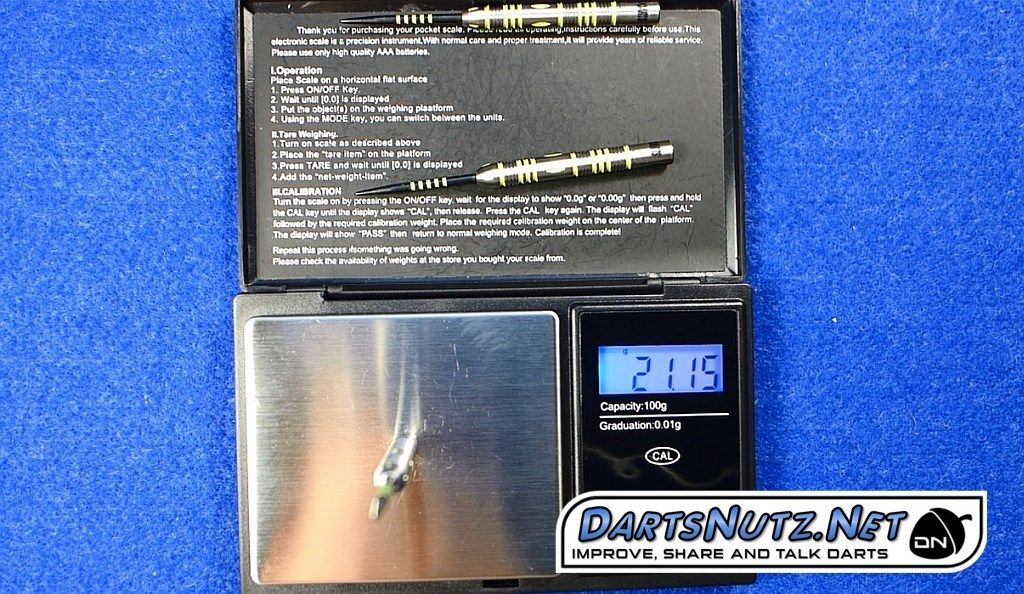 Weight of full set as supplied:



BALANCE:

With nothing attached the 21g version is a little more front weighted than the 23g was:



With the medium slim crystalline stems attached the balance is pretty much central:



Balance with my own medium, short and extra short nylon stems and standard flights:



MY GRIP WITH THESE DARTS:

I was still gripping these at the front but I think I was more comfortable with these a little further up than I was the 23g version which is quite curious: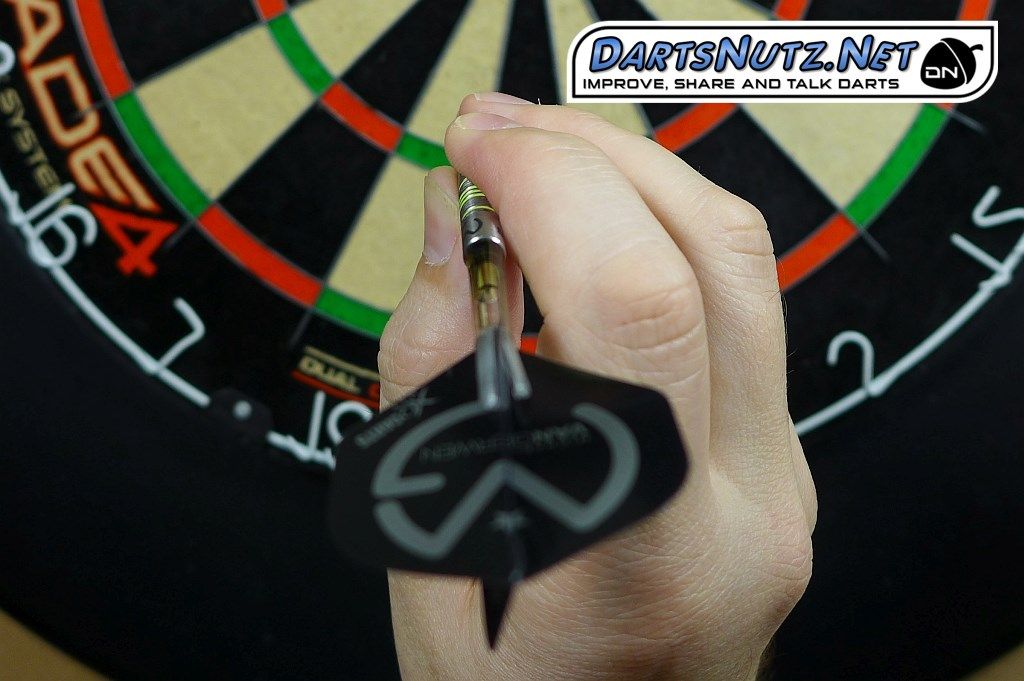 Darts landed in my usual angle:





CONCLUSION:



Trying the 21g version has thrown up some curious findings for me.  It is the same barrel dimensions as the 23g version but this 21g version is drilled out more at the rear which you would expect to suit my front grip better.

The only other difference is this version has a longer point at 3mm longer.  Also the darts are only roughly 2 grams lighter but they seemed to feel much lighter still???

But with a very front grip around the nose I was getting some fishtailing and I found that they threw best closer to the bigger diamond shaped notches which was a little further up the barrel than I threw the 23g from.  From that grip they felt much better to throw and also more well balanced but they felt even better balanced around the centre.

So they throw very well from the centre but I also felt they threw better from the rear than the 23g version I tried before which was again strange.  It could be that I have just tried so many sets of late that my throw is a little mixed up, its hard to say.  

I think they fly very well overall and should definitely work well for any style grip with probably the best being for people who like to grip around the centre either just behind or just in front but worth a try for front grippers too but I just felt the 23g worked better for me personally.

They are nice darts to throw though but may be the slightly heavier barrel is why I was better with the 23g version?

A good looking dart that has a nice grip and should be very suited to a lot of grip styles




SUMMARY RATINGS:



Looks: 7.5 (nice styling)
Grip: 7.5 (on a 1 to 10 Scale, 10 been severe grip)
Weight match: 8 (close)
Quality: 8 (nice)
Value: 7.5 (ok )
Suitability for me: 7.5 (still nice to throw but prefer the heavier barrel)

Best Feature: Good Overall Balance
If you are a guest browsing this forum, why not join up, we're a friendly bunch here and love to welcome new members
Click
HERE
to join
Subscribe to my Darts Review Channel on Youtube:
CLICK HERE
My darts collection:
Flickr Album