Video link: http://www.youtube.com/watch?v=tBn494gynoY
This is another model from the Voks 2015 range and as with the Oracle darts I reviewed previously these are a very radical design and totally unique grip!

This is the Jagger 23g Fixed Point version and there is also a Soft Tip, Fulcrum and EL-C point versions too.

The Fixed Point is cheapest at $79 (approx. £52) and the soft and EL-C is $89 and the Fulcrum $99.

Here is a link to the Fixed point version: Voks Jagger fixed point darts

The Fixed point is available in 18,21,22 and the 23 grams as reviewed here.

The set I have here is a slightly special set in that it has a black coating applied, they are normally just natural tungsten.

The Jagger model is the most time consuming of all the new Voks models to make as a special small cutting tool is used to cut out the circles/grip.

CONTENTS AND PACKAGING:

The darts come in the Voks cardboard box which is closed by magnets in the lid and they are supplied with some Voks holo flights and some medium alloy stems, included also is a point protector and a little Voks wallet:

PICS OF THE DARTS IN DETAIL: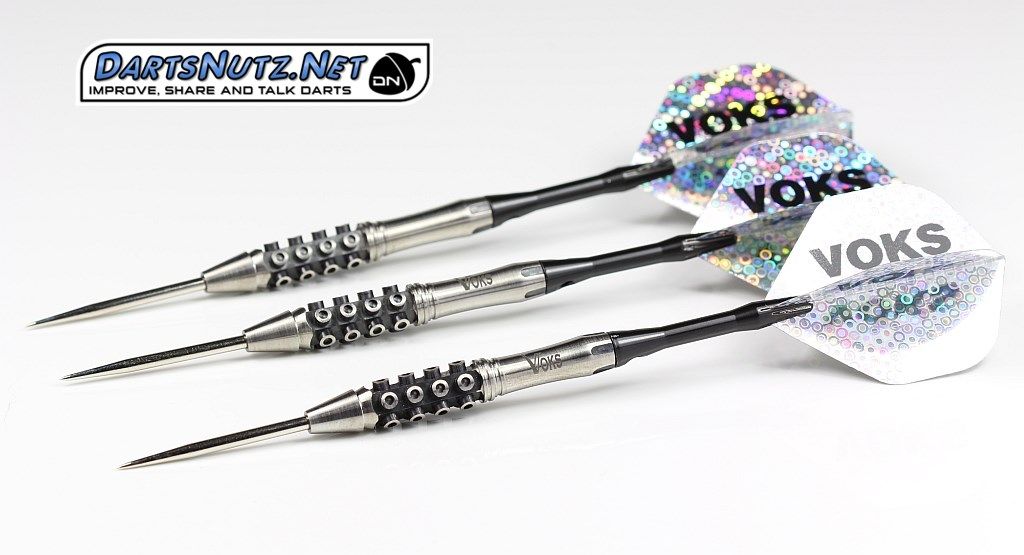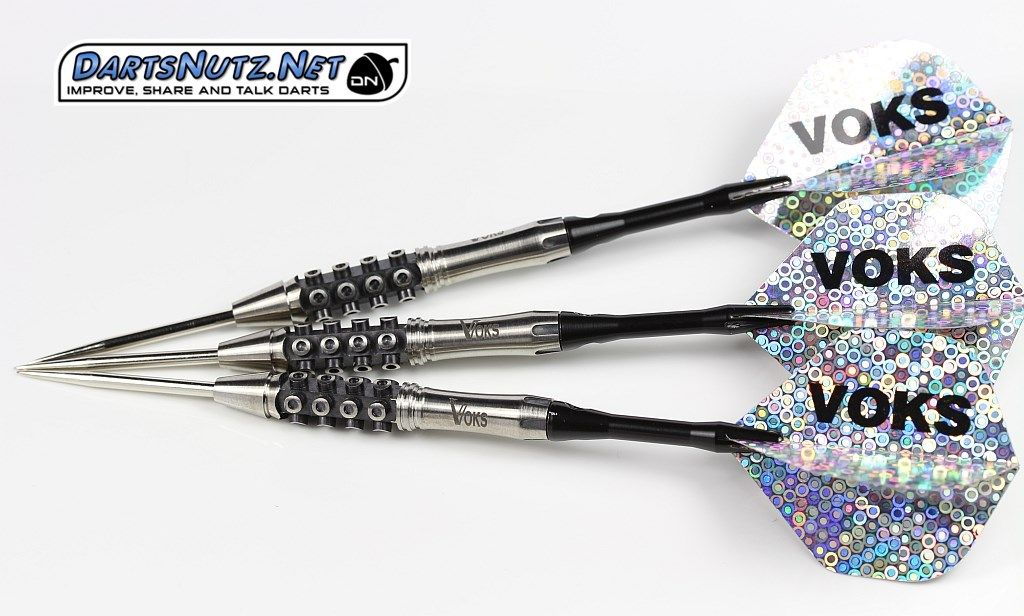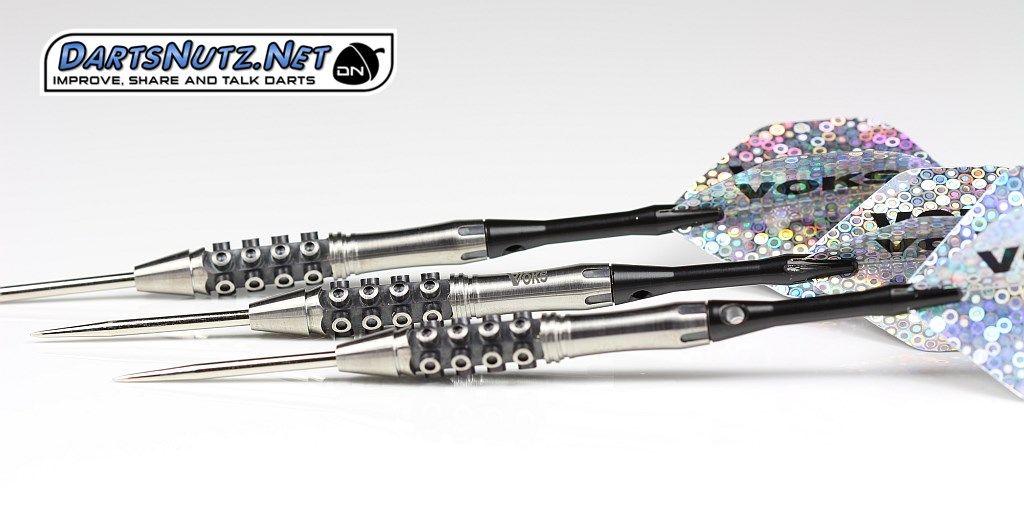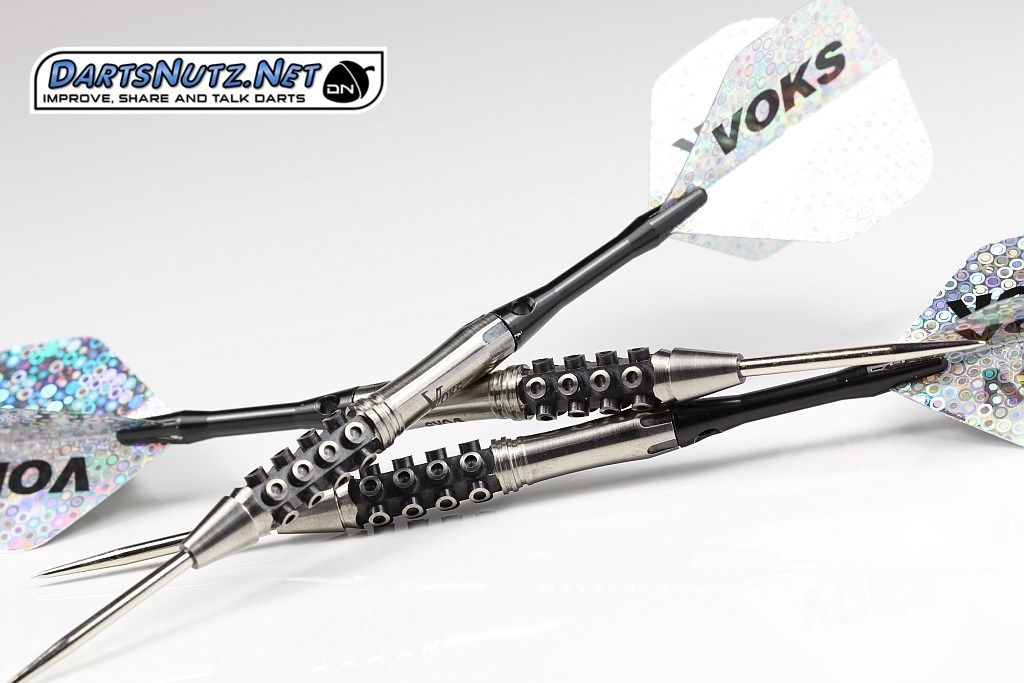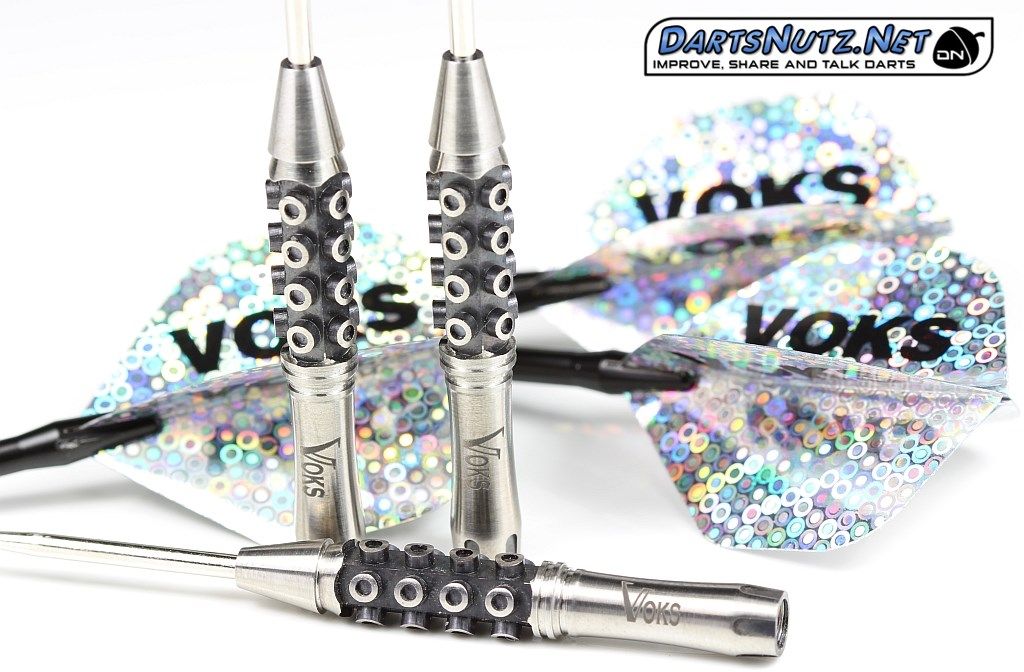 CLOSE UP PICS:

Well what can you say about the looks!!! They are very unique with that grip, as some of you know I love something weird and out of the ordinary so these darts definitely tick my likes in that regard


The grip is probably the grippiest I have felt!  I think high level grip does not quite describe it so I think it is super high level!  But it is done in such a way that it is possible with deftness of touch that you can probably describe as less severe but I think it takes a little getting used to, more on that later
 On the rear it has a nice shaped scallop that sits very comfortably if your a rear gripper but then I don't know if there is much point in a rear gripper buying the darts and negating the awesome grip, but more on that later too


Here is a little description from the site about the grip:

Smooth Tapered front blended into a double back cut with the last back cut having a carousel wave.
5 rows of tentacles each set apart 72 degrees and sit in a little to reduce flight damage. Nice grip to give consistent release due to minimal surface contact.
Smooth Scalloped back end.




DIMENSIONS:



Length:


Width:


Dimensions in detail:



WEIGHT:

Two barrels were an exact match and the third was just one hundredth of a gram lighter!  Pretty awesome for such a machined dart like this!


Weight with the full set up as supplied:




BALANCE:



With nothing attached the barrel is front weighted:


With the supplied set up it is more central:


Balance with my own medium, short and extra short nylon stems and standard flights:





MY GRIP WITH THESE DARTS:



Of course my grip naturally fell on the tentacle grip

Darts landed in the board my usual angle:


A 140 I hit this afternoon, had quite a few 140's with them, would be chuffed to get a 180 though



CONCLUSION:



As with the Oracle darts this design is quite radical and is sure to have divided opinions from people, but with the Oracle darts I was expecting the grip to be too sticky and hard to release cleanly but was proved wrong upon throwing them.  With these Jagger darts I expected to encounter the same problems but I was right with these, as I had my first few throws with them they felt super grippy and I could feel the grip at the very last moment of release.

I immediately thought that these are just way too aggressive for me.

Now when I release my darts I have a kind of final finger thrust which I think is often a problem on some grips and I think it was that which was making me have that last moment of contact between flesh and the edges of the circular protrusions in the grip.

However, in spite of that I did throw some good nice clean throws which made me notice just how well balanced and weighted the darts were for a front gripper.  That was encouraging to me and since doing the video review I wanted to persevere with the darts to see if I could improve my release with them.

I am glad to say it is well worth putting in the effort to do that as once you get accustomed to the grip and improve the deftness of your touch the darts do fly very nicely indeed.  I think its a very nicely weighted dart but I wonder if also the quite long points at 32mm is helping some what as I usually would hate such a long point but I cant say I notice an issue while throwing them, it just felt right really.

I have gotten better with them since working on my release and hit a few 140s, but that sense of achievement you get when they fly so sweetly after a nice release is great and very rewarding!  I think its also helped me with my throwing of other darts too as I seem to be getting less stray darts at present.

My release has improved a lot since I broke my hand and I think its reached a new level now after playing with these darts but I am not sure a beginner should try a dart like this but certainly if you need a grippy dart this is a dart where the grip never lets you down whether your hands are cold and dry or very sweaty, it just works, its up to you to learn how to control it though but do that and you have a very sweet dart indeed


I think I would still mark these as super grippy though as physically the grip is strong.

I also tried throwing the darts from the scallop section and they actually flew well for me from there surprisingly, so could be a nice dart for rear grippers but then I think the main feature of that awesome grip is wasted, but if you may happen to rest a spare finger on it then they could be worth a try.

Quality and craftsmanship is superb once again from Voks, they really know their way round a lathe or what ever they use to make these unique designs, I think its may be Vooddo or something equally mysterious!



SUMMARY RATINGS:



Looks: 8.5 (Love it, weird and unique! )
Grip: 11.5 (on a 1 to 10 Scale, 10 been severe grip)
Weight match: 9.5 (near perfect)
Quality: 10 (excellent machining!)
Value: 8.5 (its good considering the work to make them)
Suitability for me: 7 (I'm erring on a 7 but had spells where I may have put an 8.5)

Best Feature: Once again very nice balance but have to say that GRIP!  
If you are a guest browsing this forum, why not join up, we're a friendly bunch here and love to welcome new members
Click
HERE
to join
Subscribe to my Darts Review Channel on Youtube:
CLICK HERE
My darts collection:
Flickr Album