Cosmo Fit Flight System review
I have used the Cosmo system in the past but thought it was a good idea to do an updated review as things have evolved a little with the system, namely the Fit Shaft Gear shafts have took over from the original Fit Shafts and more flight shapes and shaft shapes are available now.

If you have not tried the Cosmo Fit Flight System before then it is well worth given it a go. It is probably the easiest of all the flight and shaft systems to assemble and there is a staggering amount of shafts and flights to choose from in a wide range of colours and designs.

The flights have a hollow in the middle which just pops onto the shaft and takes less than 2 secs to assemble. Its a godsend for people who often have a bit of a struggle with normal flights and shafts. This system is so simple a small child could do it. With the ease of use you also have the benefit of flights that are at a perfect 90 degree angle which has to be a good thing.

There is two types of flight available the normal range and the Air range. The Air range are lighter and made from thinner plastic and are more flexible than the normal flights.

Shafts are available as locked or spinning shafts and come in 3 shapes, Normal, Slim and Hybrid which is a mixture of the previous two.

I have a small selection here from the full range:
As you can see the flights come in little plastic boxes and the shafts in little plastic bags.

There is a lot of flight shapes, I have pictured below the ones I have with details on the pic of the flight and also info on its weight and the weight of the equivalent flight in Normal or Air depending on what I had available to test: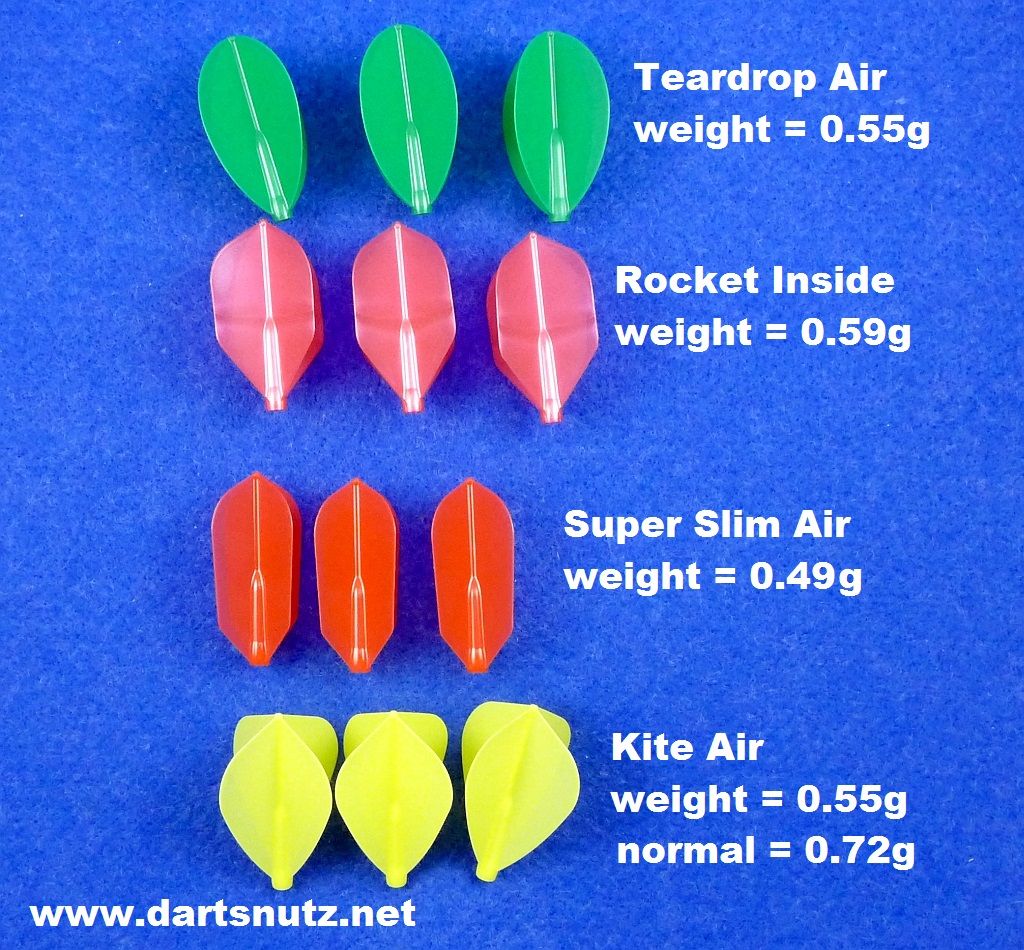 Here is some close ups of the flights so you can see the shapes better, a few of the available shapes seem to be mixtures of two other shapes and some like the W Shape are unique: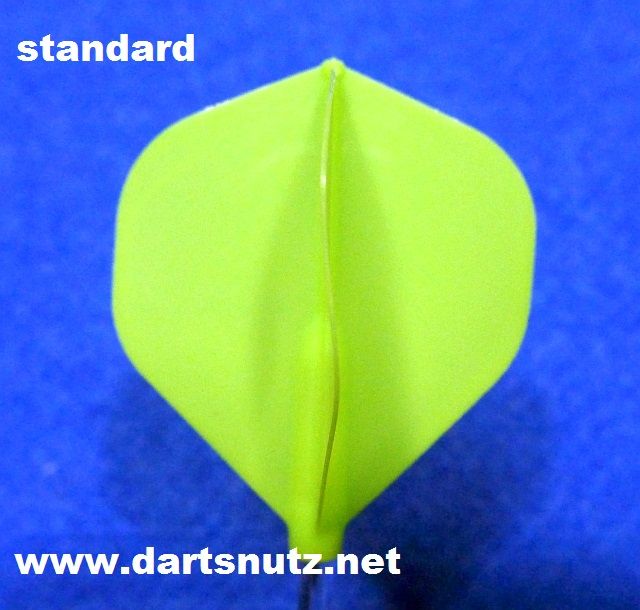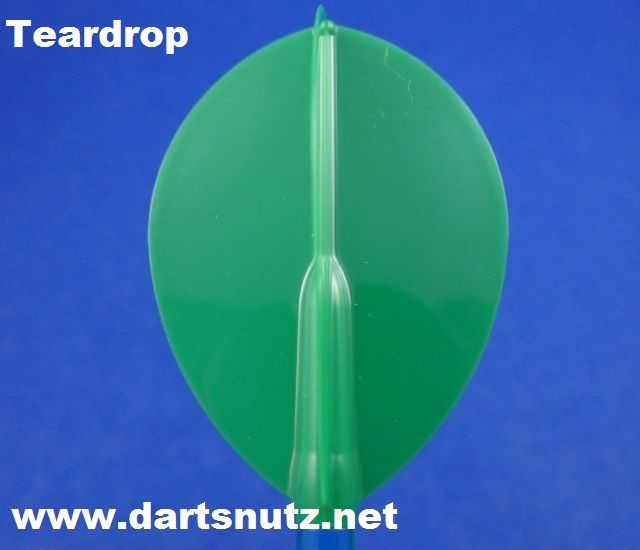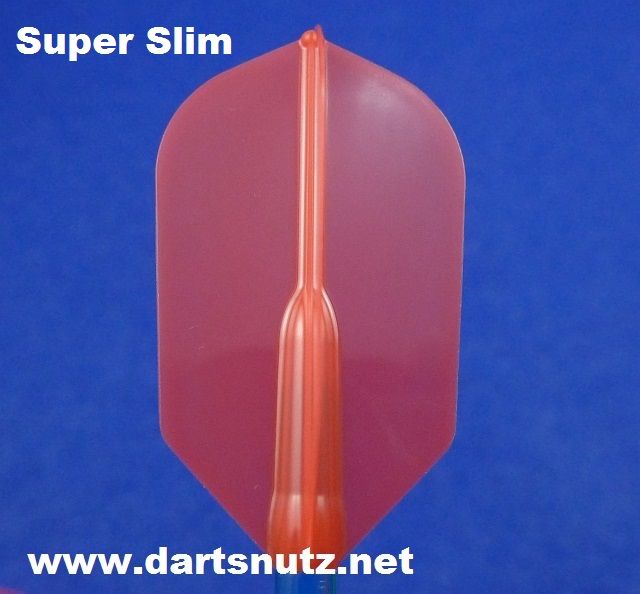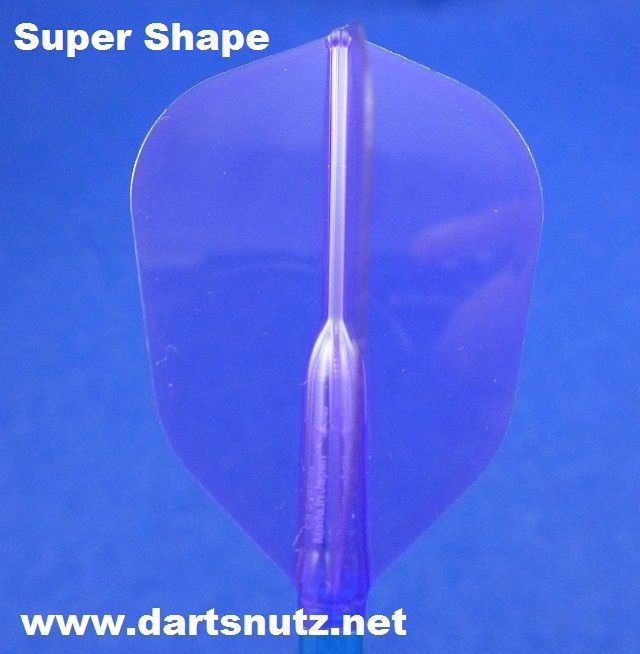 The shafts are available in 8 different lengths. I have pictured 8 of the Normal Locked Fit Shaft Gear below with their length and weight, the packets are numbered 1 - 8 for ease of reference of the sizes:
Some shots of the different shape shafts available:
From left to right we have Hybrid, Slim and Norma shape.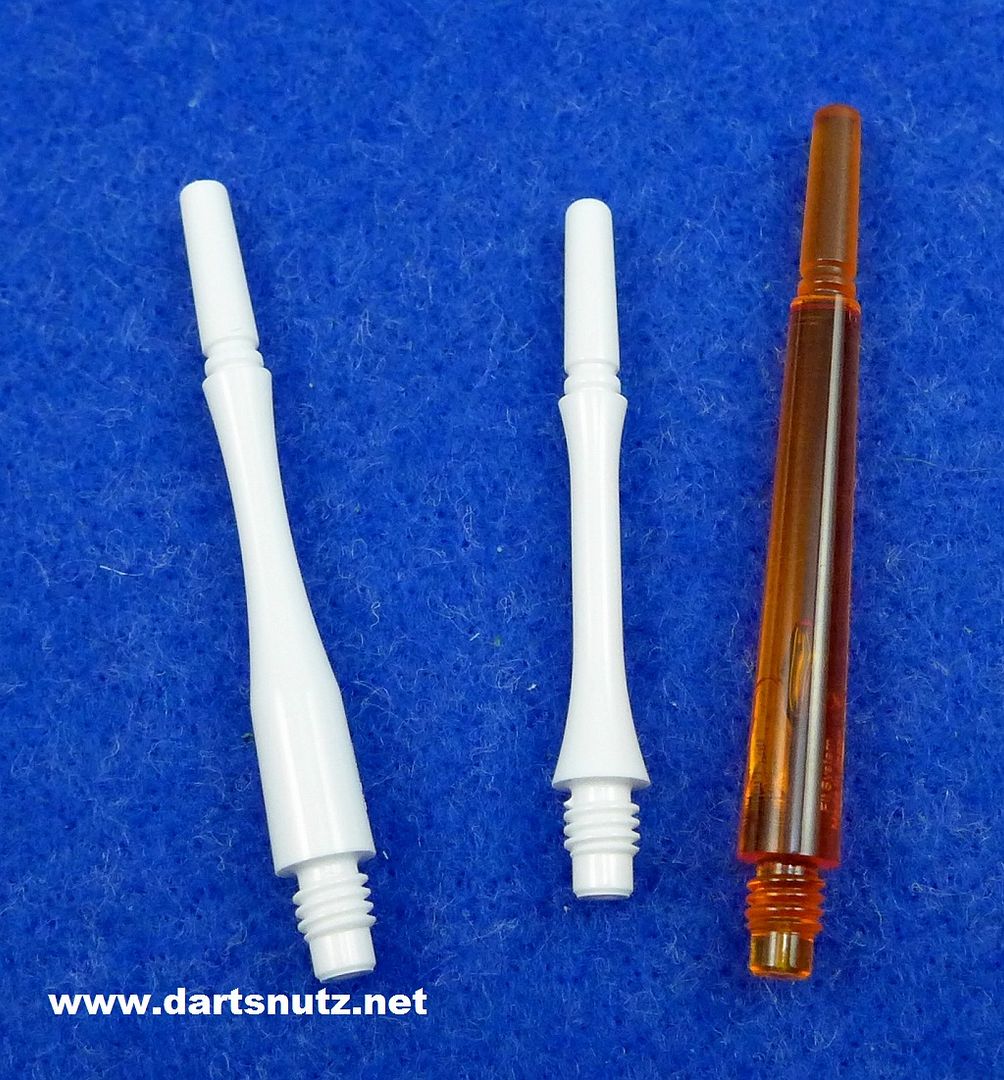 I really like the clear shafts they are beautifully clear almost like crystal:

Normal:
Slim: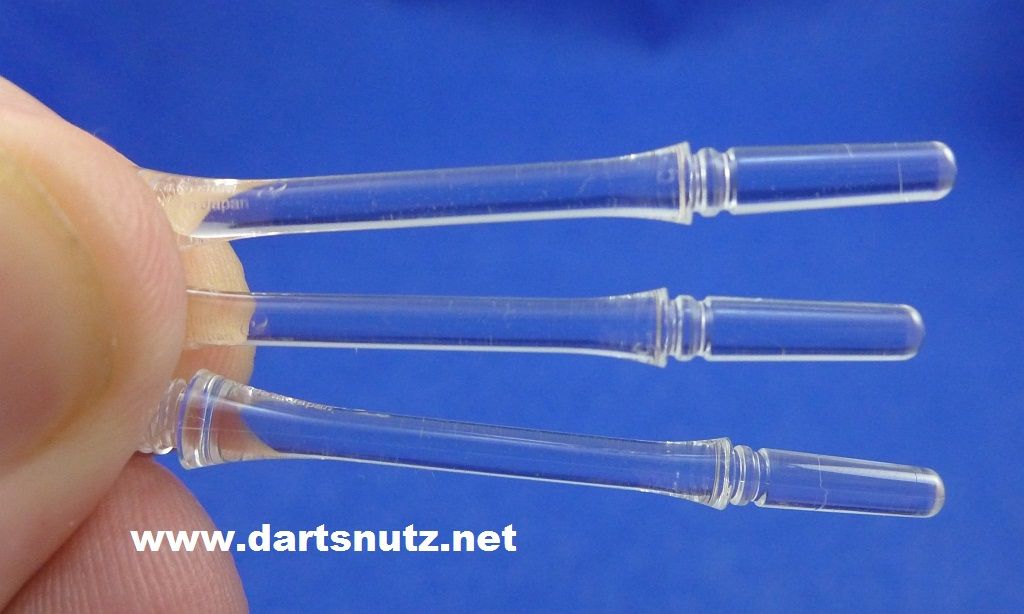 Hybrid: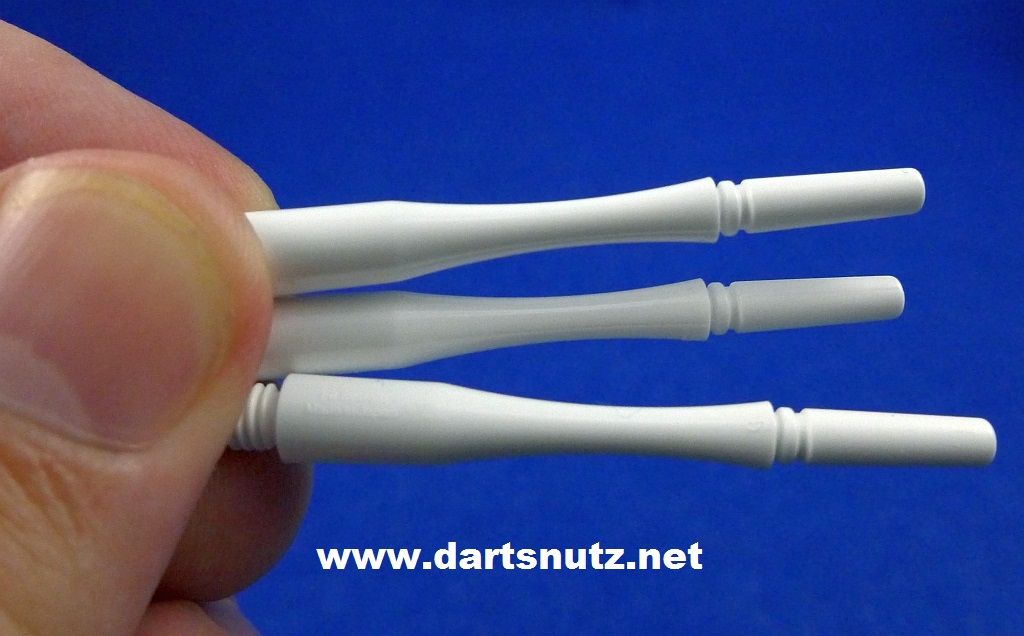 To tell the difference between a Locked or Spinning Shaft, check the top, a flat top is Locked and the Spinning is a round top: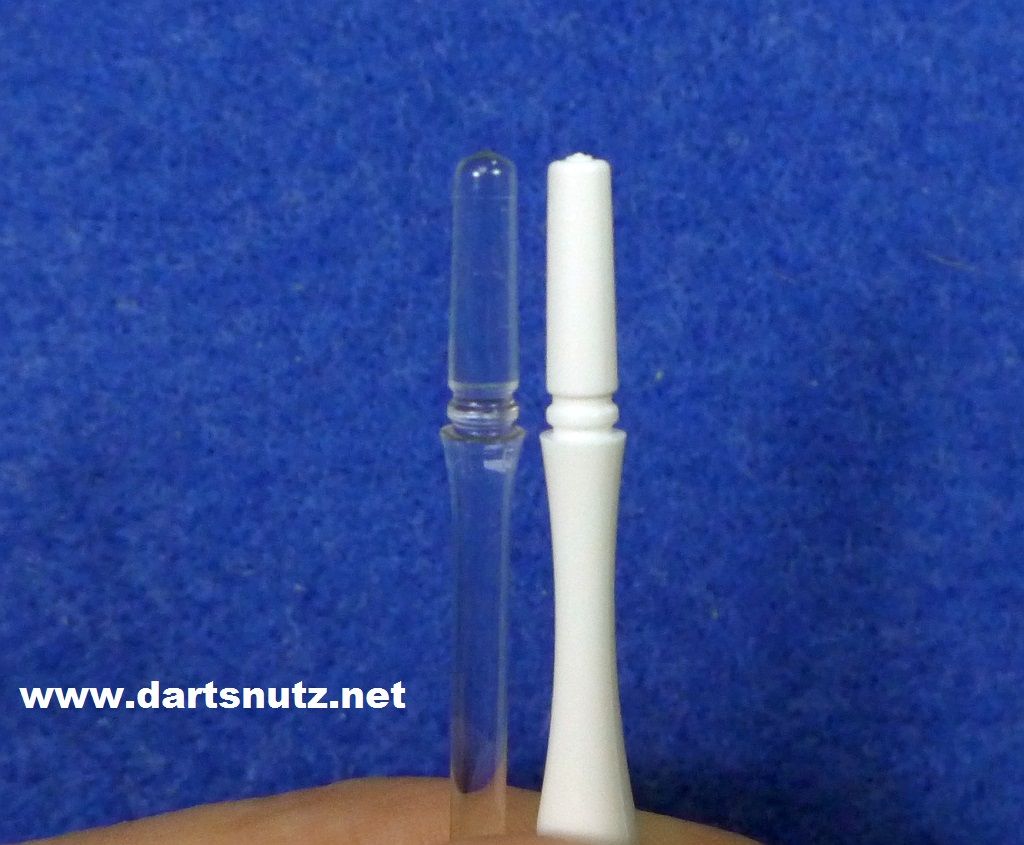 The 31mm Fit Shaft Gear is the closest length to a medium stem so I compared the weight difference between a normal flight fitted to a medium nylon deflectagrip stem and Standard Fit Flight Air fitted to Normal, Hybrid and Slim Fit Shaft Gear: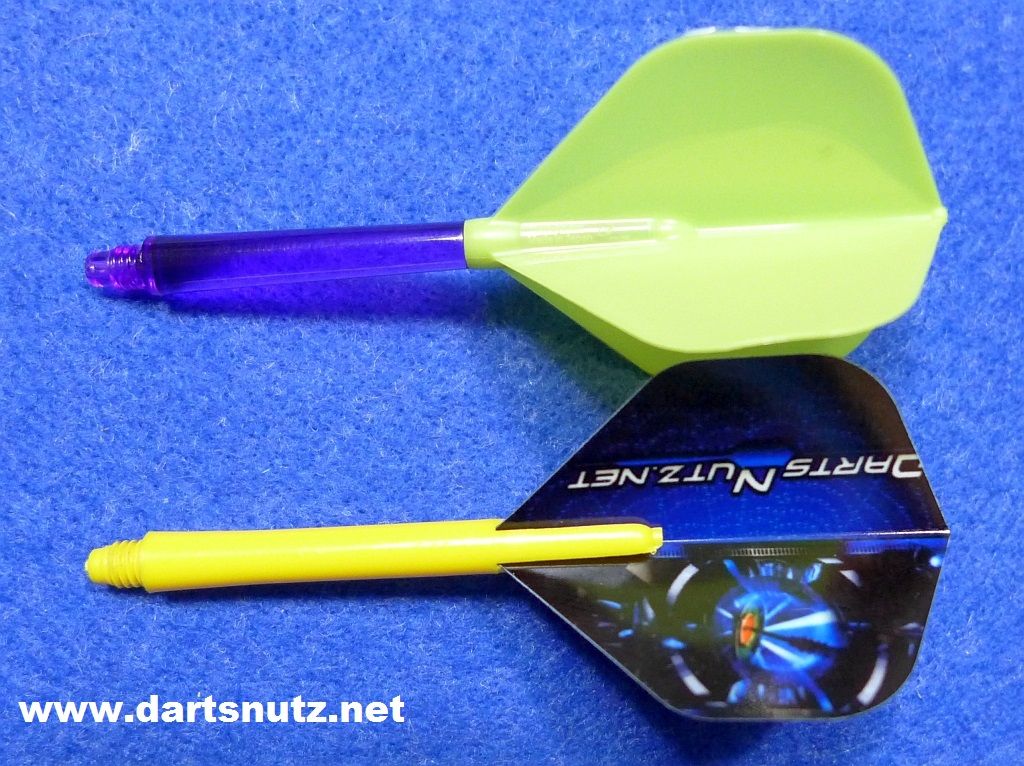 Deflectagrip with normal standard flight:
Standard Fit Flight Air and Normal Shaft: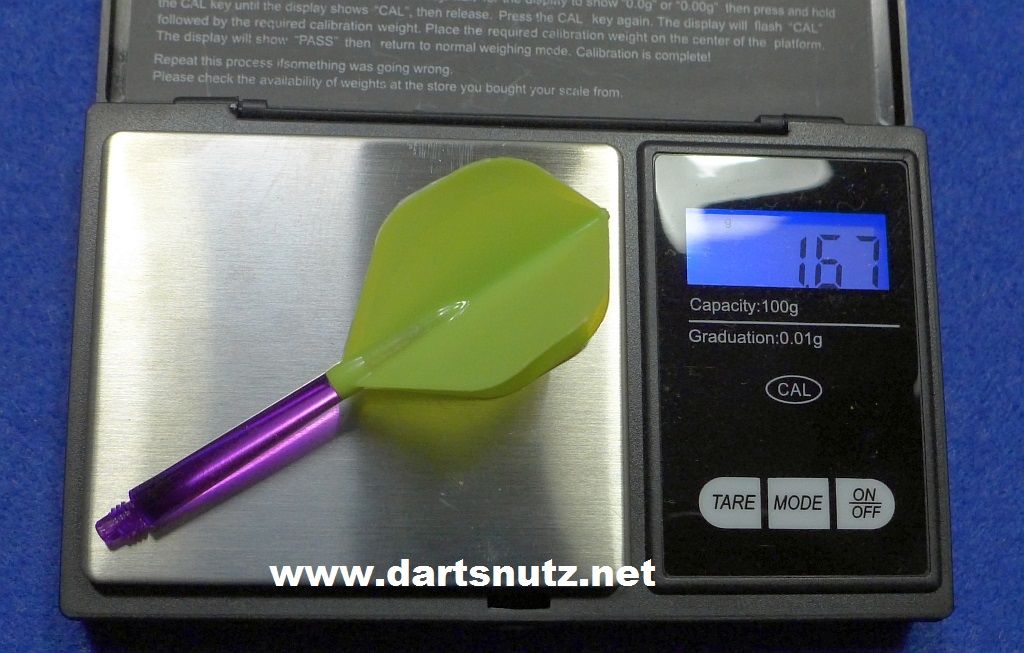 Standard Fit Flight Air with Hybrid Shaft:
Standard Fit Flight Air with Slim Shaft:
There is some flexibility to the stems too and as you would expect the Slim Shafts are the most bendy:

Normal:
Hybrid: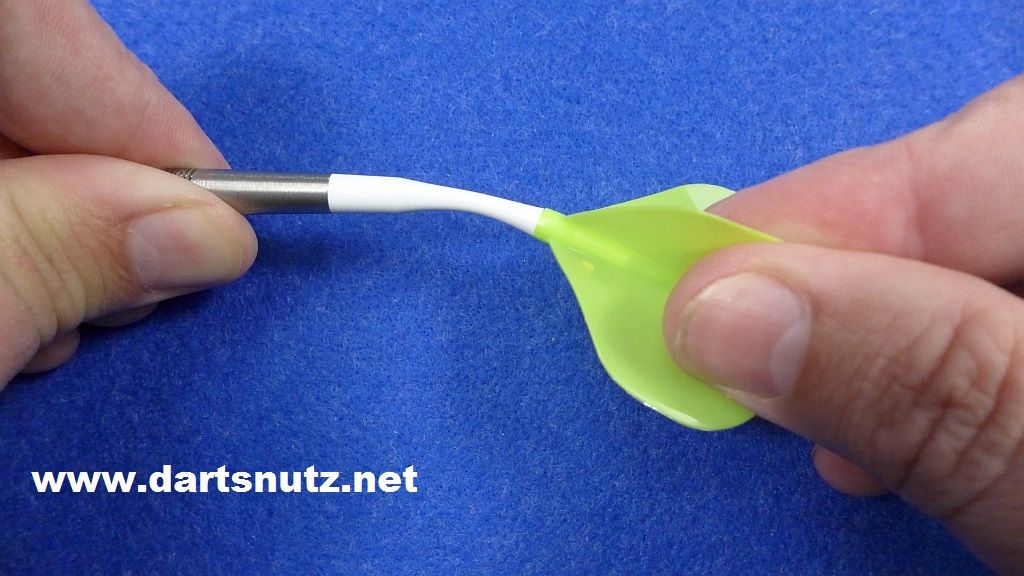 Slim:
All 3 types set up on darts:
I think the Slims and the Hybrids give the dart a sleek look: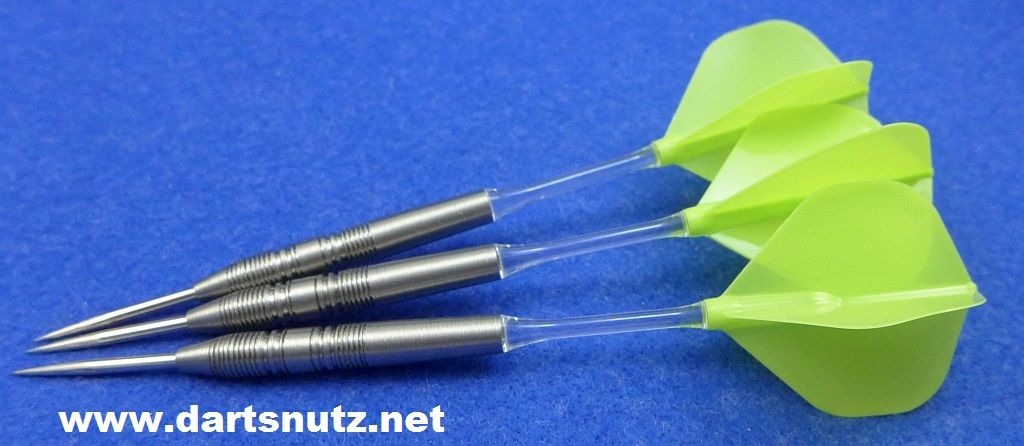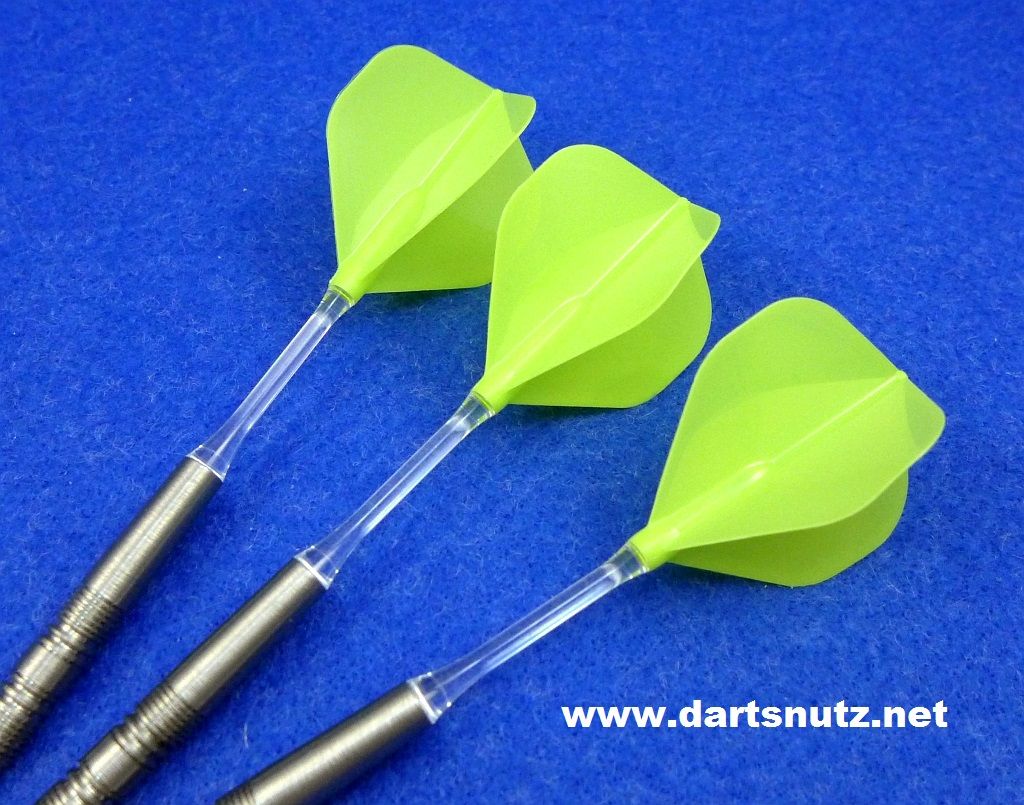 As well as the above shafts and flights there is also pro players flights available in great designs and shapes and there is a few extra types of shafts available in different materials such as Titanium, Extra Super Duralumin, Magnesium and Carbon. These obviously cost more than the normal Fit Shaft Gear Shafts.

There is also a number of accessories available to buy such as cases and containers, here is a few examples:

Fit Flight Case 01

A strong plastic case to store your spare set up of flights and shafts with a loop in the corner to attach to key ring if needed.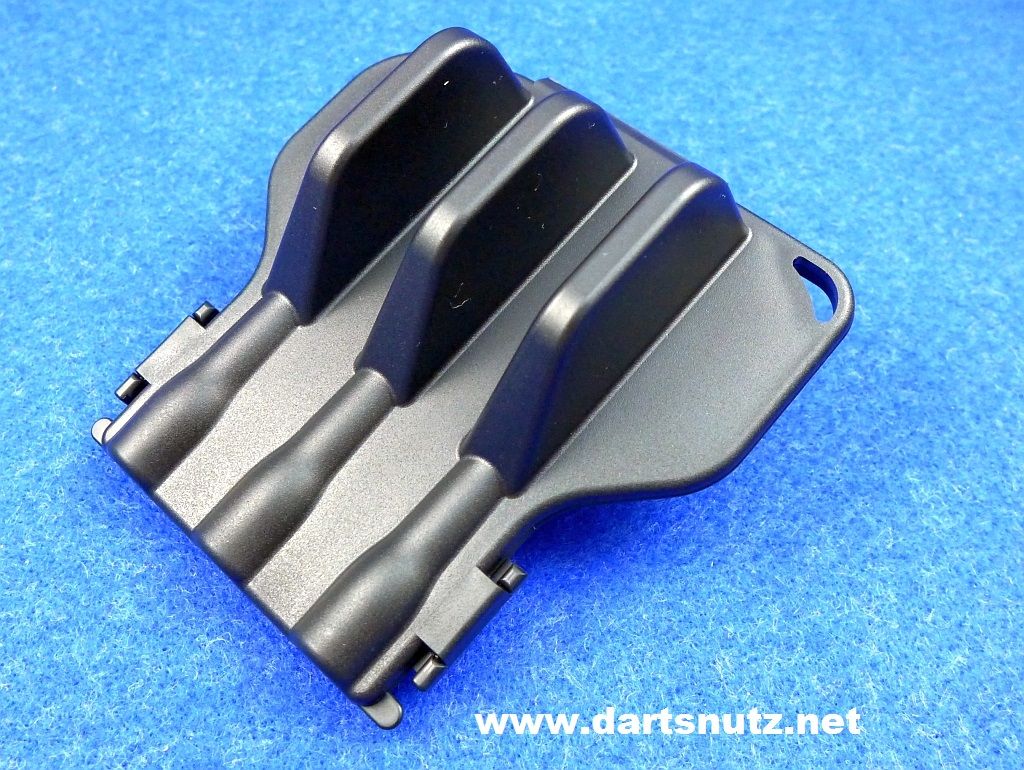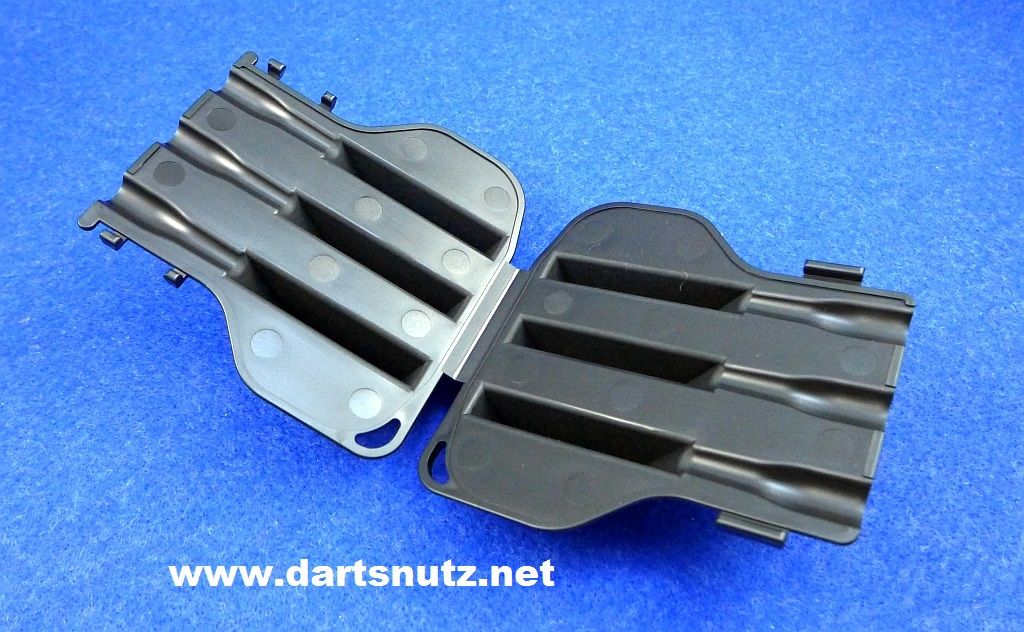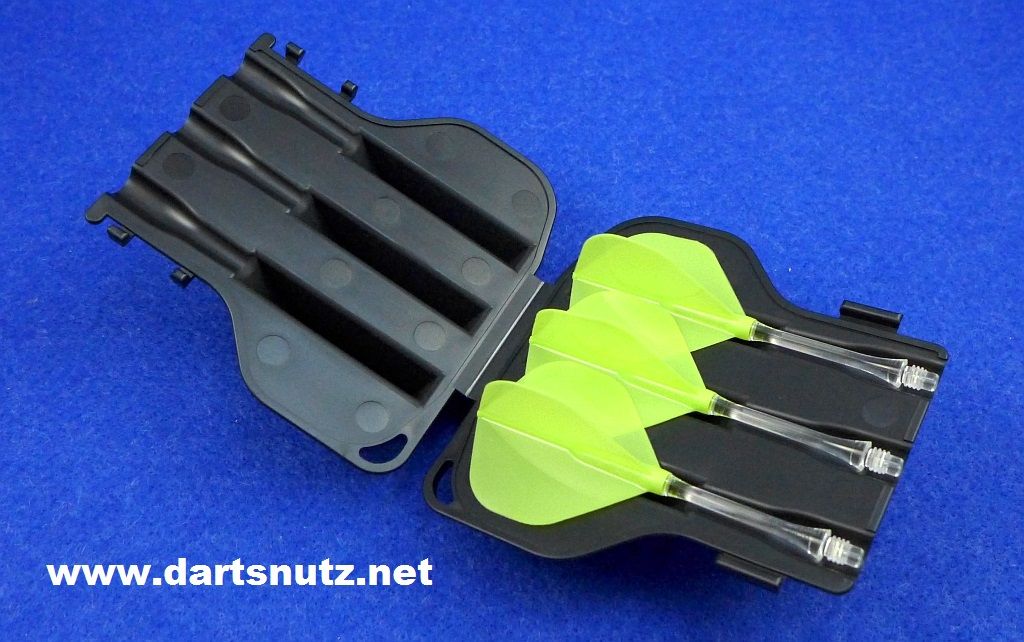 Just insert your flights and then snap the case shut, it will keep them safe and protected from possible damage.

There is also these little containers which are probably more suited for soft tip players as they allow you to store shafts and spare soft tips. They are called Maru Can and come in round and square types, 2 in a box, you can buy them in white or clear black and with or without the Cosmo logo:
Maru Can Round and Square
Conclusion:

There is many systems available now for setting up your darts with shafts and flights. They all have their good points and all work well but I think the Cosmo system has to be the easiest of all to assemble and that will be a huge plus for people who hate to fiddle with an awkward flight that they struggle to see how to insert.

But that is just one plus point, the other thing with the Cosmo system is the fact that the flights are a perfect 90 degree angle and the shaft and flight have a smooth fitting which almost looks like it is all in one. There is less chance of Robin Hooding and if you want a lighter shaft and flight combo the Fit Flight Air and Fit Shaft Gear will provide that in a wide variety of flight shapes and colours and a great selection of shaft lengths and shapes.

The Fit Shaft Gear shafts are very strong and durable so should last a good length of time. The longevity of the flights can depend on what darts you throw as much as anything. If you are throwing soft tip then its likely to have less impact on the wear of the flights than steel but also the aggressiveness of the barrel will play a part in that too.

I have found the durability of the Airs to be better than the normal flights and I think thats because the Airs are more flexible and softer. Having said that you can increase the longevity even more by using spinning shafts.

A lot of people in the U.K. especially dont like spinning shafts but it is worth giving the Cosmo spinners a try as they do not rattle or feel excessively loose when throwing them and you may be surprised and actually like them. I have used the Cosmo spinners a lot and had no issues with them.

One thing you need to be aware of though is if you put your flights on a locked shaft them use the same flight on a spinner shaft it may be more loose as I think the top of the locked shafts are a little bigger than the spinners.

One big problem I see is deciding what set up to go for as there is so much choice available. It could get very expensive trying lots of different combinations of flight and shaft so I would say try to go for something that is close to what you use in normal stems and flights, but if you want to try one of the different shapes then there is no choice other than to buy them.

This leads me to the last point and that is price, the cost of the Airs in the U.K. is £5.20 the normal Fit Flights are a little cheaper at the £4.40 mark. The shafts are around £6.15 a set.

At first this seems a lot more expensive than your usual 40p shafts and flights but the chances are the shafts will last you a long time so the price will work out cheaper over its lifespan, durability of the flights is an unknown quantity as it depends on many factors involved with the individual. All I can say is I have had some flights last me 3 months or more so they have proved just as cost effective as buying a few sets of normal poly flights.

Its something that the individual has to decide for themselves really. For me I like the system a lot and I think my darts definitely fly better with it. The only way you will know if its for you is to try it and see.

I will give the Cosmo Fit Flight System a very recommended 9 out of 10

Keep your eye open, because we will be running a competition soon where you can win a whole bunch of Cosmo gear!