Video link: https://www.youtube.com/watch?v=zr9Pn6O8P2I
--------------------------------------------------
STOP PRESS!
Thanks to Hi Darts we have a special offer for Darts Nutz members for a limited time only, you can get the Hi Darts Soft tip board at a special price and also a free set of Hi Darts tungsten soft tip darts worth 41 Euros!!!!


EUROPEAN COUNTRIES ( IN EXCEPTION OF SWISS) = 327 EUROS (approx. £251) INCLUDES A TUNGSTEN HI DARTS SET OF BARRELS

NON EUROPEAN COUNTRIES= 270 EUROS + SHIPPING + TUNGSTEN DART SETS


Check the discount section for info on how to get the offer here: https://www.dartsnutz.net/forum/showthre...?tid=21465
----------------------------
Well as you know I got this board from Hi Darts a couple of weeks or so ago and I only just got round to fixing it up a few days ago but I was already mightily impressed by it before I even played it properly!

But a bit of info first


Although the Hi Darts brand is new it is from a company that has been involved with coin-op machines and soft tip darts since the late 1970's.  So they have a long pedigree and know exactly what they are doing but have decided to branch into the home soft tip market hence this new board.  The company is based in Spain and the boards are made in Europe, I think they are made in Germany actually but don't quote me on that


But rather than go the route of the other manufactures and make something mainly from plastic and something that may not be as durable they have taken the bold step of making a very high quality board made from the same components as used in a stand up machine and built in a very solid and durable wood cabinet.

Of course as it is built to such a high standard it does not come cheap, at £313 delivered to the UK it is admittedly expensive but for once you can be sure the money your paying is justified.  

I am not going to enter the argument about steel tip boards been cheaper etc etc as we already know that to be true but then a steel tip board does not have all these electronic components and individual pieces as well as built in Wi-Fi and webcam, so its a different argument for another day and if your a soft tip player who whats the best possible board that is available without having to purchase a crazily expensive stand up machine then I think this is very likely that board.

Lets look at some of the features then, here we go:

Highly durable wood cabinet with compact design.

Noise dampening technology.

Official competition 15.5" target.

Competition games and official settings.

Worldwide real time remote play feature.

Integrated full colour webcam.

Personalizable player profile that allows full customization.

Chat to your friends and challenge players to a game.

Wi-Fi built in.

Powered by USB.

LED player change button.

Long lasting industry standard segments.

When you purchase the board and connect it online for the first time you will also be registered for 12 months subscription to the Hi Darts servers.  After the 12 months is up you can either pay 3 Euro per month or 20 Euro for the year which is incredible cheap compared to how much you may need to spend on a stand up machine in a bar!  If you would like additional users to use the same board as you then it will be 5 Euros for each additional account and the same amount per month or year as explained previously.

Ok lets look at the board now


CONTENTS AND PACKAGING:


When the board was first delivered it was in a outer cardboard box and I was quite surprised at how weighty it is, and after taking it out the outer box I saw it was in a very neat and strong box with a handle attached which is needed!  I know it has the weight on the box but I weighed it myself in pounds and it was just a shade under 20 lb so a fair weight!

Once you open the box though you can see how well packed it is and inside the box is a very thick foam covering so its well protected for its journey from Hi Darts


With the board you get 2 sets of brass soft tip barrels, 30 spare soft tips, stems and flights, USB cable and plug/charger (mine was 2 pin but I think others will be UK 3 pin), user manual, hanging template (very handy!) and wall fixings.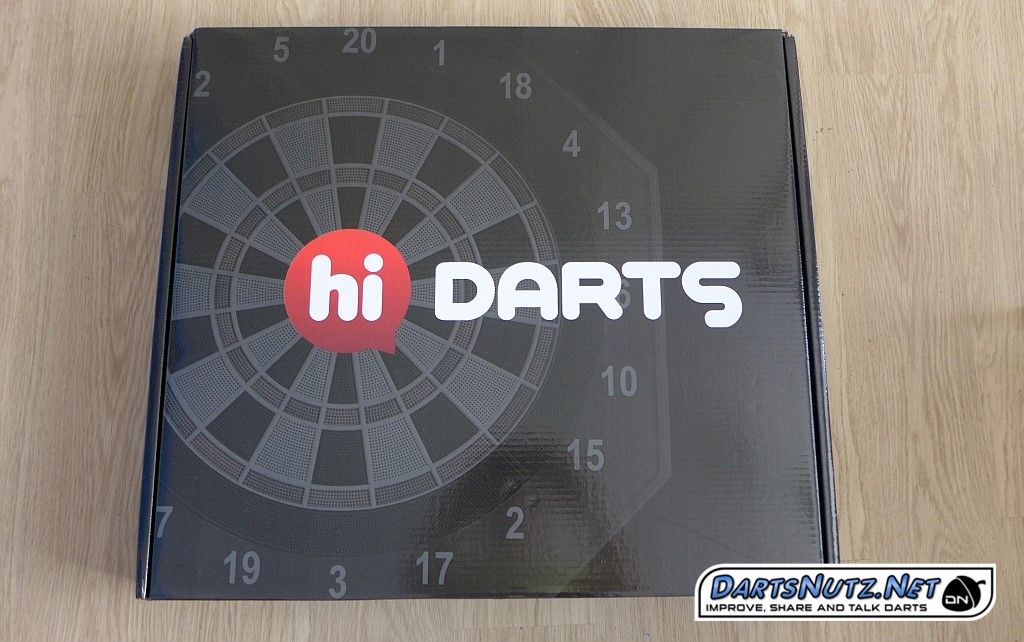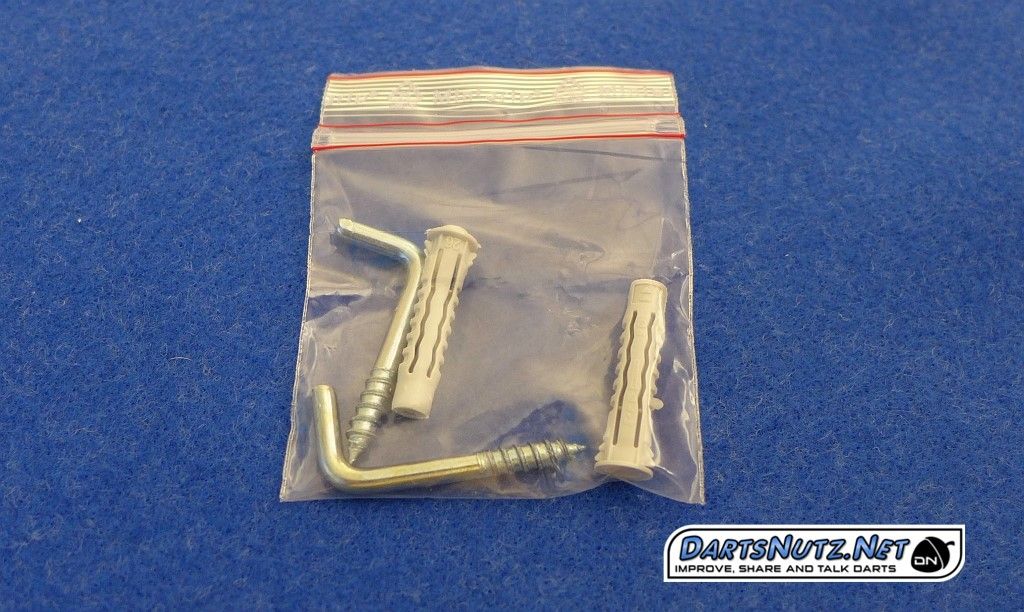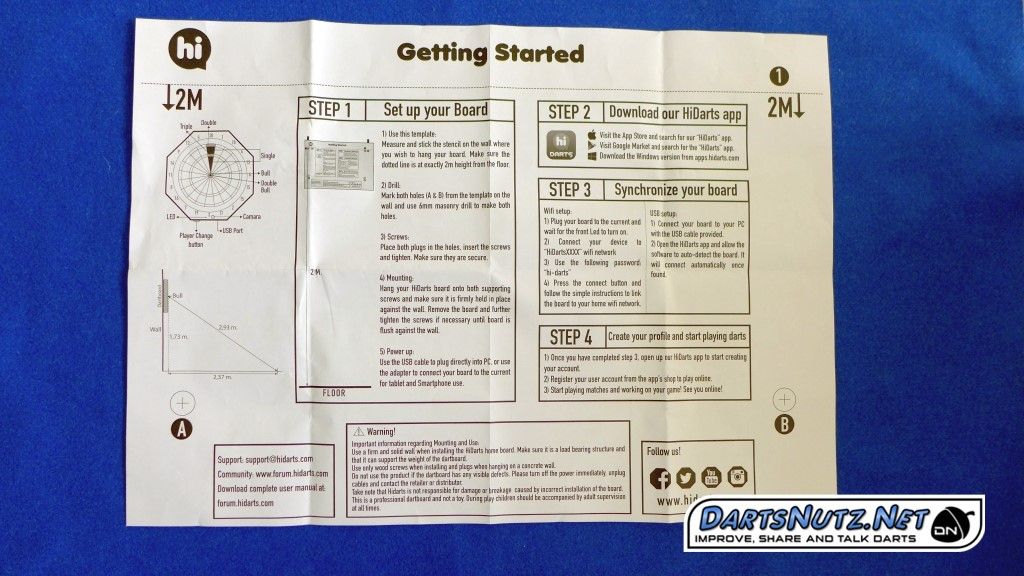 PICS OF THE BOARD:



As you can see in the pic below it is all wood construction and solid design, if you notice the grooves either side with the small holes in though, these are for future add ons that will be possibly things like cabinet doors or LED modules etc: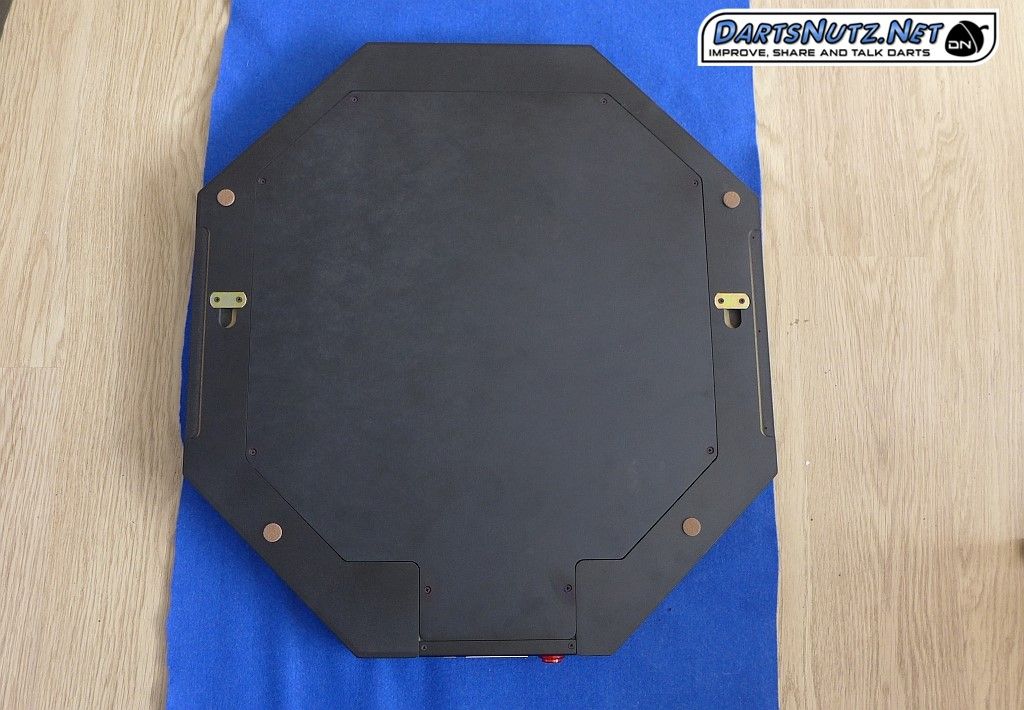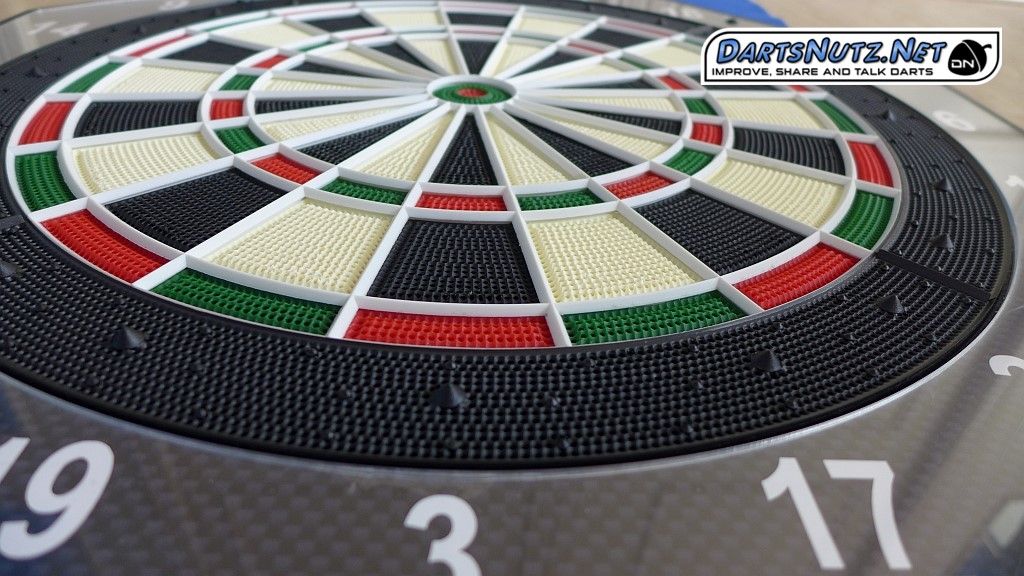 You can see just how thick the cabinet of the board is below:



Also if you notice the front of the board has a clear plastic cover on, well in some of those pics I took after taking it out the box I thought it looked like I could see little scratches, when I looked closer I could see the plastic still had its backing film on.  So I unscrewed it and removed the film and it was perfectly clear but at the time I did not know that this is also another customizable feature.  Hi Darts will be bringing out paper background inlays so you can personalize the board to your own taste, things like a wood effect design or different colours etc, or if your feeling artistic you can make your own, quite a nice little idea I think


SETTING THE BOARD UP:


I am absolutely hopeless at D.I.Y. so it was nice to see that Hi Darts have put some thought into how the board is set up and made it a very painless experience to do so.  They provide a very handy wall hanging template but been the cautious type and knowing I am as bad as Frank Spencer (showing my age there eh!) I also employed the use of a level to make sure my marks were plum and square, here is a little picture tutorial for you, but I managed it easily so I am sure it will be a doddle for most people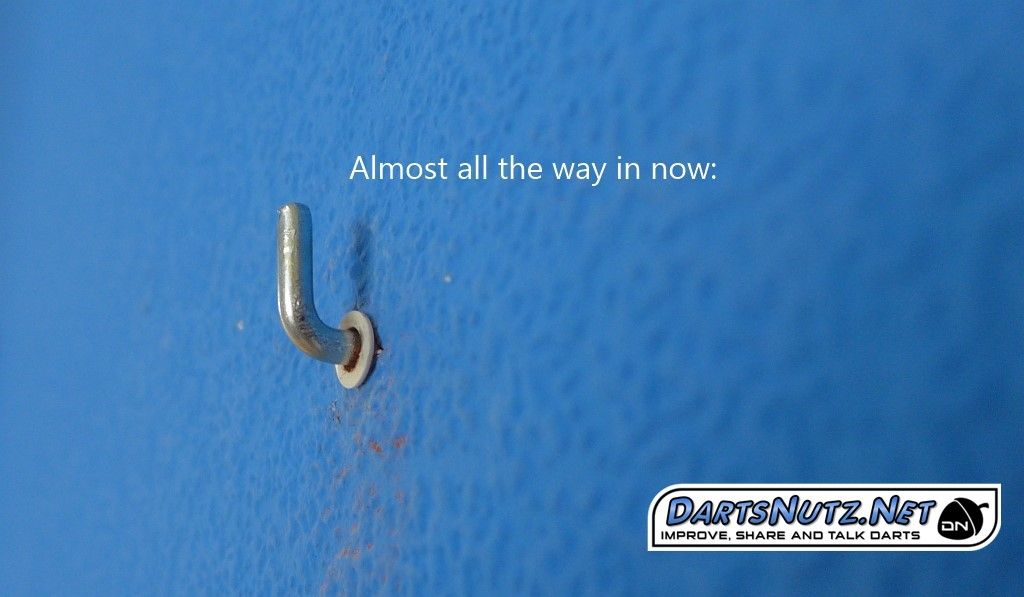 All done!



Believe it or not I nearly hit a 180 with my first 3 darts although I had not got the oche set up right so I would not have counted it anyway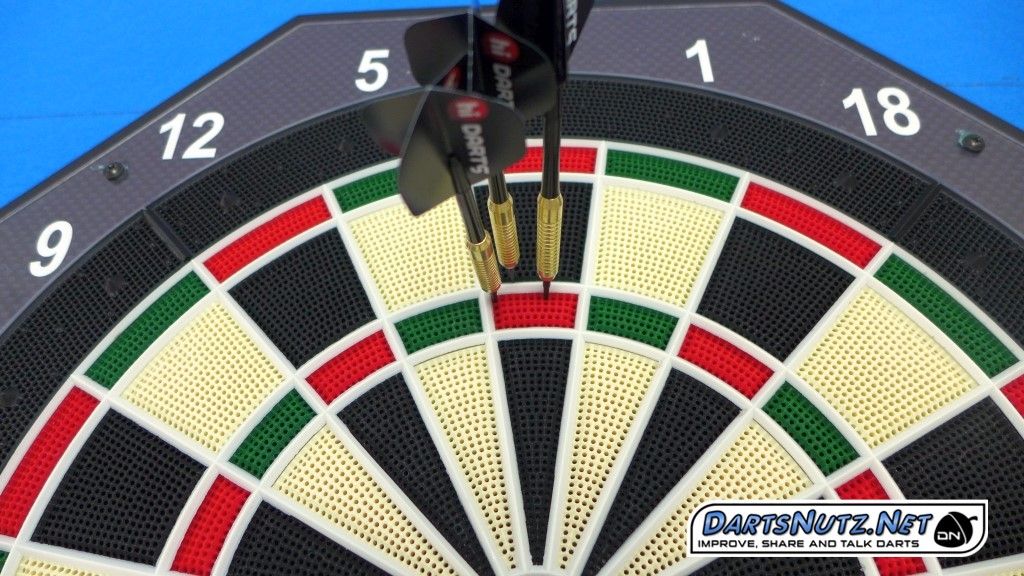 Soft and Steel side by side


Ok then once you have the board set up then its time to connect it up and get yourself registered with the Hi Darts app.  I have made a video of this which you can see in the above video if you wish to see it in more detail, it starts around 15:54.

First go to the Hi Darts site and scroll down to the Our App section:



Pick the version you wish to install, I used my laptop so I installed the Windows version.

Once I had it installed I connected the USB cable to the board and to my laptops USB port then double clicked the Hi Darts icon and once it started it found my connection and displayed the webcam image to confirm it was working, you have options to hide or disable that confirmation screen if you wish though.



After installation for the first time you may find the language is set to Spanish, just click configuration at top left and you can change the language, there is also various other options and features you can explore from there such as the connection type:



and a couple of options that let you press the board segments to check if they are registering correctly:



You can also check the camera and set the virtual throw line to line up with your oche:

You can play offline or online: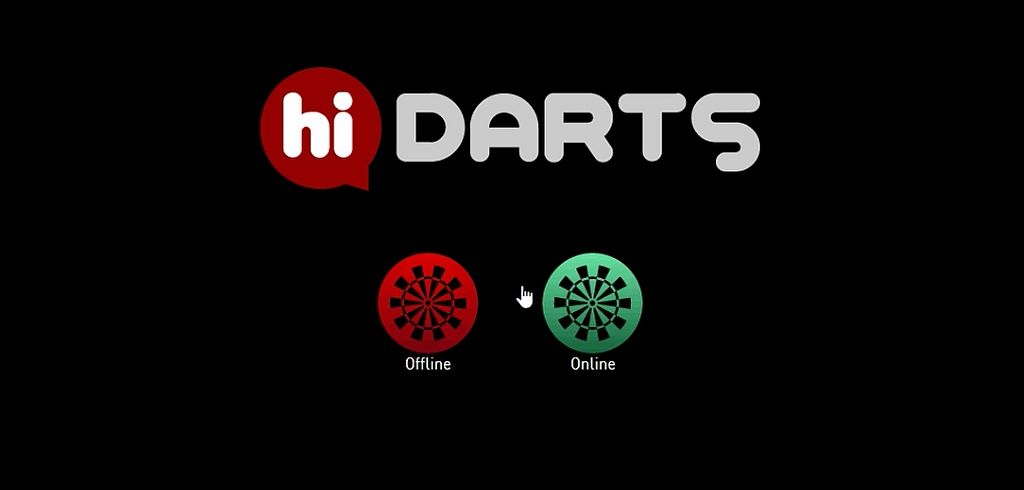 If you play in offline mode you don't need to register and can just set up a quick game either with a human or computer opponent, here I set one up against the bot: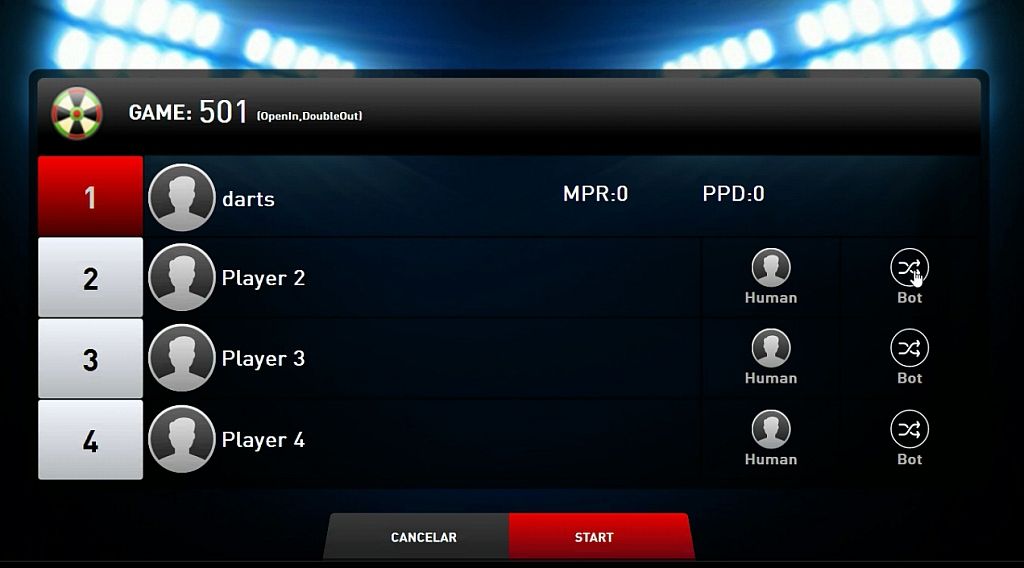 There is a few levels to choose from:



The game screen, I scored a 9 darter with my finger WooHoo!!!!


After the game is over the results are displayed along with the points per dart and the option to have a re-match, my finger was just too good so I was not going to challenge the bot again


When you click the online option you can register your account the first time and just put in your details and then that will activate your years subscription to the Hi Darts game servers, if your already registered like I was then just enter your username and password: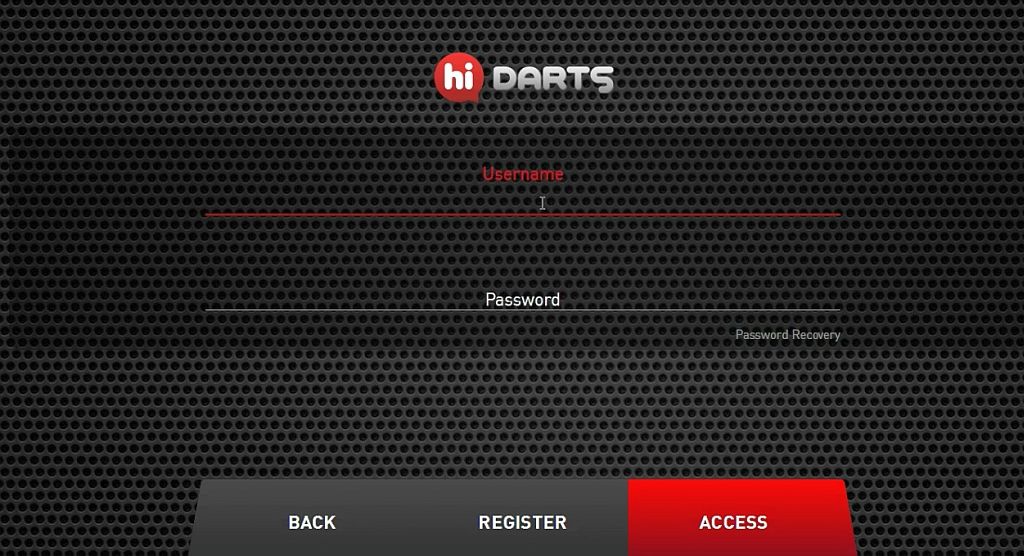 Once online you will see this screen with some news items on the left and the various options across the top that you can click on and the Hi Darts shop:



If you click your name (profile) it will show your current status and achievements etc:



An example of some of the achievements, the more you complete the more flights you will earn which will allow you to purchase new backgrounds, sounds, animations etc:



There is numerous things you can customize but as the software keeps developing and evolving I am sure there will be many more to come: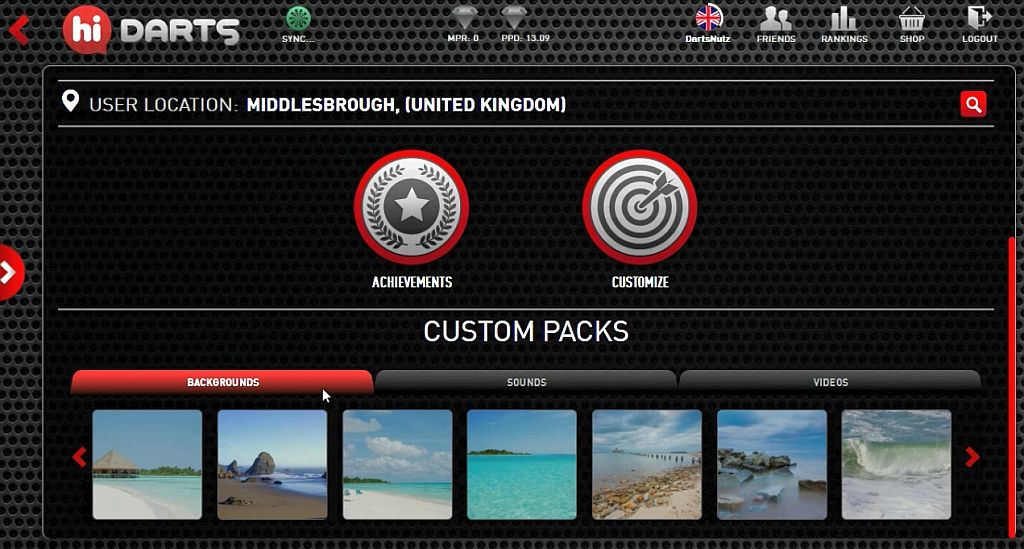 On the left there is a red arrow in the middle of the screen, click it to open up a chat feature where you can chat with friends or look for games from others online:



You can check on the status of your friends and invite them to chat or play matches: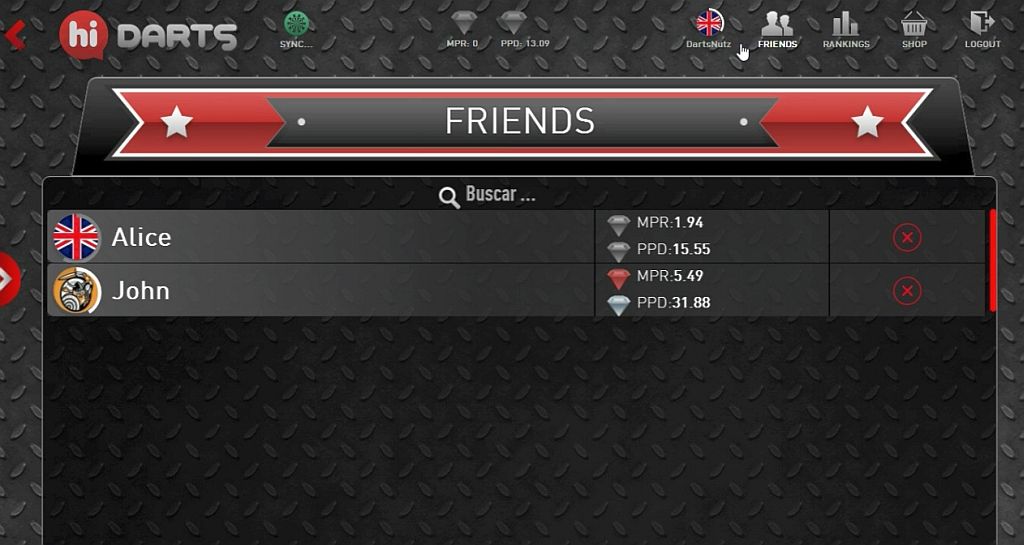 You can check out the rankings for the various games, at present there is just 301, 501, 701, count up and Cricket but again I expect more will come as the software and the community grows: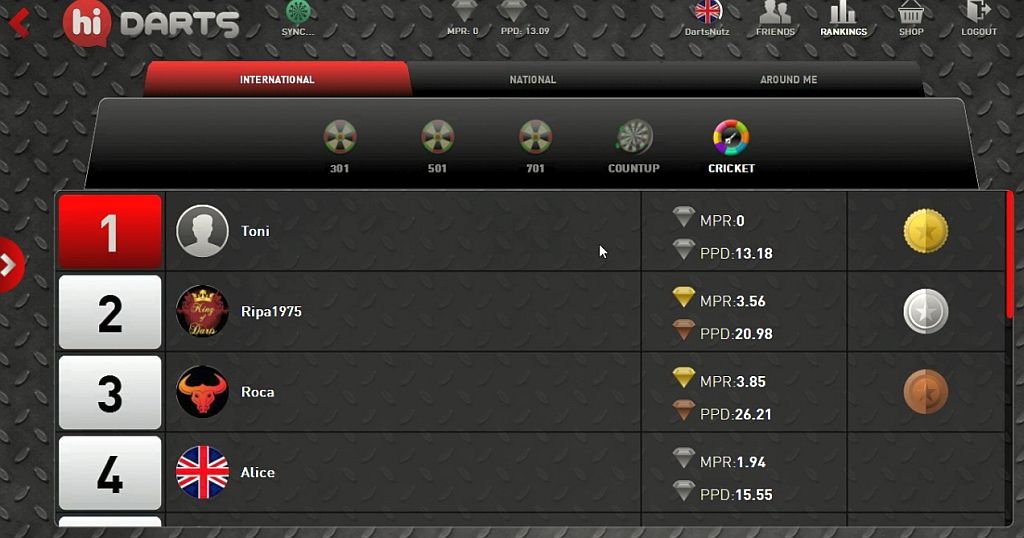 In the shop you can purchase more user accounts or packs of flights etc:



When your ready to play a match you set up a game as before and invite a friend or leave it open for someone to join you:



Only online games against opponents count towards achievements and when you have played a game you can rate the player you have played which means highly rated players are considered reliable etc if they complete games and play fair and if they are rated badly then it could be because they quit early or possibly visibly cheat, the rating system is to hopefully ensure fair play and build a good community of players.

CONCLUSION:


Well I cant state enough at how impressed I am with the way the board is built, to me it is on a par with the VSPhoenix machine I had at home last year, all its missing is the surrounding cabinet, big TV screens and loud speakers, if I was able to build such a surround for this board you would not know it was a home board, that's how good it is!

It is also so much quieter than the Dartman board I reviewed before and the segments are nice and solid, not loose at all and I think that helps with the bounce outs, I have had hardly any at all which was surprising!

I think there is nothing wrong with the way its built and how it performs and its nice to have the future customizable features built in so the only thing is the software.

As it is still very early days the software is kind of basic at present, it does its job with out been overly flashy or jazzy.  But I expect it to improve quickly.  It seems very stable at present although I do think there is the odd bug here and there but the Hi Darts guys are updating it quickly.

One thing I did find annoying was when playing the computer, I take my darts our and then the computer throws and then tells me to take my darts out?  I think I should take my darts out then press the red button then the computer throws as that would make more sense, I suspect that will be updated though.

But I guess there will be little things like that which people will find out as it progresses but as Hi Darts have started a community forum I am sure the feedback will come thick and fast and it will be acted upon which is what we need really, a very pro active company, I think Hi Darts is determined to make this board a success so its going to be very exciting to see how they keep improving it.

So I cant really find fault with any of it at this early stage except the fact because its so new and barely just came on the market it is not so easy to find online matches at present but when it does start to build up I think its going to be awesome!

Playing the computer was kind of weird though as I actually felt nervous as I was getting to the finish lol so I think its going to be even more exciting when playing online human opponents


So is it the best soft tip board ever for the home?

Well its early days to say for definite but I don't think any other home board will match it for quality of workmanship and the software works well but could be better and when it is then I think I would safely say its the best ever