Video link: https://www.youtube.com/watch?v=TCJvzEzXmNM
Ok here it is the first review of the Unicorn Eclipse HD2!


Many thanks to Unicorn for providing the board!

As you already know by now the board is due to go on sale tomorrow and will retail for approximately £42.

Its had a few improvements since the HD1 so I will list the new features here first:

Finest Grade "A" Sisal, Seamless playing surface for higher scores.
*New* - Spider2.
*New* - Radial Wires, Total Clean Playing Area.
*New* - Super Thin Bullseye. 2% Increased Playing Area to "25" Ring 14% Increased Playing Area to "Bullseye"
*New* - Injection Moulded High Definition Replaceable Numbers and Invisible Number Ring

Right on with the pics


BOX AND CONTENTS:


Here is the box which mentions the new features and also states "The clearest playing surface ever", the back of the box has a checkout chart along with fixing instructions and a little more on the new features.  Included in the box as well as the board is a checkout poster along with a little instruction booklet on how to play and set up the board and a little paper tape measure to assist in setting up, and of course the all important bracket and screws to hang the board up: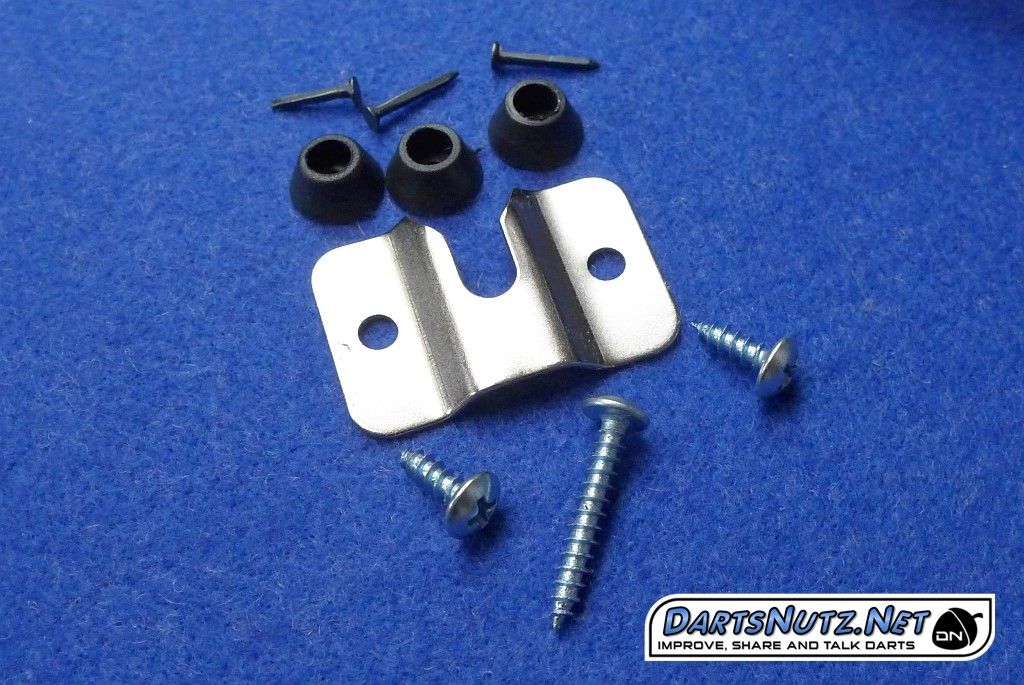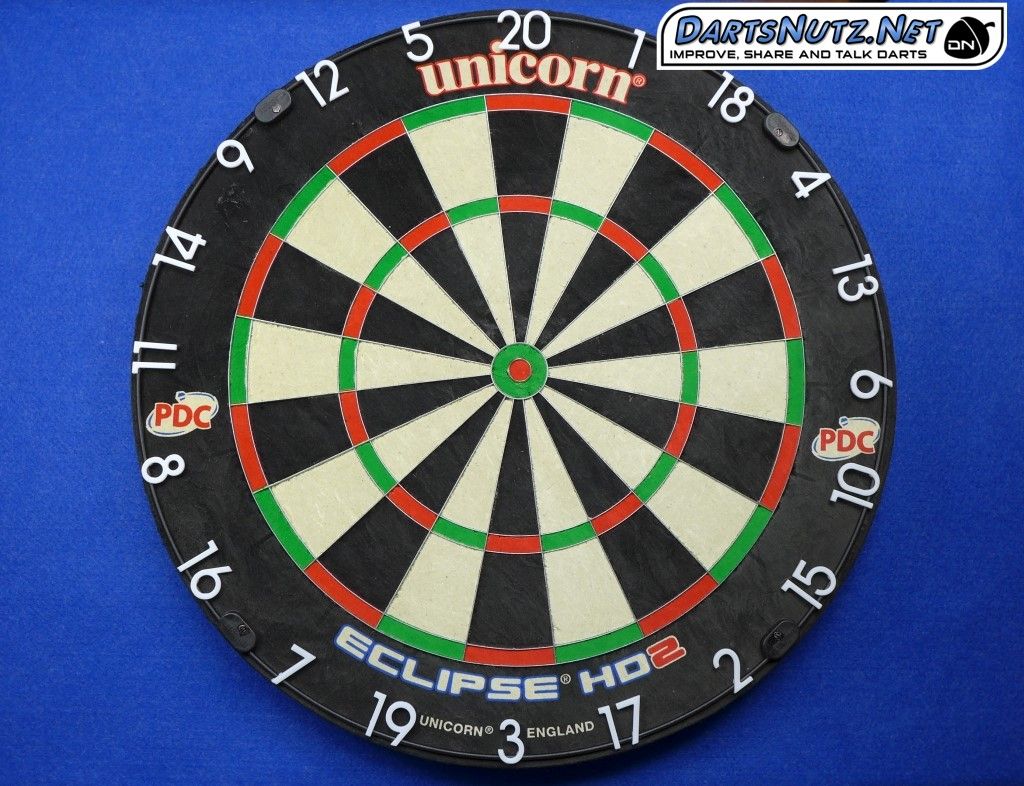 LOGOS: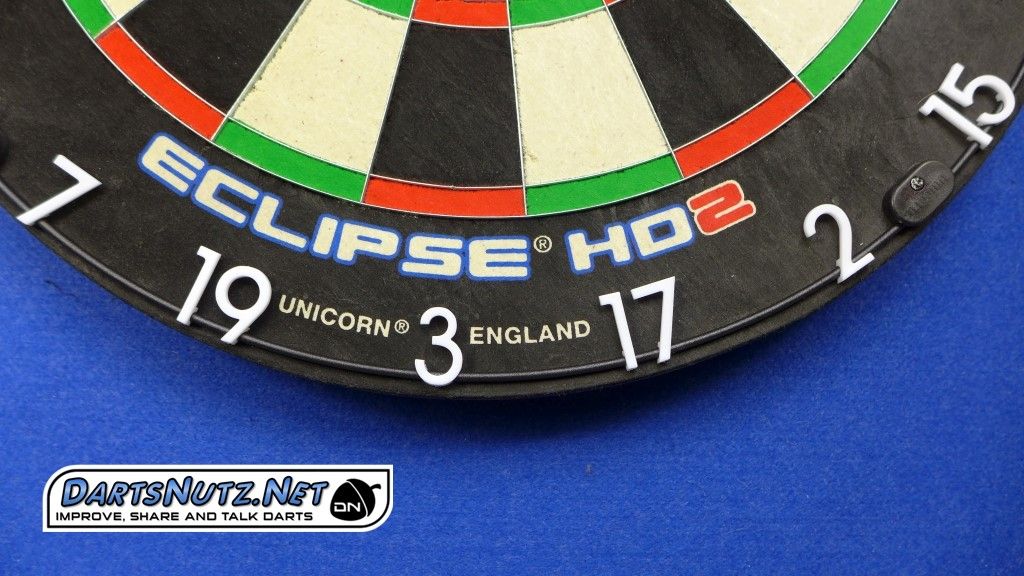 NEW NUMBERS AND RING: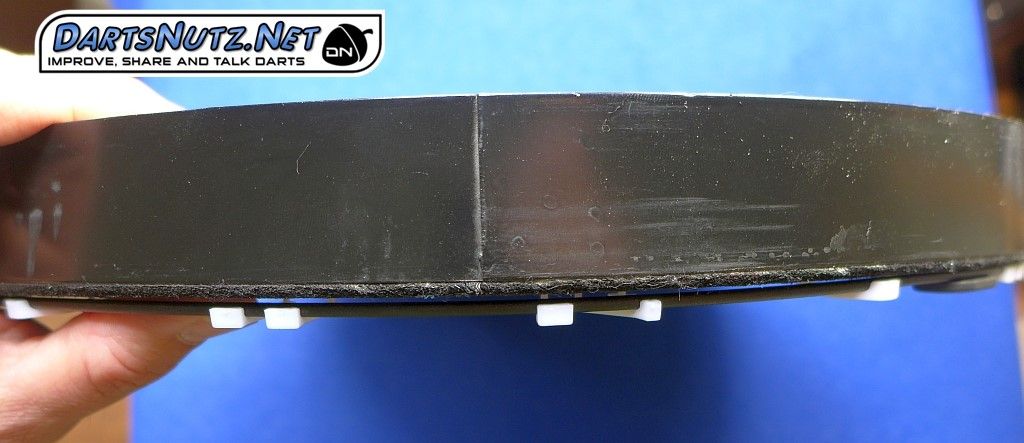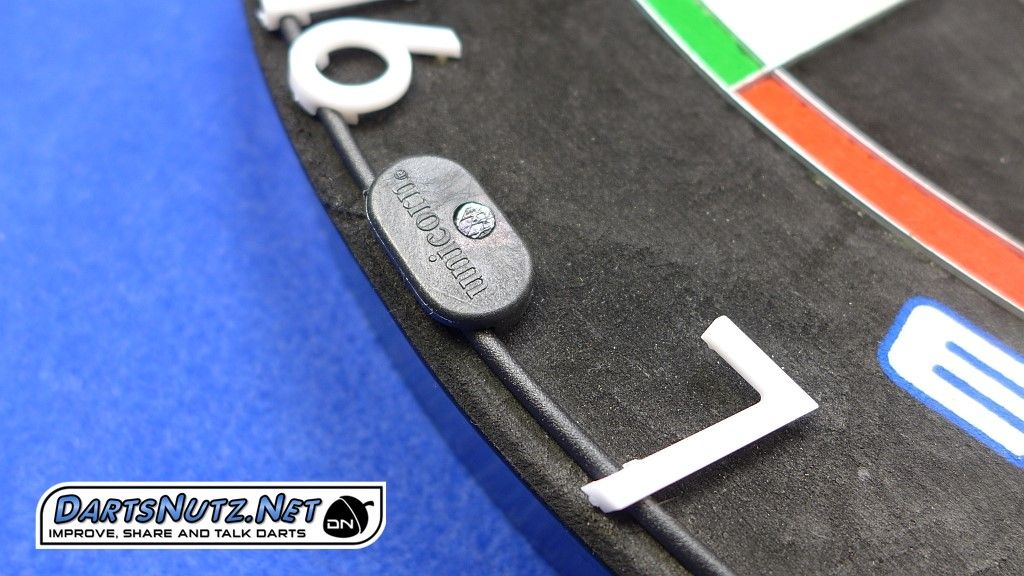 BULL AREA:

VARIOUS PICS OF THE SEGMENTS AND SPIDER: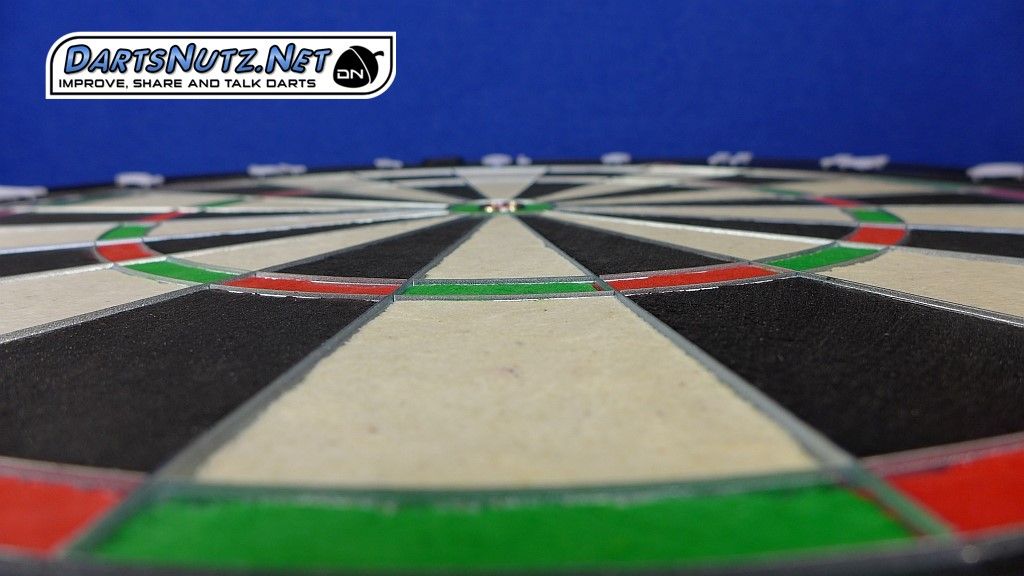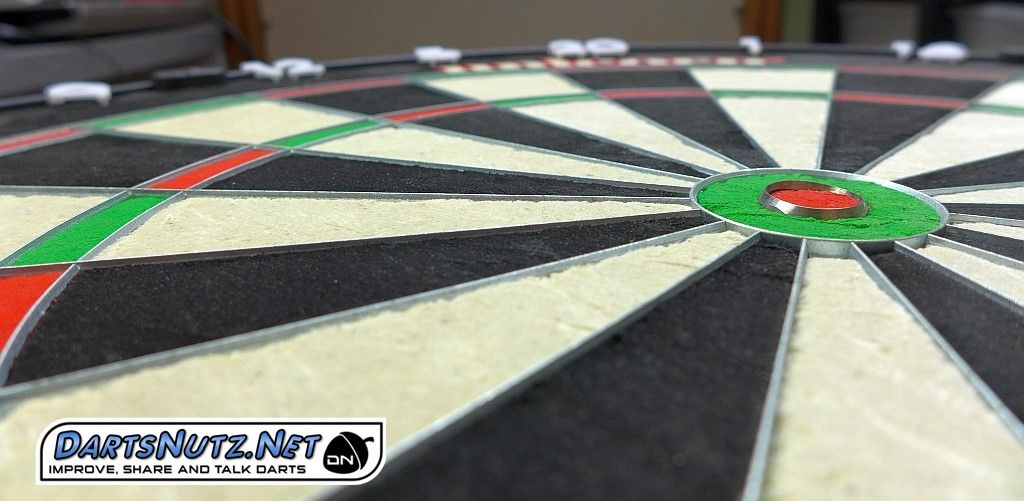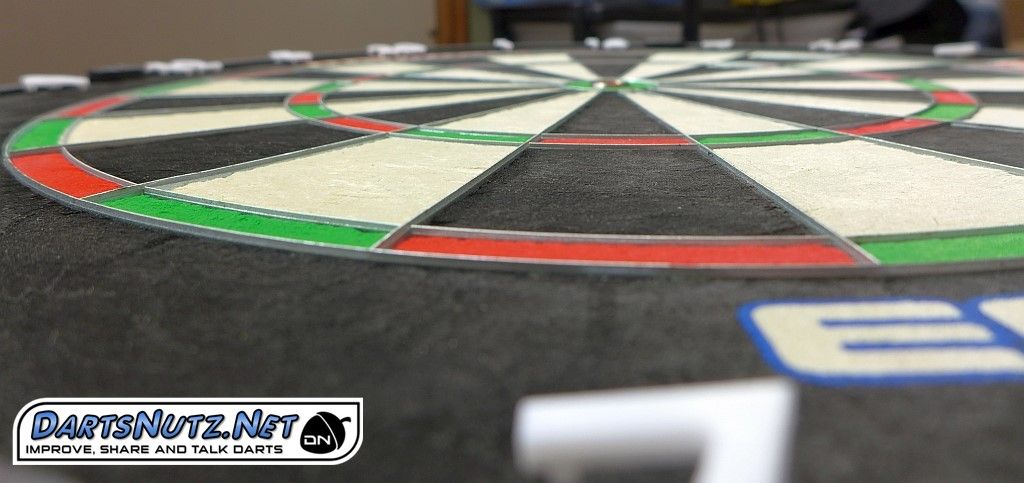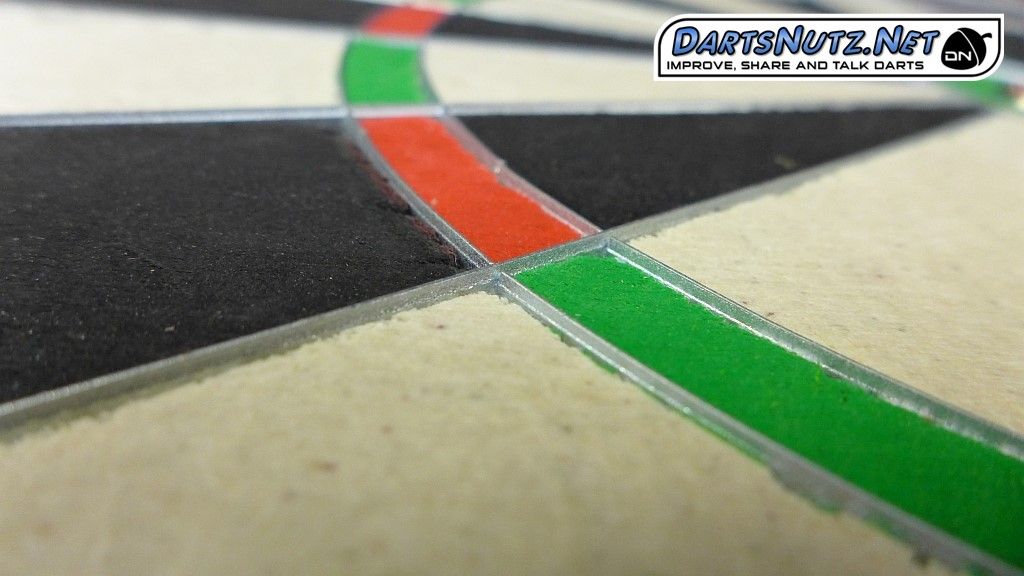 BOARD FIXED UP AND READY TO THROW:


MEASUREMENTS:


Ok this usually causes a lot of conversation regarding the sizes of the various segments, I measured the segments in the video review above but I measured them again here as it was easier once the board was setup and I could get a little closer, so I figure these are just ever so slightly more accurate than what I did in the video but I think its worth showing the regulations for the dartboard specs again first:

These are the BDO regulations which may seem strange if you think this is a PDC board why it should conform to the BDO's specs but as we discussed that in another thread it seems to make sense to stick with the standard they use, anyway here they are:

j. All Dartboards shall have the following dimensions;
Double and Treble dimensions to be:
 for conventional wire boards, measured inside to inside = 8.0mm +/- 0.2 mm
 for strip material manufacture measured apex to apex = 10.00mm +/- 0.2 mm
 Inner Bull (50) ring inside diameter = 12.7 mm. +/- 0.2 mm.
 Outer Bull (25) ring inside diameter = 31.8 mm +/- 0.3 mm.
 Outside edge of Double segment wire to Centre Bull = 170.0 mm. +/- 0.2 mm.
 Outside edge of Treble segment wire to Centre Bull = 107.4 mm. +/- 0.2 mm.
 Outside edge of Double segment wire diameter = 340.0 mm. +/- 0.5 mm.
 Overall Dartboard diameter = 451,0 mm. +/- 3.0 mm

So here is the Bull area measurements:

Inner Bull is 12.03mm so within the regs above of 12.7mm



I measured either side of the bull to see how central the bullseye was and its very close indeed: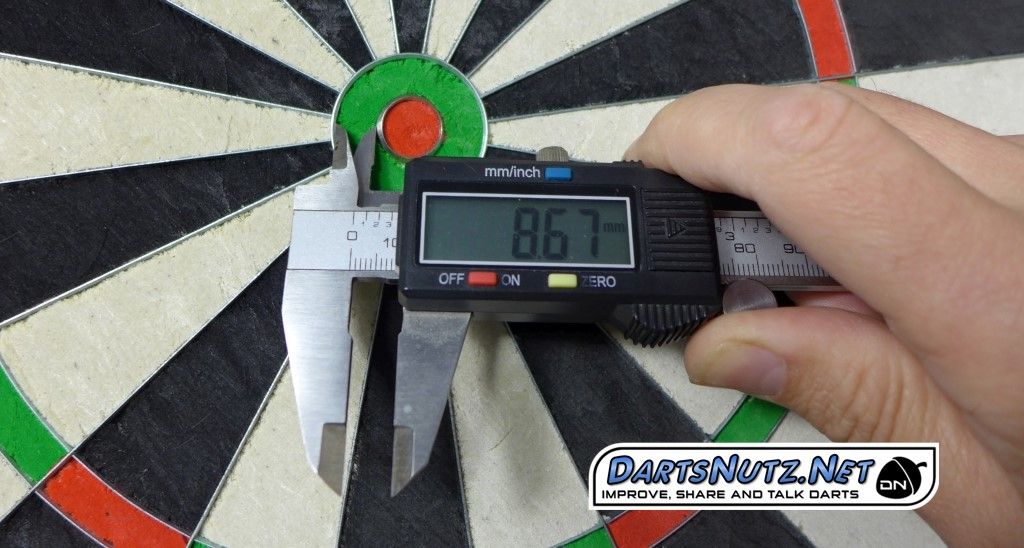 The diameter of the 25 segment is 31.75mm so again a fraction under the specs above of 31.8mm:



The Treble segment:

I measured the apex of the wire either side of the trebles scoring bed and it was within the specs above of 10mm but for me although it still conforms to the regulations the important part is where your point can actually score and that is the bed that is inside the wires.  

So I measured a few trebles and it seems the average width is approximately 9.5mm but as you can see below this one is a little less at 9.38mm, so the trebles on this new HD2 are about equal to the size of the Gladiator 2 and a fair bit bigger than the HD1 or Blade 4 but still that's progress of having thinner wires and its still within the regulations.  I guess if you could make a wire say 0.01mm thick but still durable then effectively you would have almost 10mm scoring beds!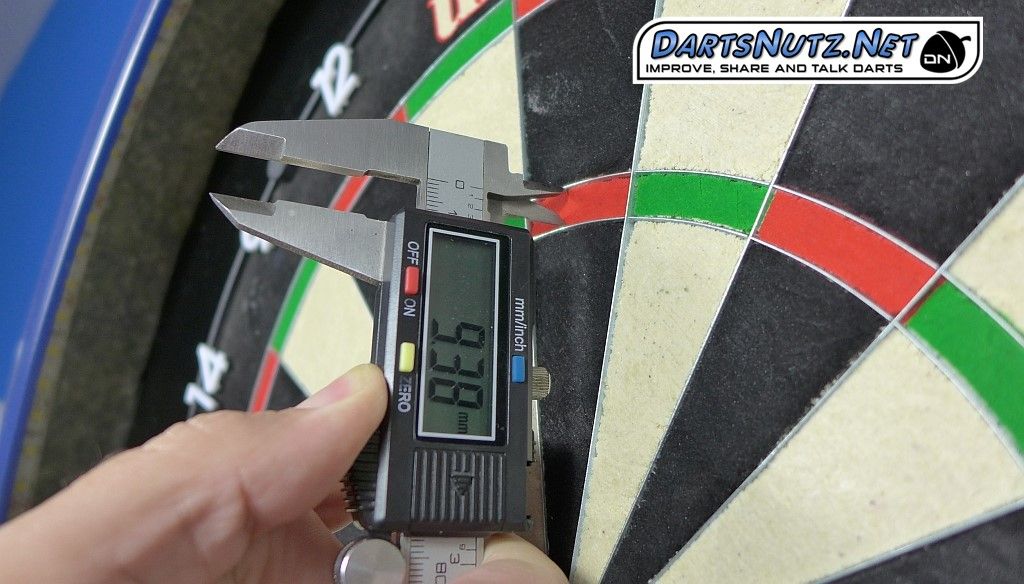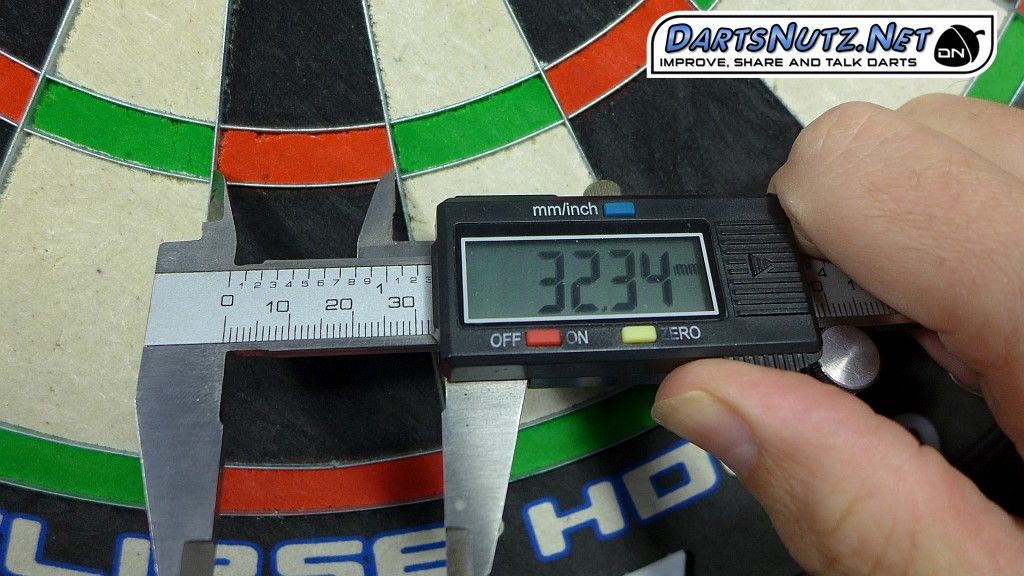 Double segment:



THOUGHTS AND CONCLUSIONS:


First of all I want to mention the new number ring, I think its a new feature that will have divided opinions.  I think the digital number ring on the first board was something that you either loved or loathed although I could never quite get why some people would vent so much dislike over what is essentially just a secondary part of the board, if you have played darts long enough you could probably do without a number ring, it would be silly to do so but possible.

But I guess most people have never thought much about it because of what it is, just something to indicate which segment is which.  But Unicorn obviously went for the idea of improving the whole look of the board to make it more visually appealing for tv as well as trying to make it better for your eyes to look at.  I can see some logic in what they have done with this new ring though, having the numbers as clip on individual plastic parts gives them a kind of 3D look and with the ring wire painted back it does help your eye focus more on the actual board, kind of seems strange that such a little thing would be so effective but for people like me with poor eyesight and not so great focusing abilities (hey I'm getting old!) it does help.

So I do like this new number ring and its good that you will be able to buy replacement numbers if you happen to break them so as long as the price is reasonable then that's fine.

Of course you may say the number ring is not important as much as the performance of the board is and effectively that's very true but I think this is where the new HD2 is a lot better than the HD1.

The new spider is really very nice and so flush to the board that I am very pleased about it


I liked the Blade 4 spider a lot for those reasons and was not keen on how the HD1 spider was kind of raised up from the surface and also it was painted white which looks great when new but terrible after it is hit a few times.  The new spider is very thin and is similar to the Eclipse Pro but just seems better overall and as you can see in the pics it has no protruding legs and I don't see any iffy joints.  So possibly the best spider so far?  May be


The colours are what you would expect, a nice deep black and reds and greens.

The first time I looked at the 25 area I thought it looked huge and it probably is the biggest out of the boards I have reviewed but the bullseye although 12mm is still smaller than on my B4DC which is 12.5mm.

The surface of the board with the seamless sisal is very flat and uniform apart form a slight mark in the 25 segment it is very good overall and the spider is equally flat and uniform across the surface.  Some boards I have seen the spider start flush then kind of raise up towards the bull.

When throwing darts at the board it had a lovely soft muted thud and it seems to be quite dense overall so probably a good sign of its durability but my first few darts when hitting the coloured sections did not seem to dig in too far, so it could be just that the surface needs to break in a little as the ink may be binding it too much?

I do have some things to nitpick though and as you can see in the pics below there is a few areas where I would have liked to see a little touching up of the ink, it would just make it look a little neater.  I am not 100% sure how each manufacture make their boards but I figure its going to be much the same process where the colours are printed on first and then the spider is pressed into the sisal.  I figure its probably an near impossible task to align the spider perfectly to the colours and therefore your going to get a little overbleed etc but I am sure its possible to apply a little touching up afterwards, it would have just made the board look even better I think.

The other issue is along the edges of the spider, it looks like when its been pressed into the board its cut through the fibres and made it look a little raggy.  It's not noticeable on the black sections but it is on the others.

But these are quite minor niggles and don't detract from the performance or the look really as you only notice it when quite close to the board and I think its more a case of me pointing them out simply because I cant find much else wrong at present:



This is the board after I had been throwing for about an hour: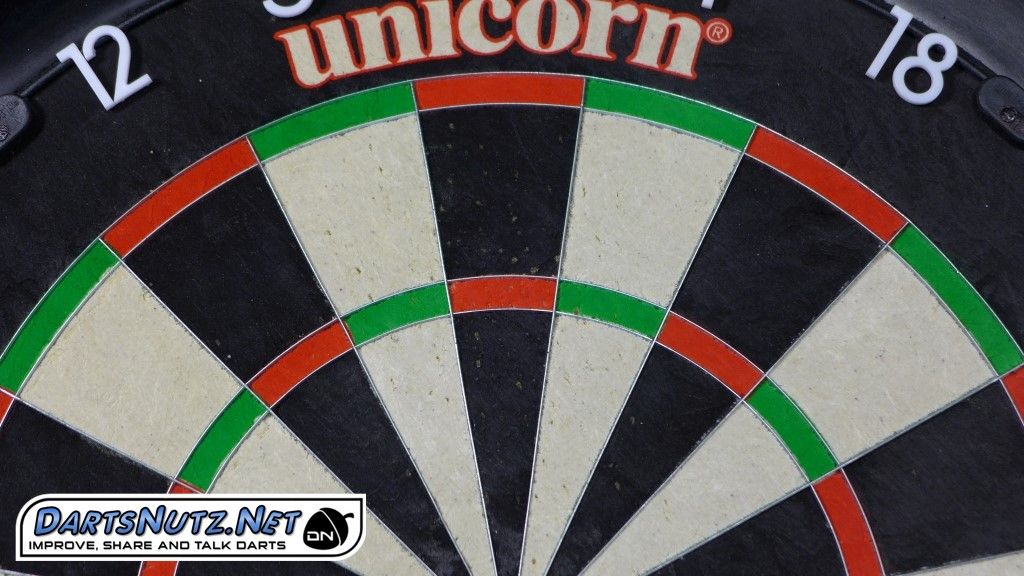 Most of the holes in the white sections heal up quite well but I think also I have my lights on the board so the holes in the black probably look a little worse than they are but it seems no worse than other boards at present.

That brings me to the last thing and some would say most important and that's performance and durability.  Obviously I cant comment on that at present as I have not had the board long enough so what I will do is a monthly update for the first 6 months but for the first 4 weeks I wont turn my board and I will also record how many bounce outs/dropouts I get.  I think with bounce outs and dropouts there is numerous factors involved such as your points, darts weight, how the enter the board etc but I will still record the data and keep you updated each month.

So is it the best board at present?

I am very impressed by how much its improved over the HD1 and as you know I am a big fan of the B4DC and before that the G2.  I chose the B4DC over the G2 because of its rota lock feature and after setting the HD2 up on my uneven walls I kind of miss that feature for sure.  But I think the new HD2 has a very nice look and the spider is probably just that little bit better than the B4 spider so there is not a lot at present to choose between them and the only deciding factor I think is going to be a longer term test on its performance and durability.

So I will have to sit on that decision for a few months yet but will enjoy finding out!


UPDATES:

First Update 25th June 2016:

Ok here is my first update on the board:

Next update is here posted Aug 2nd 2016:
Here is update 3 after 12 weeks Sept 2nd 2016: